---
"What´s hot, the P23 - ... get the unfair advantage", and check out Team Ritchey for the latest secret weapons in 1990.
It took me more than a year to understand how this bike has to look like...
It was the wedding of my sister when I remembered the naked Ritchey P23 fillet brazed. I was discussing the shipping cost with seller a couple of times before, but I didn`t plan to bid. But after a few beer, I didn´t care too much, so I bid and won.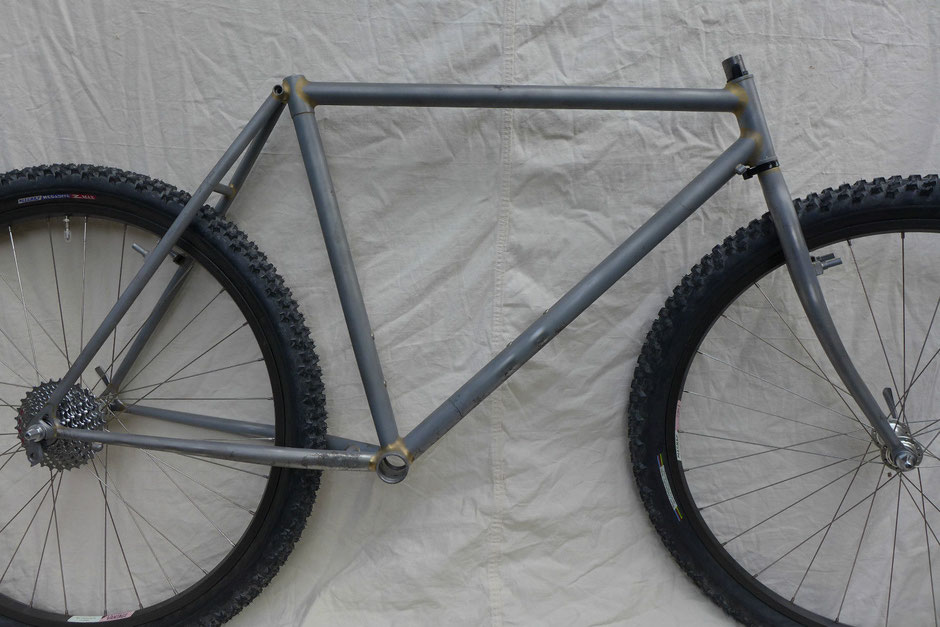 I picked up the bike on August 2014, it was a nice day until I received the bill from the customs.... But I was happy, finally I got a beautiful fillet brazed frame. As written, on that day I was far away from understanding what kind of bike this was and what it will do with me - for some reason Ritchey was never my favorite brand, but this bike should become THE inspiration and motivation machine for several years intensive Ritchey collection.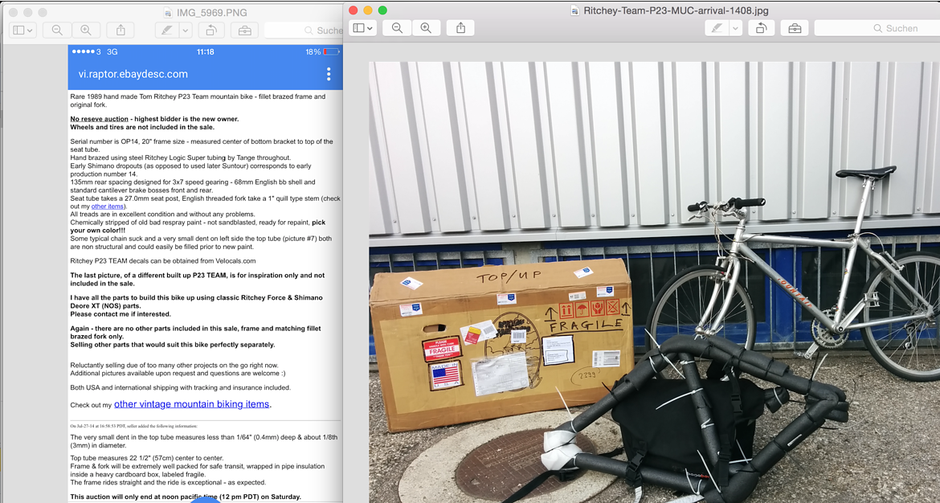 Today I feel close to sad what I did, but I share it with you. At this time I had a friend who did power caoting and I wanted to build a black street fighter based on a mountain bike. This is the result...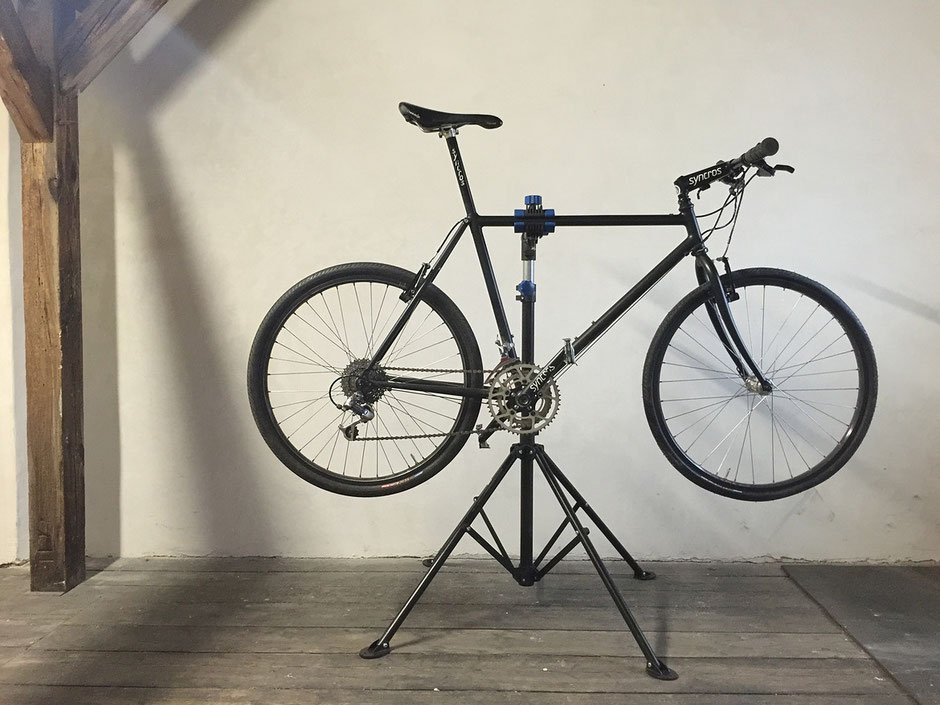 I don´t know why, but after a year racing the daily commute through Hamburg, I asked my self, If I can find some more details on my bike. Searching for the serial, I found the www.oldmountainbikes.com page, which is now https://ritchey.vintagebicycledatabase.com. Looking at the serials, I understood mine is an early P23 model. With the research on that amazing page with all stunning pictures from the owners of Ritchey´s, I found the article and the plan was clear: I´ll bulld Don Myrahs Ritchey Race P-23-Team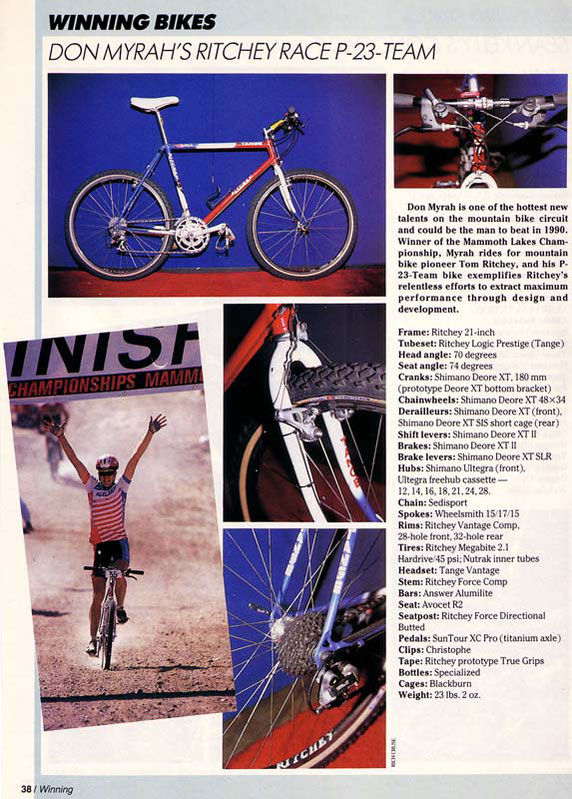 While doing research on the serial I fond a backed up page from eBay showing the auction before mine. Yes, I found the seller of my bike before mine. I contacted him and yes, he replied. I was truly exited on what he told me:
"I worked with Tom Ritchey up at his shop in Woodside, which is actually on his home property, assisting him with minor tasks as he put frames together. I purchased this frame unpainted and believe it one of the 1st runs of P-23's he built. I had the bike was originally a brown/beige, to be different from the standard colors of the time, then blue. I was going to paint the bike with the team red/white/blue if I hung onto it. This color scheme if very well known and would be the proper color for that era of frame. I hope you will enjoy the bike as I did. I spent alot of time on countless awesome trails with the bike and she climbs like a mountain goat!!"
Any yes, he also had pictures. That is is cool on serials, they are timestamped and uniquely identifiable.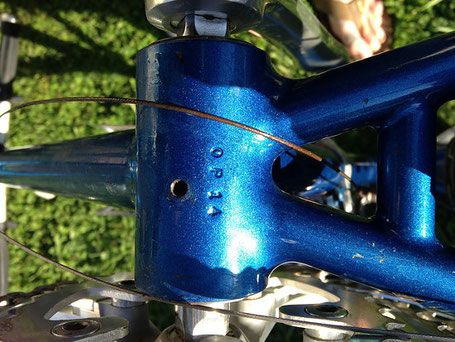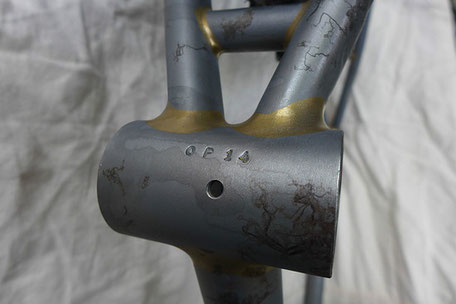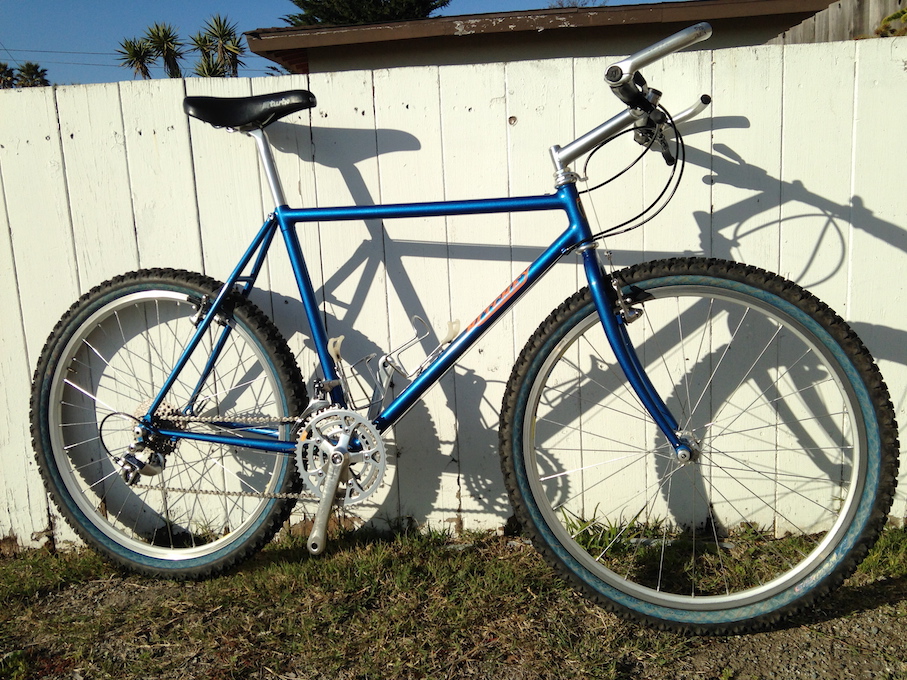 The Ritchey P23-Team seemed to be magnetic after Don Myrah won the Mammoth Lake Championship in 1990. This article gave me much more details and context. And they were right, the P-Models from Ritchey made its team the most successful Race team these days. Don Myrah, Thomas Frischknecht and Henrik Djernis - all World Champions. No wonder that Ritchey founded 2 years later the champagne colored Ritchey WCS parts group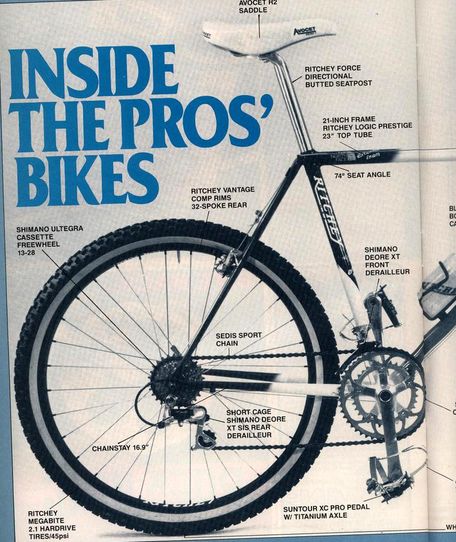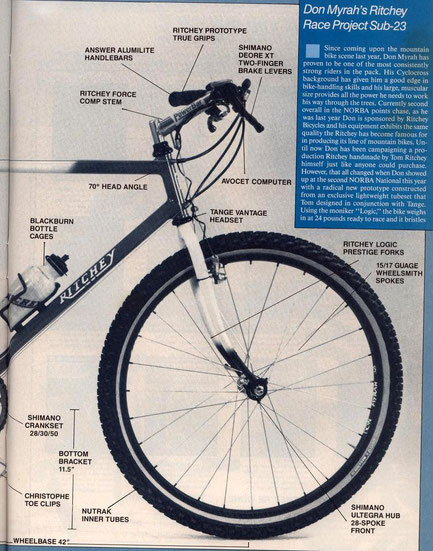 Mountain-City-Magazine-Ritchey-P23-1990
---
Since I wanted to build the bike from Don, and started with the paint and decal production on parallel. For the decals the challenge was, that I also had to produce the sponsoring decals next to the decal which I could buy at GIl  from retodecals.co.uk.. Here are some impressions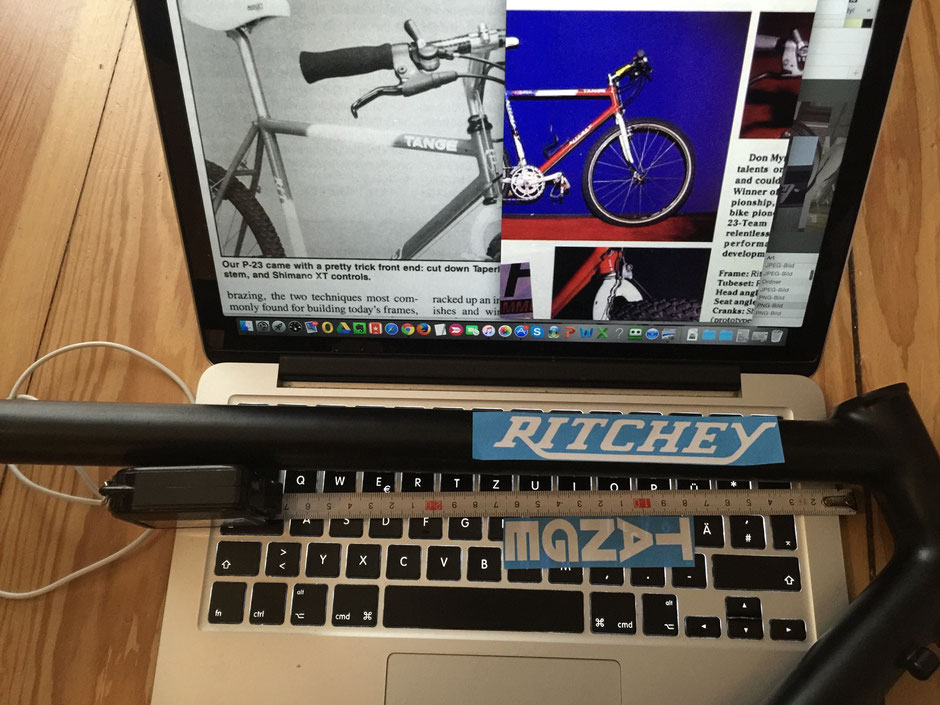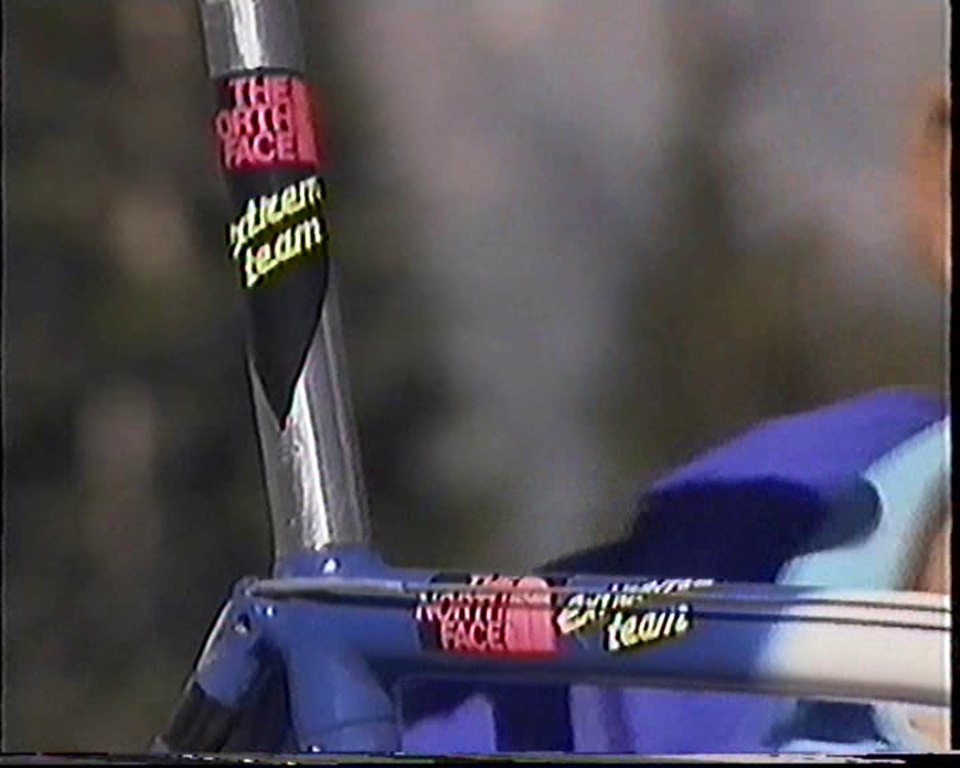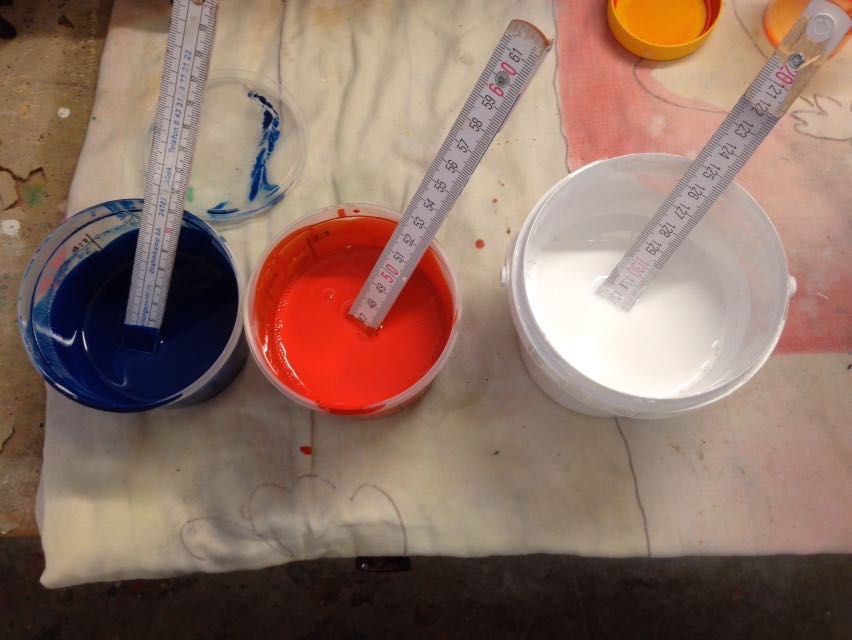 When I started a thread on mtb-news.de, there was a guy who kindly shared the original DuPont color codes red: 29198, white 55769, blue 24160. I seriously considered to send the frame to D&D cycles to ask Rick Stefani whether he would paint it, but since the initial tour from US was already so expensive with the customs, I decided to ask Cycle Art Berlin. 
But it was not possible to find the DuPont colors, so we mixed it based on other frames.
Yes, he also painted the stem, even though this was not the plan. Shit happens, collateral damage... Since I was blown away from it, the colors and decals, als very high quality. The decals below clear coat promised a l robust future when heavily ridden. I didn´t care a minute on the stem and started searching parts
With all the efforts for the paint and decals, it was clear I wanted to build it with NOS parts, exactly like in the magazine down to the chain wheel teeth. One would think, that a Shimano 732 wouldn´t be so difficult, but again parts had to come from US. 
One if the very first was the Tange Levin headset which I found by accident in the Bay. A funny anecdote was the Answer Alumuilite, which was listed in the magazine. No one every saw a black, so I had to anodize a blue and produce the decals. Funny was, that I later found it was actually an Answer Taperlite. one of the hardest to find was the Avocet Racing II, such a beautiful saddle (after 10min ride with my bike dress this looked like a massively used saddle from an alps tour - the leather was quite weak and absorbing the black :).  Also difficult was the 180mm Shimano FC180 with the 48-34` chain wheels. Lastly when I built the wheel my bike shop found old Ritchey spokes, which completed the wheel set in a nice manner.
I can really remember the next picture: Parts parade.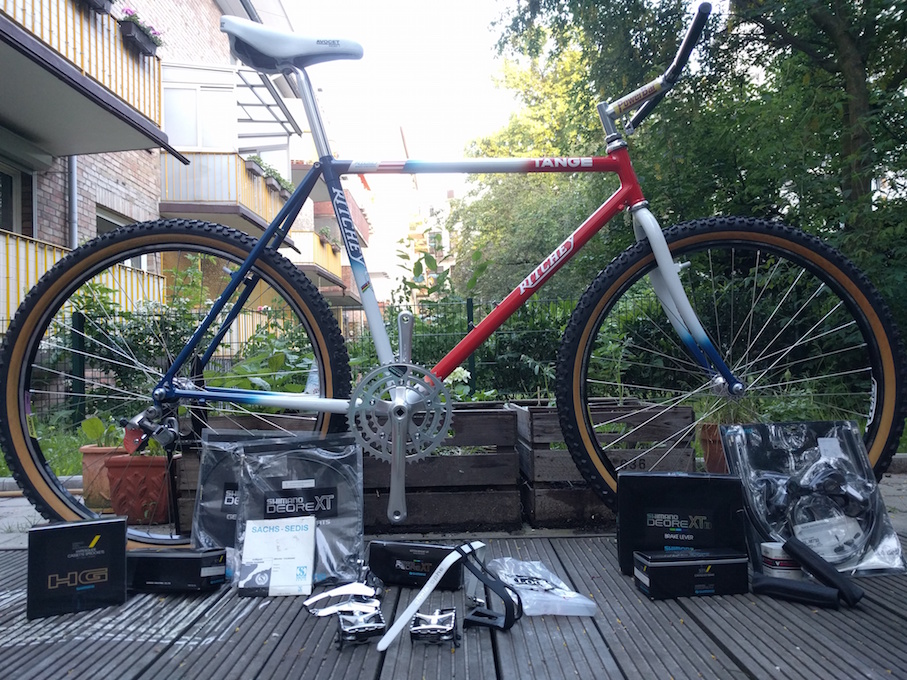 ---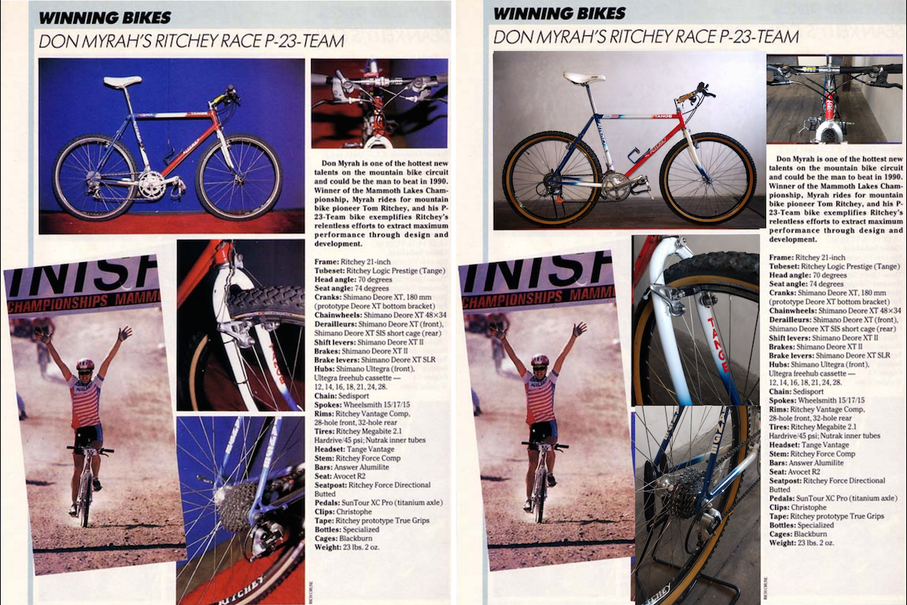 After the built, I asked my self, is this a bike to ride or put on the wall? I couldn`t resist, hence I ride all my bikes, but should it be a trip to the next ice cream shop, commute or something like a supposed terrain? Yes, mountains.
So I called a friend and we went to the central mountains of Germany to ride two Ritchey`s and give the Myrah a ride what it deservers.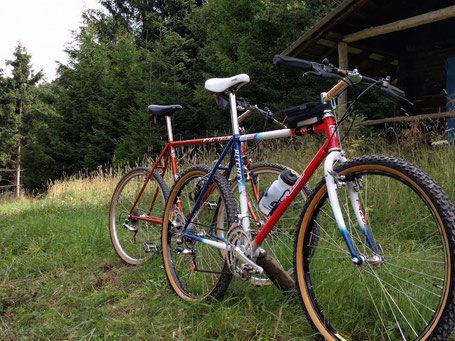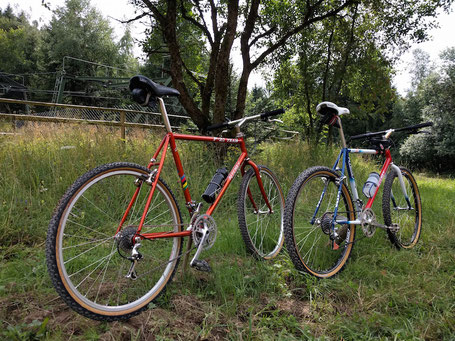 The experience was as known from Ritchey. Agile, steel-feeling. Perfectly climbing like a goat, we did a couple of hundred meters altitude and had a fantastic downhill ride in the evening. On top this area around Gosslar has quite some history, as former area of the boarders between East and West Germany. Thanks god this is reunion happened, otherwise I´d never met my best man riding this tour with me and the Myrah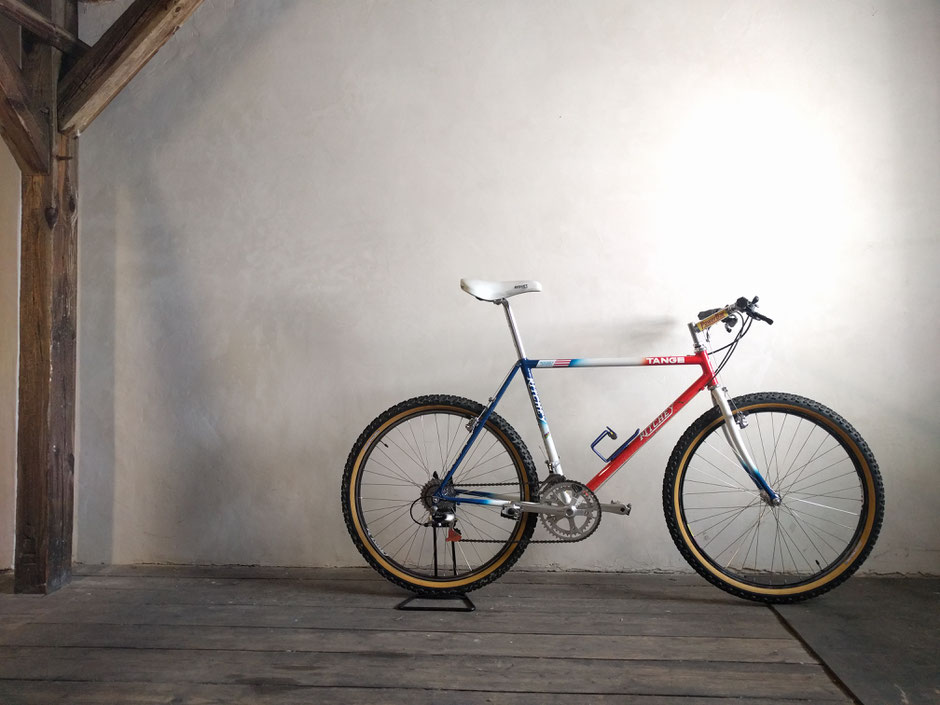 | | |
| --- | --- |
| Parts | Brand |
| Frame | Ritchey Logic Prestige Tange |
| Size | 20" |
| Fork | Ritchey Logic Prestige |
| Stem | Ritchey Force Nitto |
| Bar | Answer Alumilite |
| Headset | Tange Levin |
| Shifter | Shimano XT 732 |
| Brake Levers | Shimano XT BL-732 |
| Crank | Shimao FC-730 180mm (48x34) |
| Pedals | Suntour XC Pro |
| Buttom Braked | Shimao |
| Derailleur | Shimano XT 732 short cage |
| Wheels | Ritchey Vantage / Shimano 600 Ultrega Tri-Color (28/32), Ritchey Spokes, Ultrega casstte |
| Tyres | Ritchey Megabite |
| Seat Post | Ritchey Logic Force Directional WCS |
| Saddle | Avocet Racing II |
| Grips | Ritchey True Grips |
After riding the bike and building many more Ritchey`s, I decided to sell it since I had another P-Model in 20", which I now regret after writing this post. But I´m sure, she is good down there in Spain...