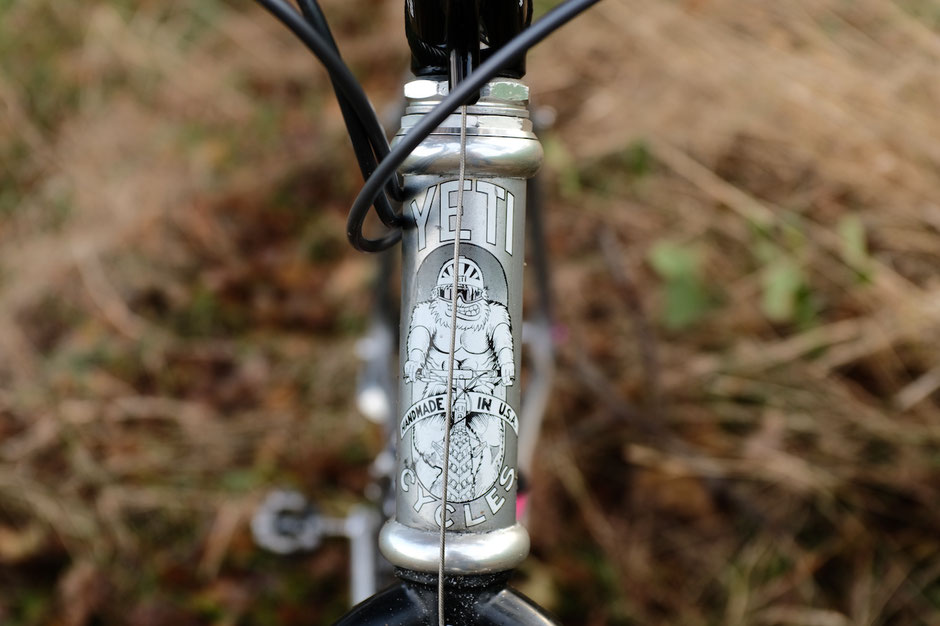 After I build the YETI Worley replica, #80 ever build Yeti with a round top tube and BMX head set (write up here), I knew my YETI journey is not over. Reading lots and foremost watching many, I always thought, I want one of these 4130 certified seamless Aircraft chromoly frames with it´s combination of one piece computer bent rear section with the oval top tube, 1.25" head set and of course the straight blade fork, Accutrax. Of course, best possibly in 20",  a true race machine, a F.R.O - For Racing Only! Here the catalogue based evolution from the FTW stem, to the ATAC and the Pro Fro with changed seat stay angle, all Onza Porcupine tyres Turbo saddles, XT group, Ringle sponsor from '90, nothing unnecessary.
Searching a bike like this, takes time and usually many discussions and help of friends. But normally not eBay?! So I couldn´t belive when I saw this...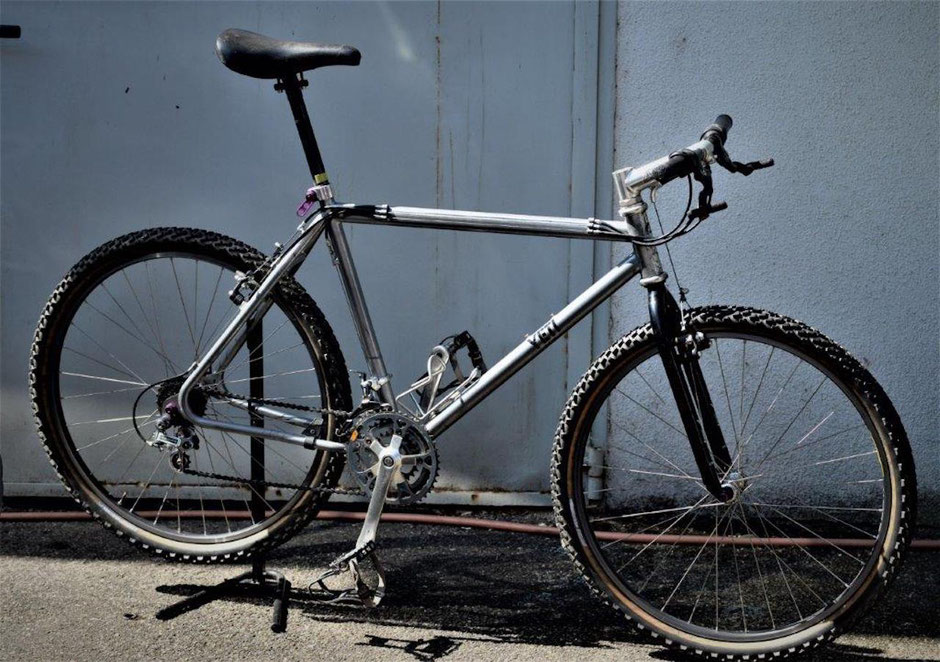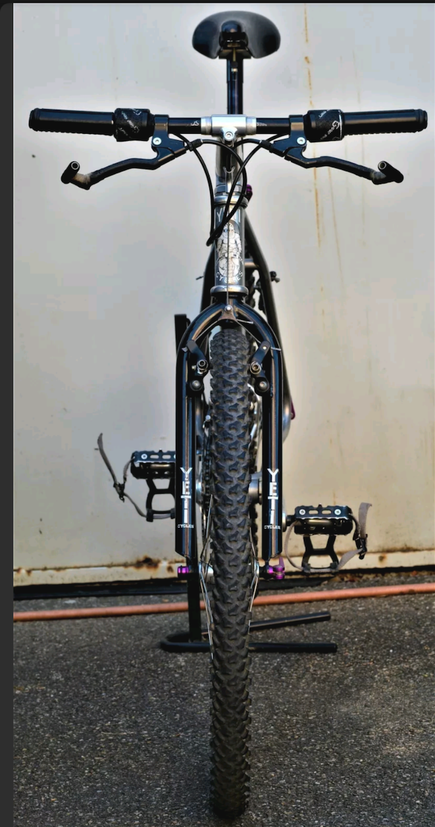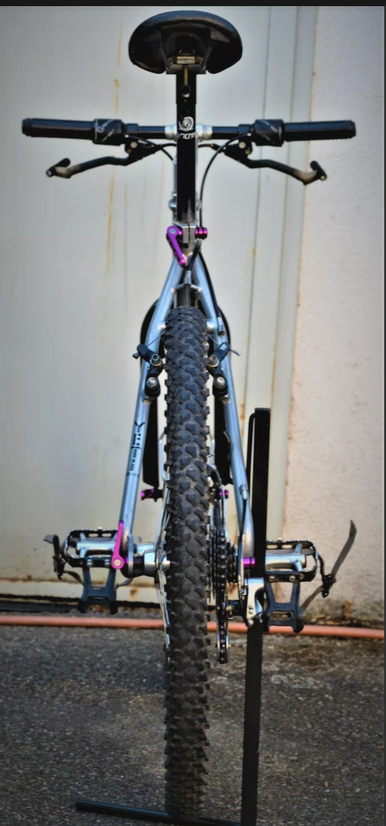 Not only that it was offered in Germany, it´s an orginal grey paint, I mean WOW!, that felt like a special and rare bird. I didn`t hesitated long, offer, accept, done! It was such a nice guy selling it. Kind, helpful, shared more pics, etc. All good. So good I didn't even ask for the serial in the beginning, even more party feeling came up, when I saw this...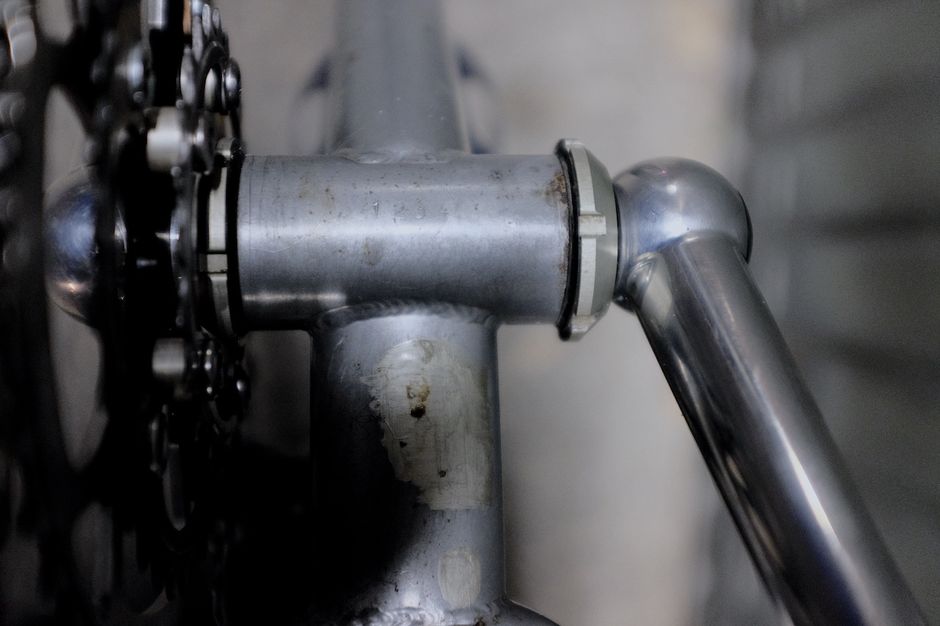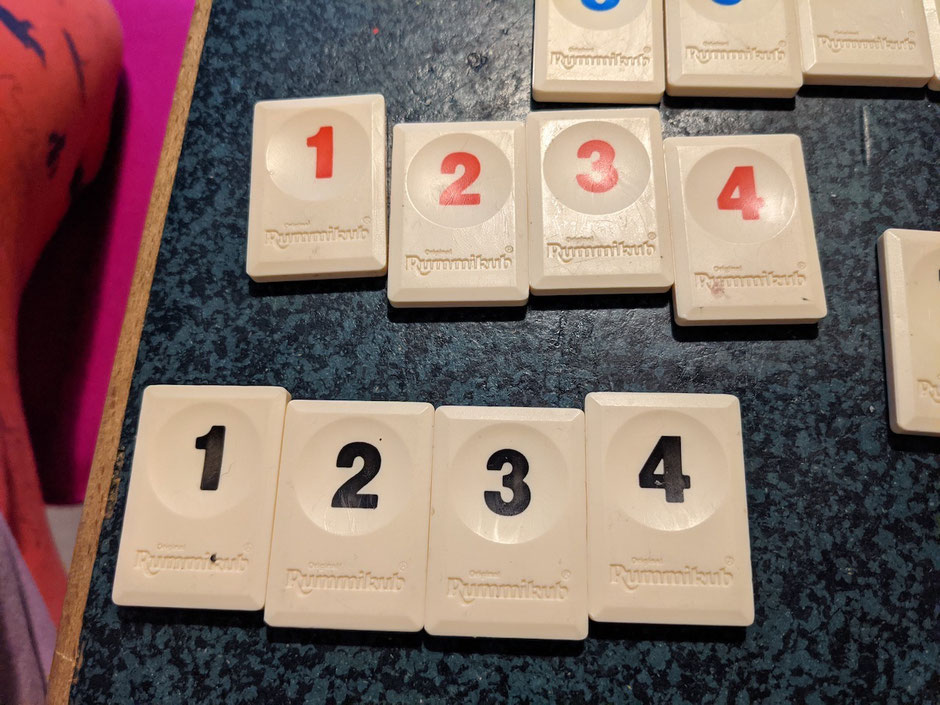 After posting it, one said: "1234" has got to be the coolest serial number ever". I agree. and one more thing, it came with the original bill and some pictures from 1991, the 5.259DM bike, composed in Karlsruhe, Germany, build in AGOURA HILLS, CALIFORNIA 913O1. Look at the bill, even the shop didn´t see the 4 clearly. And since we all know, Yeti started with 300, it really has to be the bill ;).
(The seller confirmed he owned the bike since 91. he bought it in a shop called Velodrom. When he bought it, it was standing quite already for quite some time in the shop, hidden behind the first heavy neon bikes. But this one spotted his attention, mine too :)).
My initial though was, let`s keep it as it is, clean, replace whats broken and done.  I found the black ATAC, which matched to the fork and I was hoping to compensate it`s long top tube.
But I wanted a real racer and with it´s origin in Germany, I thought a bit about German groups. There was only Sachs for drive train components, which I don´t like. So let`s search in Europe. I challenged Edco Swiss made and Mavic, France made... have a look.
Both version´s didn´t get far. The Edco was actually to young, first MTB group came 94ish. The Mavic was time correct, but appeared a bit bulky and too colorful for my taste. The grey is quite decent, works very well with black and silver imho. While thinking a bit about the plan to build it with European parts, my eyes crossed the non drive side and suddenly it was clear. TUNE. Lets build a tuned FRO. Tune started in the very early 90ies, a Germany company from the Black Forrest building light weight parts.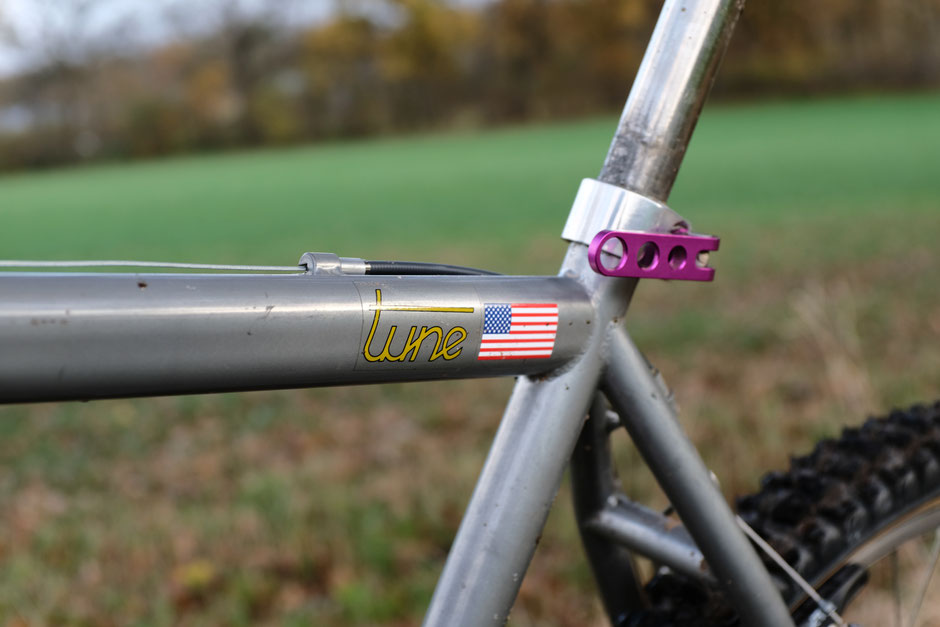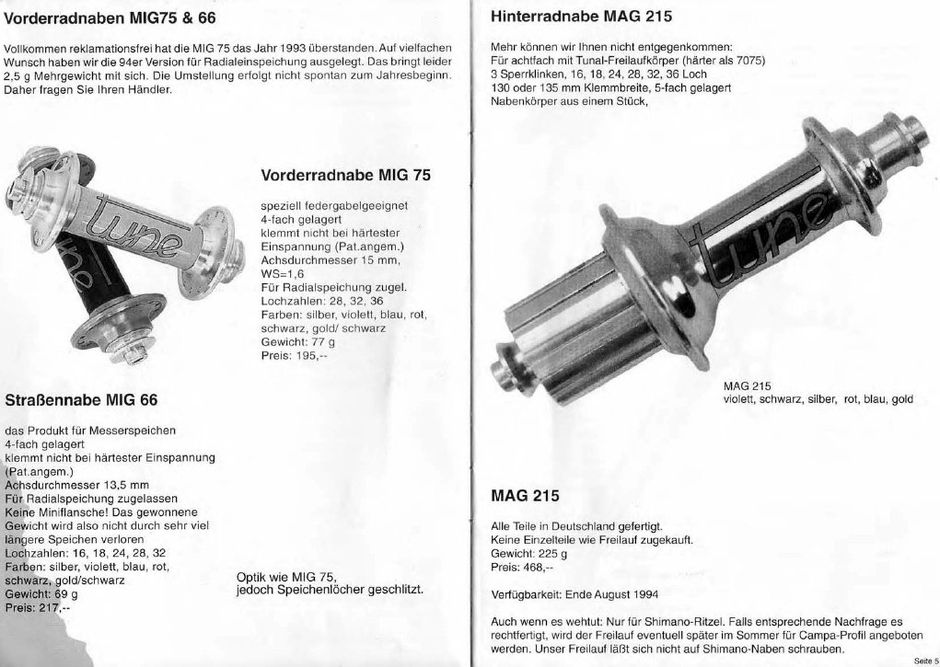 Yes I know, this felt like a super unexpected plan, but hey, I wanted a racer,  this manufacture build parts for Jan Ulrich back in the day and why not tune the FRO with a bit lightweight parts from the early 90ies. It is already an uncommon YETi with the grey, so let`s go. This idea was supported by these two parts waiting for a build already quite some time. A wheel set with the 94 version of the Mag hubs and a brand new pair of Panaracer Smokes.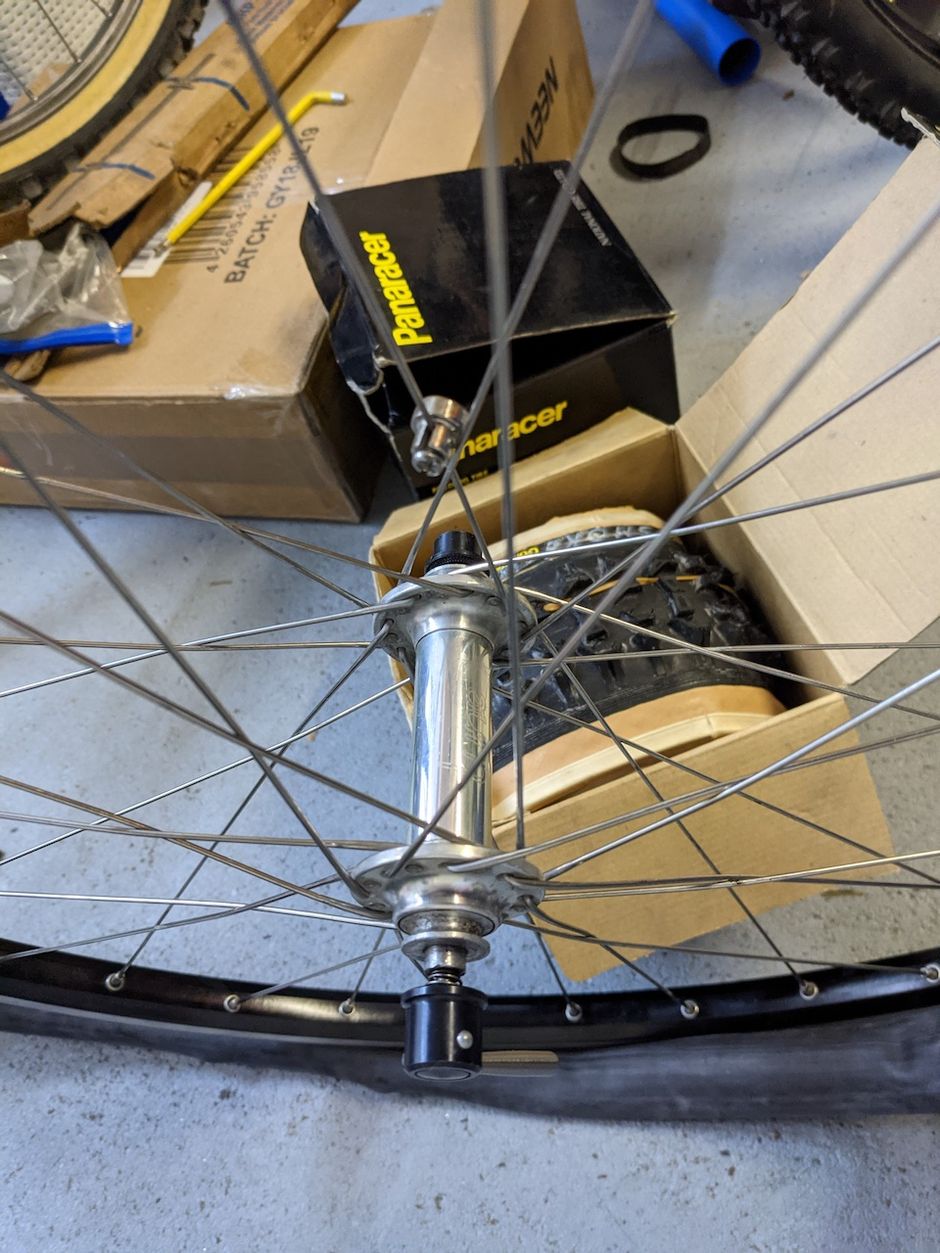 Other parts rowed up, so e.g. the Cooks crew and some light things in the mood of the titan hubs, American classic Titan bottom braked and seat post + the obligatory Chris King no logo (which came to me by during an unfortunate process of a bike trade from Wakeman. Sorry again, hope you like the headset on it. Thanks for balancing the PP loss with this).
Back to the Yeti - Now it was clear, it is going to be pretty custom, but felt so appealing, the tuned, Ti-FRO - have a look.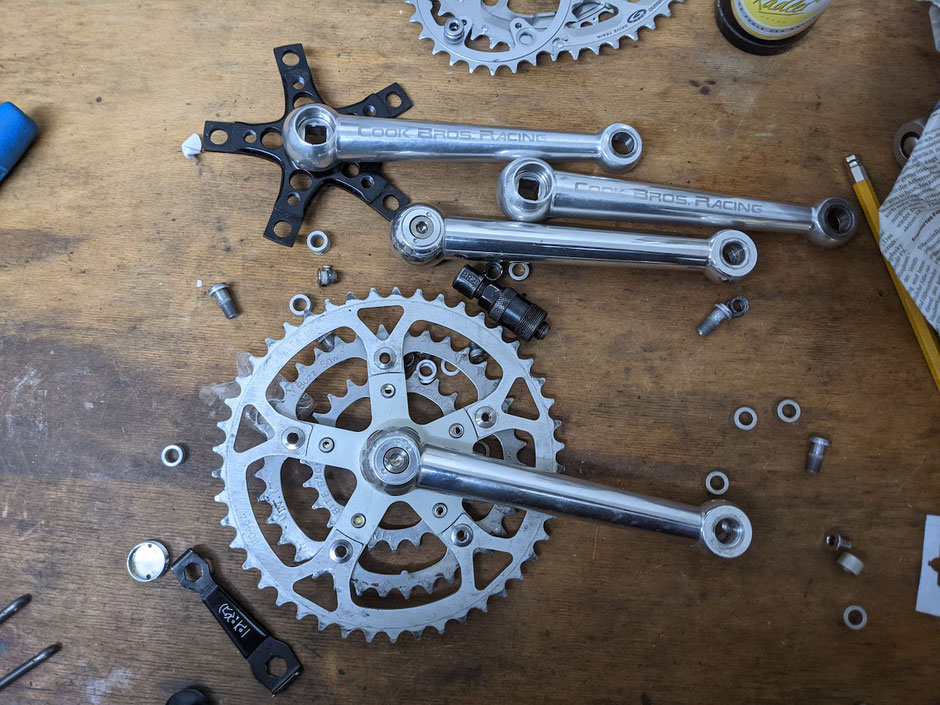 The plan with the bottom bracket started to become interesting. What I did not remember was, that the existing BB - the Mavic with its cup based mount - did not use the threads. So I had to clean or rather cut out dirt and over the years rusty and corrosion metal, there was lots to get rid off, but then it went in smoothly. Amazing how light it is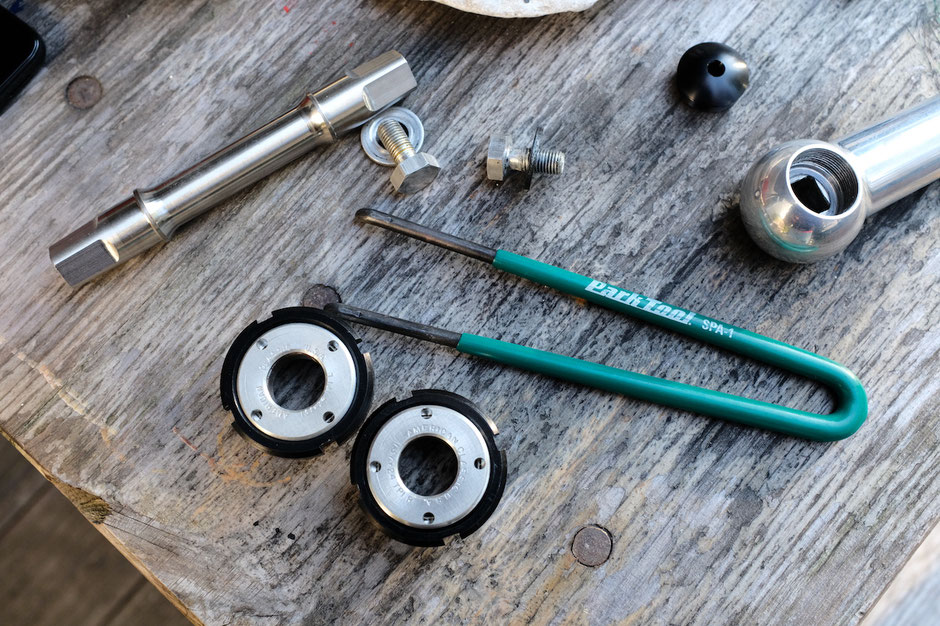 Yes, here a big time-correctness sin; I went for the best shifting modules from the early 90, 2 years too young, gosh! But there is more than the performance reason it´s the look. grey, black, silver - Killer!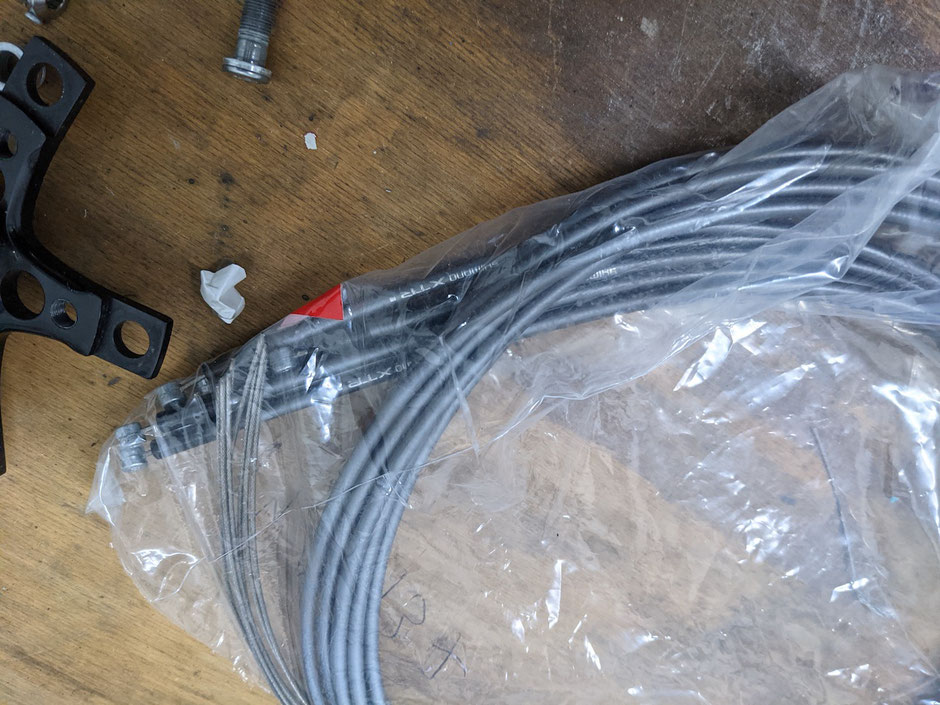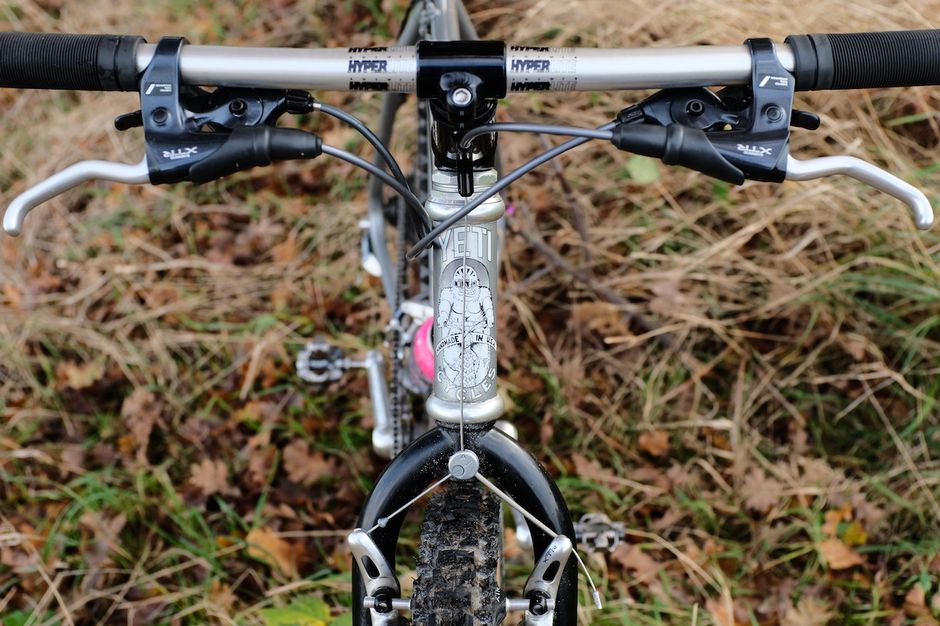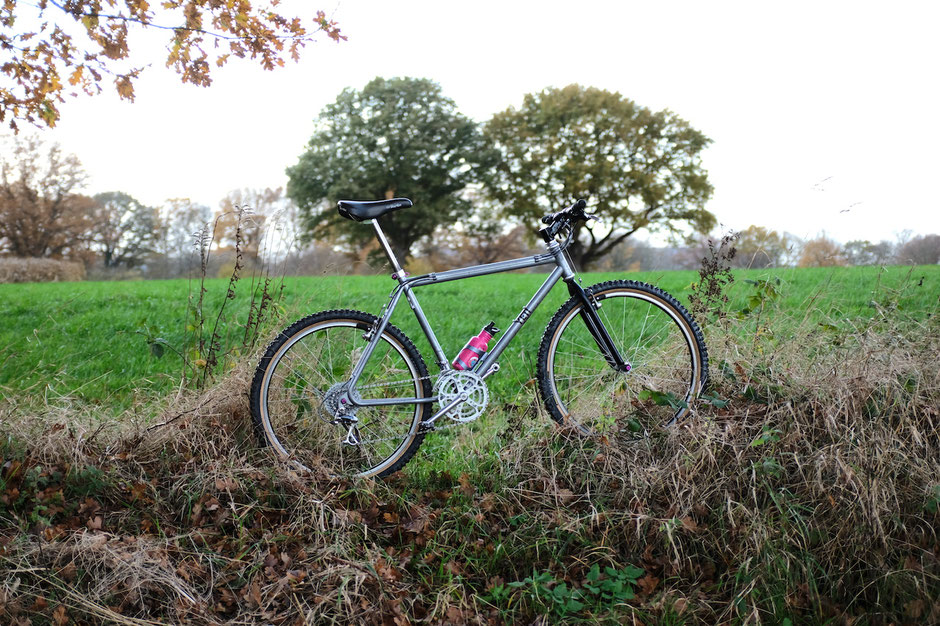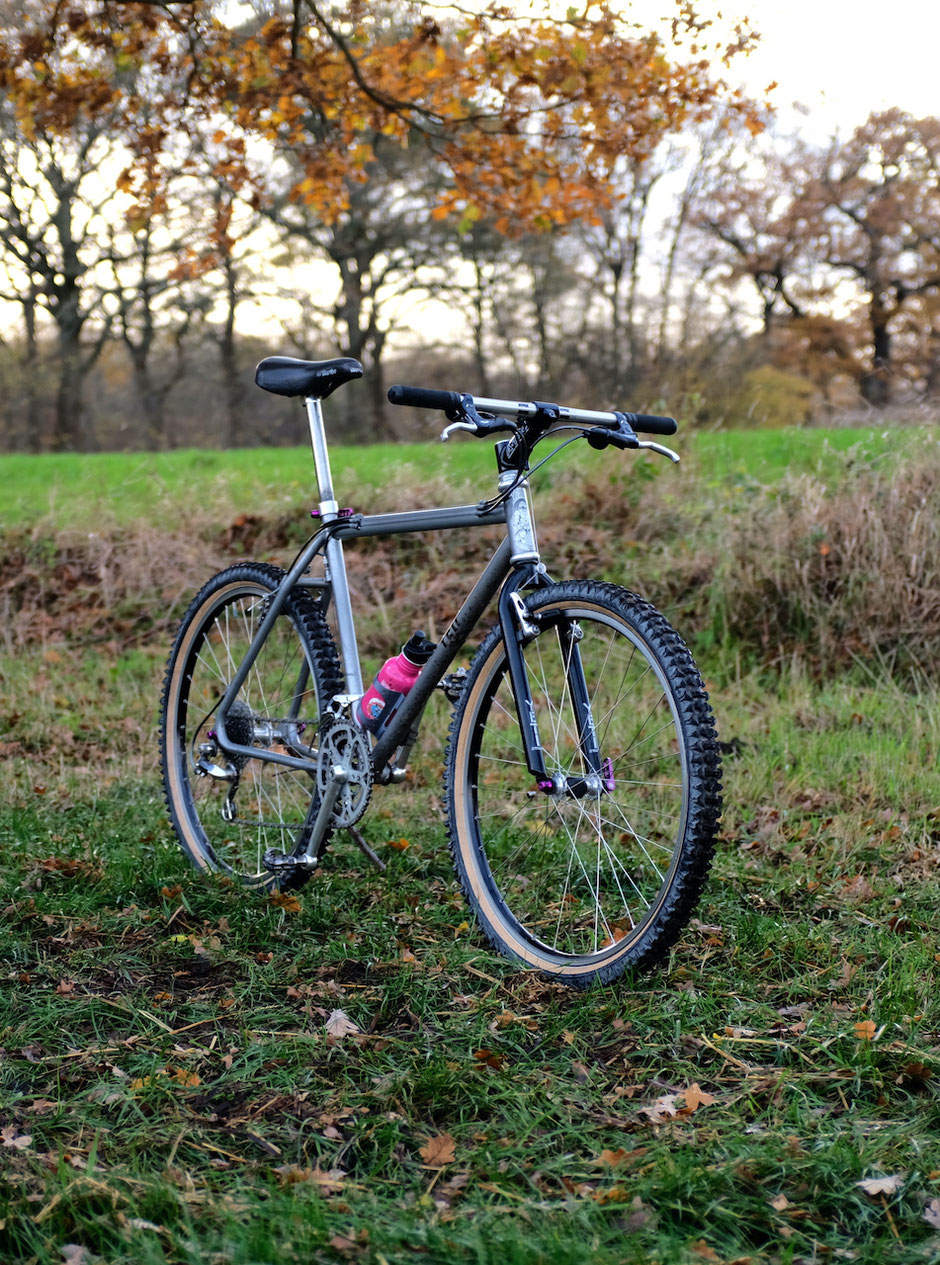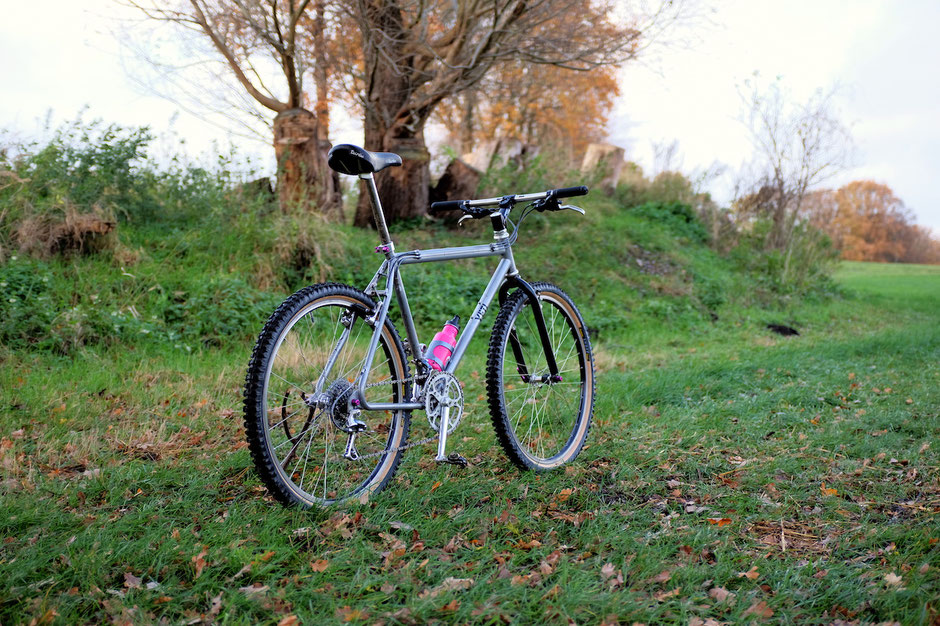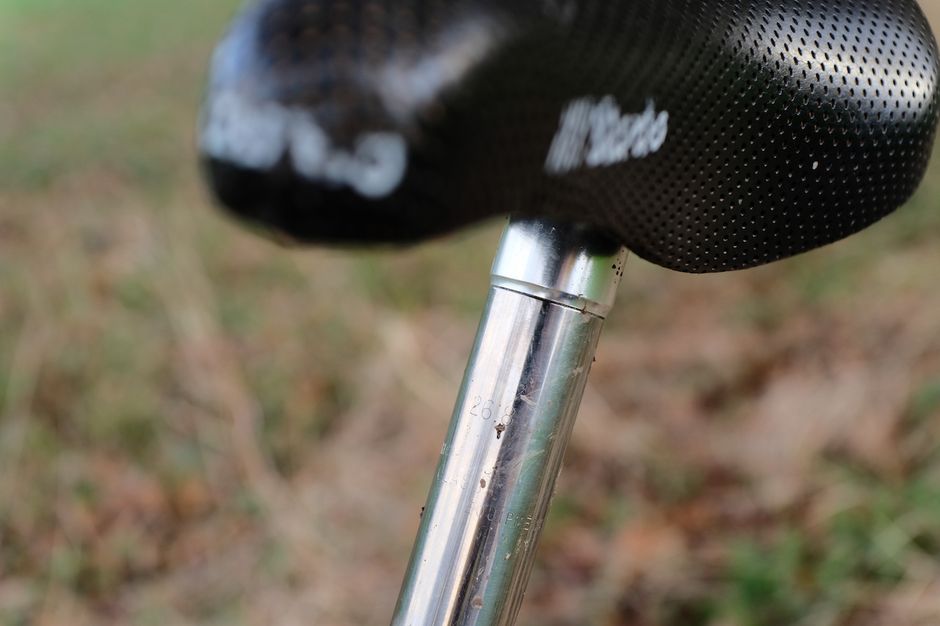 to be continued for the ride report. it was just a first family trip on the weekend.
This was actually the night after the initial assembly, no test ride, some things open, but with a nice shoot out. It felt mystic, but fancy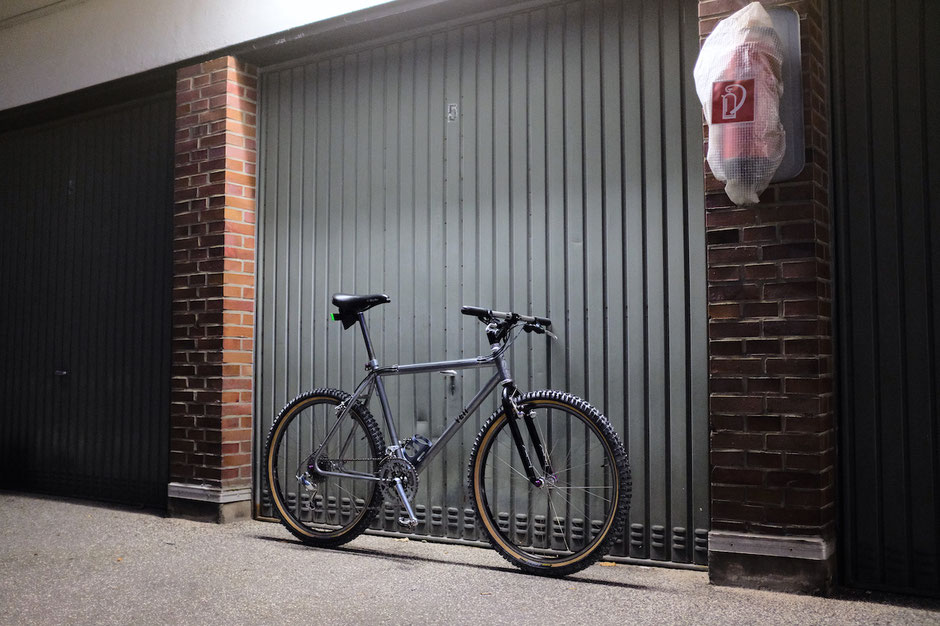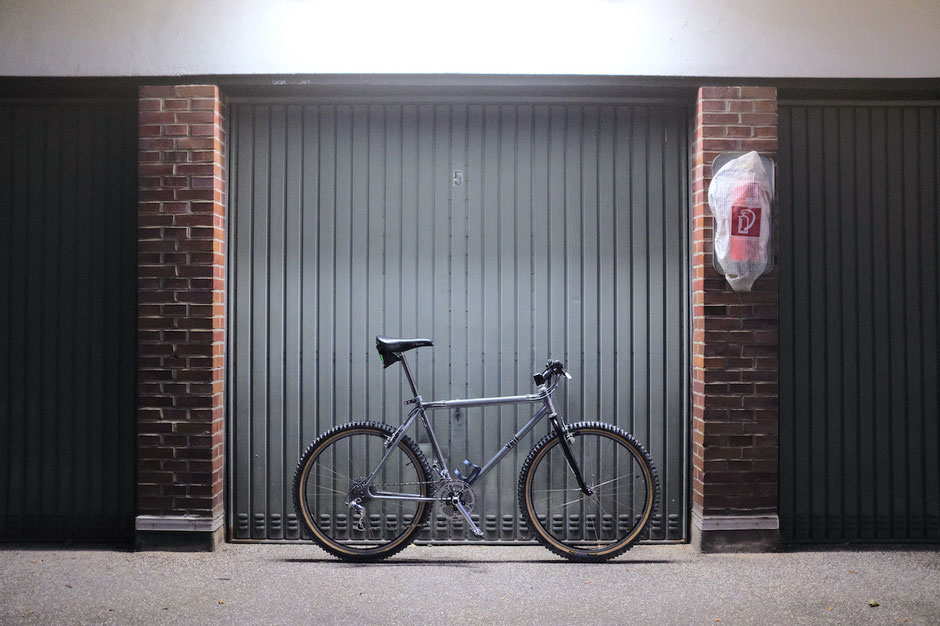 Parts

Brand

Frame

1990 YETI F.R.O - For Racing Only

Size

19"

Fork
Straight blade fork, Accutrax
Stem
Answer ATAC
Bar
Answer Hyperlite

 

Headset

Chris King 1 1/4 no logo

Brakes

 XTR BR M900

Shifter

XTR STI M900

Brake Levers

XTR STI M900

Crank

Cook Dog Bone with Onza/Vuelta 26-36-48 chain rings

Pedals
SPD XTR
Bottum Bracket
American Classic titan
Derailleur
XTR M900
Wheels
Tune Titan hubs with newer DT (mid 90ies?) rims and XTR CS-M900
Tyres
Panaracer Smoke Comp 2.1
Seat Post
American Classic Titan
Saddle
Turbo perforated.
Grips
Magura