see the story on the found here
The addition to this is an anecdote on the fork.
When Will collected the Steelman bikes (see also the El Gato Racmac in the background on the left picture), the fork of the Don Myrah Replica was missing. There was one, see pictures below, but with the wrong blue color for both El Gato Teams.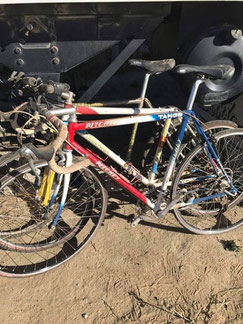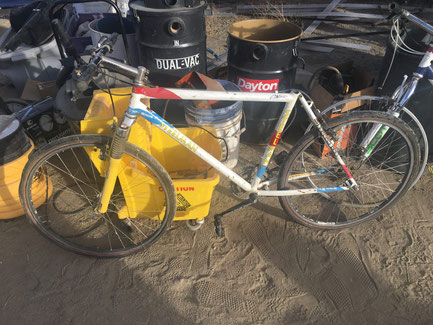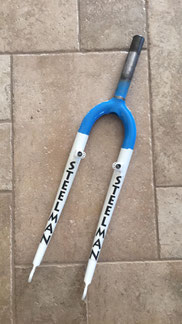 A few weeks later, Will got a message from the seller of the bike. He found another box and guess what, the fork from the Don Myrah Replica was in there. This is how it preserved decades, while the yellow RockShox got sandy...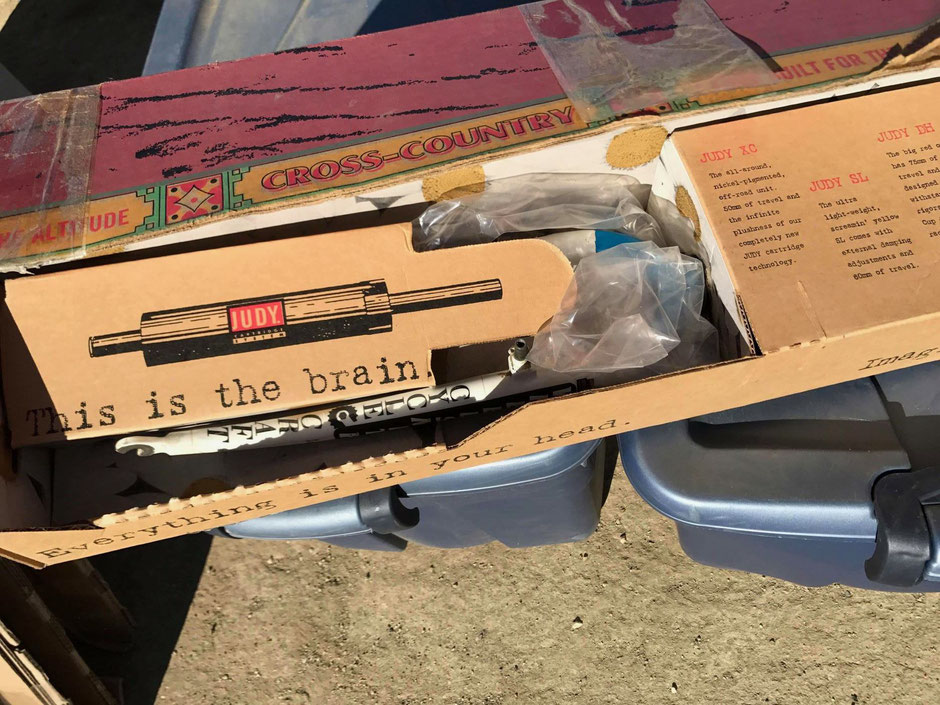 Pretty fast after the first Google searches, the bike from Eric (Rumpfy) pops up. Will contacted him, luckily Eric had a high resolution and yes, every decal even chips match with the magazine bike. No wonder, these articles were managed and promoted by Ray Schmal.
It is THE magazine bike.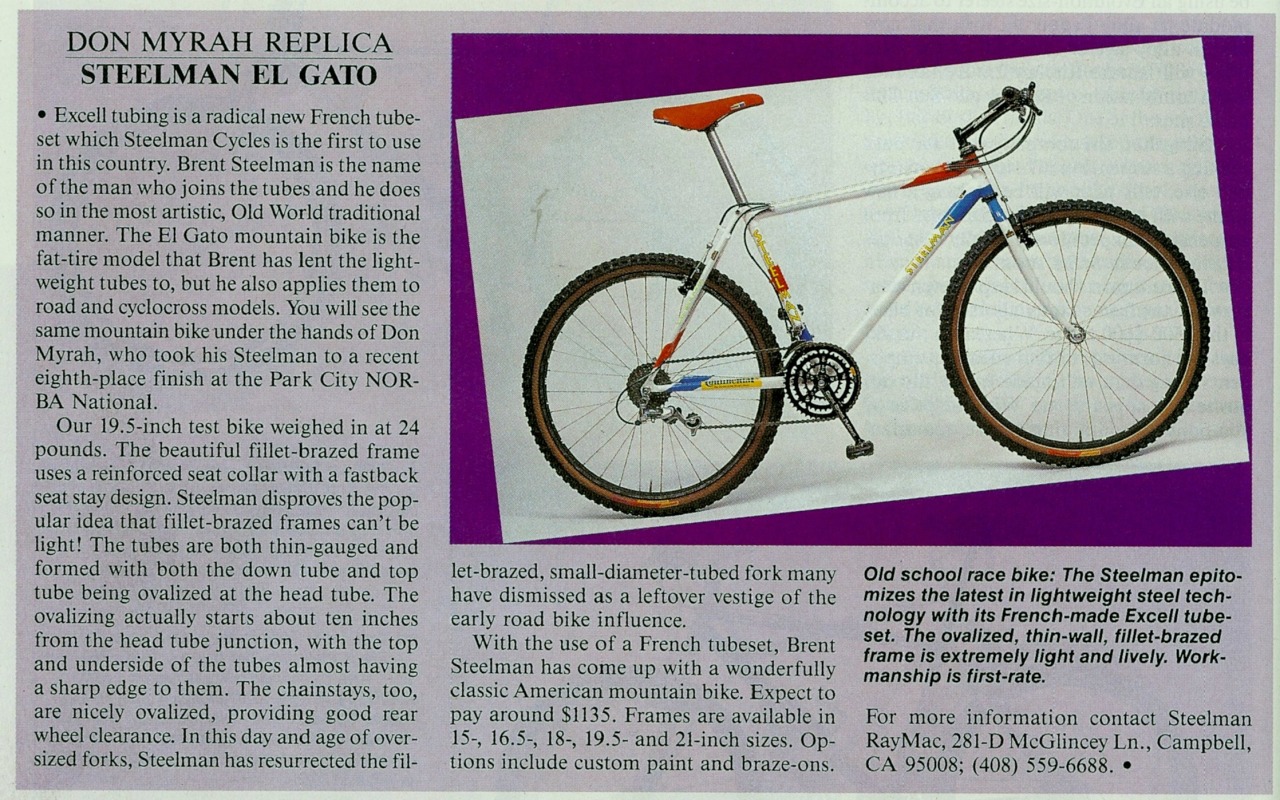 The plan was clear, put it back together to the magazine bike. The missing parts like the stem and seatpost were found, while the German sponsor´s CONTENTAL BAJA tyres (hand signed) were included on the backyard. Also an highlight, the numbered wheelsmith wheels.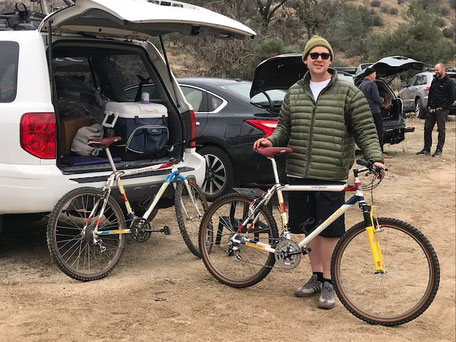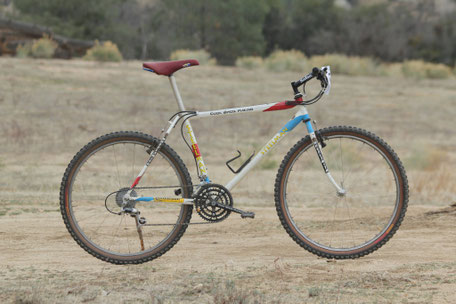 These pictures were taken at 2018´s Keyesville, thanks for sharing the pics, Will and Hugh (via facebook)
---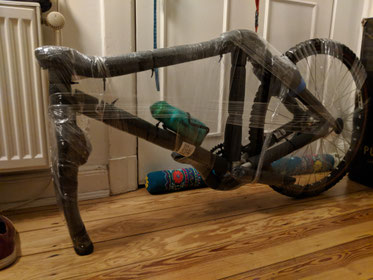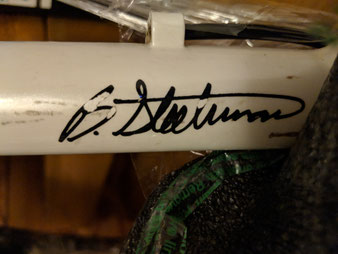 This bike is clearly amazing, it has everything what a bike like this has to have. Great steel frame, existing history and found, perfect parts and overall condition. If you look at the frame, every detail is beautiful, even the marks, chips, some rust. It tells stories. So what should one do with a bike like this. My goal is to get the most out of this build by restauration of a monument. I.e.- clean, polish and wax the existing paint, work and close rusty areas and maybe replace some heavy worn parts with exact the same in better condition. I want to see the original color shine again and ride this bike a beautiful trails in the upcoming summer
Jan, 13, 2018.
(here some pics of the current historical marks of this materpiece of frame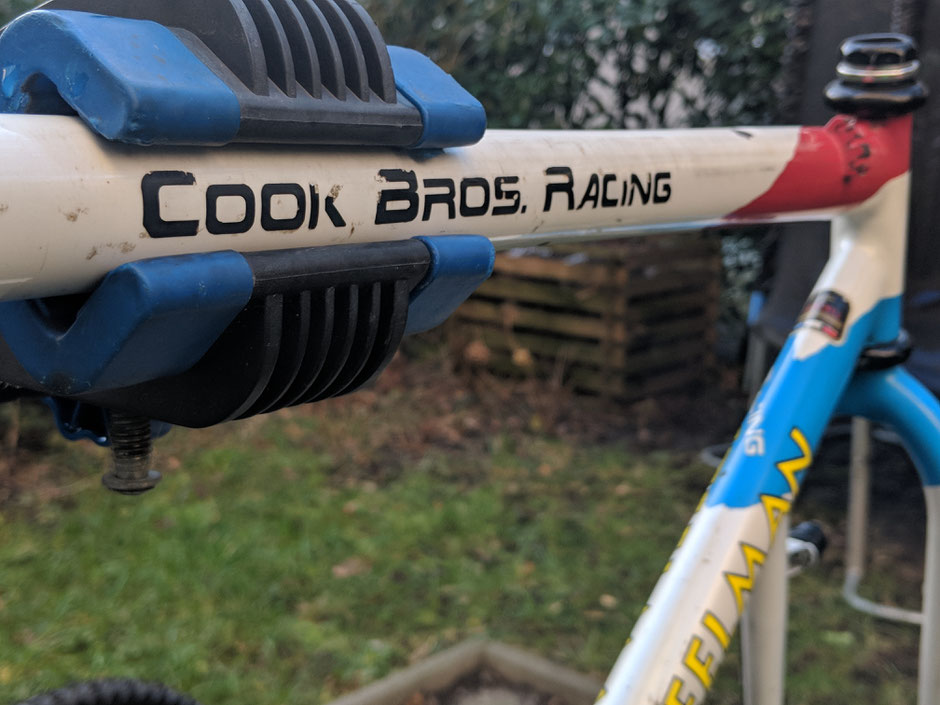 Before / After wards, simple Meguiars polish
What I really like is the white tone and the colour changes. After the initial clean up of some parts of the frame (will do completely later), this pearl effect of the white became visible. I'm flashed from it, beautiful and special bike.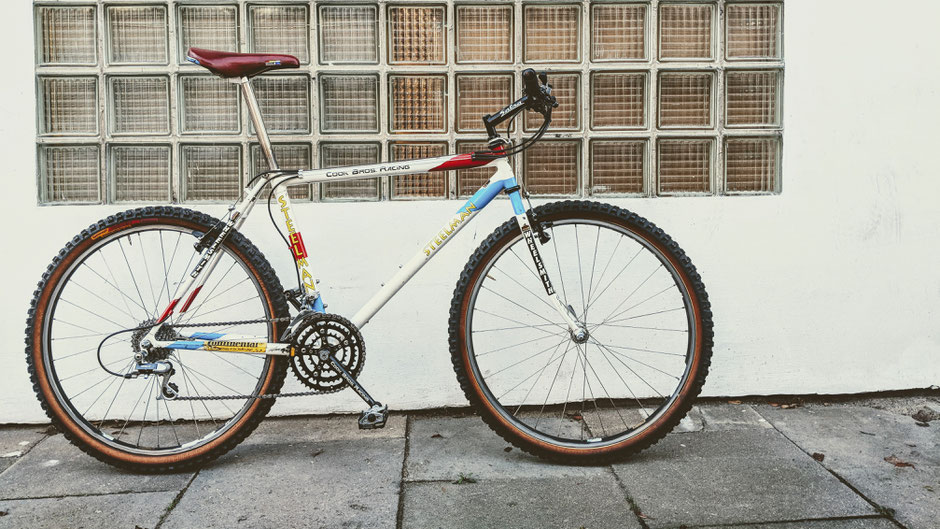 The first ride was a winter tour through Hamburg. If this bike ever saw snow. The German Continental tyres will like have it in it´s DNA.
Even though it was a short trip, the El Gato showed the opposite from what the RayMac did. It is straight, agile, direct in curves. The tail really absorbs hard kicks. Clearly, this bike is made for narrow trails, fast turns, cross country.
| | |
| --- | --- |
| Parts | Brand |
| Frame | Steelman Excel tube set with ovalized top tube and chain stay, full fillet brazed |
| Size | 18" (I measure 17.5) |
| Fork | Steelman Excel tubes, full fillet brazed (shimano drop outs) |
| Stem | Salsa |
| Bar | Answer Hyperlite |
| Headset | XT 730 |
| Shifter | Shimano XT 732 |
| Brake Levers | Dia Compe 183 |
| Crank | Cook Bros Racing + XT SG Chainwheels |
| Pedals | Suntour XC Pro or Shimano SPD 737 |
| Buttom Braked | Phil Wood |
| Derailleur | Shimano XT 732 (FD) / 735 (RD) |
| Wheels | Ritchey Vantage Comp + Shimano 600 (28h)  XT 732 (32) hubs + Wheelsmith spokes + XT HG cassette 7 speed |
| Tyres | Continental Baja |
| Seat Post | Suntour XC (I ride American Classic Titan) |
| Saddle | Look |
| Grips | Scott |