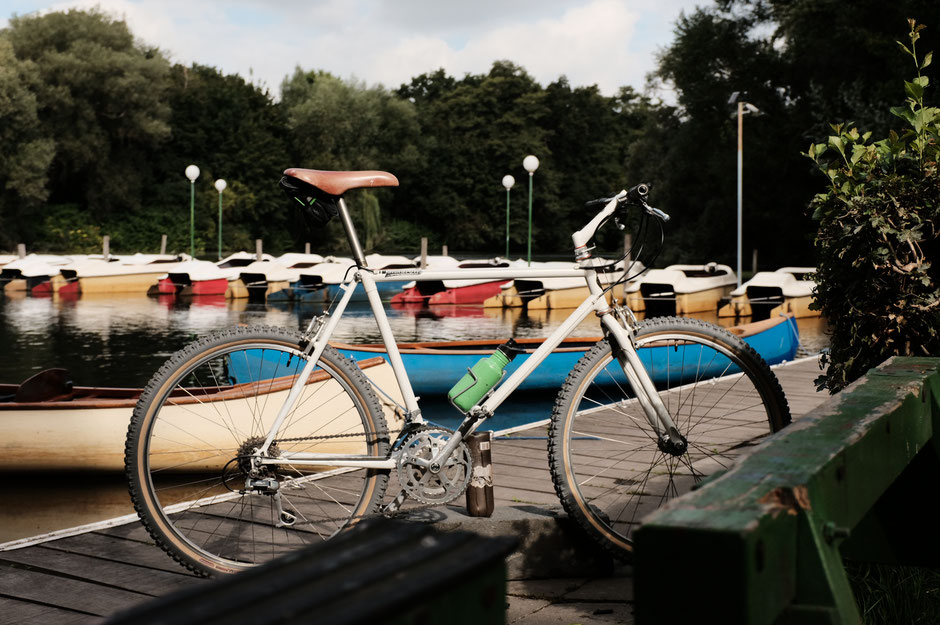 Like most of my bikes, this lovely white Steve Potts Cross Country Racer came by accident and a bit of luck. One day a friend asked me, what price estimate I´d give for this bike. Looking at the picture I thought, uhhh, thats nice. But do I like that loong stem? Without purpose to buy, I gave my estimate and we chatted about different bikes. I continued looking at it - here his Garage in NY City and some chronological previous versions of it (yes, it has seen some previous owners).
Clean build, (first picture) a little dent (chain stay), couple of chips and paint damages, maybe not to matching tyres, to new brake levers and saddle as well as the post, but I definitely piqued my interested so I asked, if I could get it. 
The arrival was a really sad moment. I saw it already with the padding. In the parcel there were rims, actually really well packed, but there must a huge force pushing on it during shipping.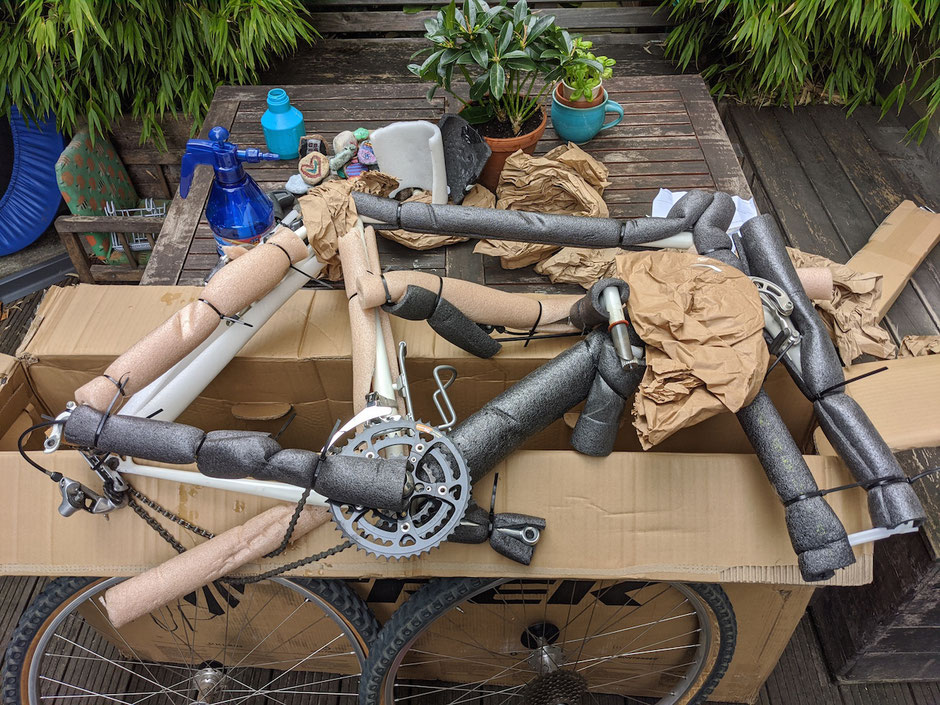 This is my third Potts and I definitively can state: I´m a fan - see here some more bikes. While the other two had either a fillet brazed stubby clamp stem and a famous IRD Macaroni stem, this one was quite new to me and the paint job is so special.
Yes, I liked the build when I got it, but I thought he white demands some more classic aspects. I really like the Specialized flag on the previous build, so I put that on.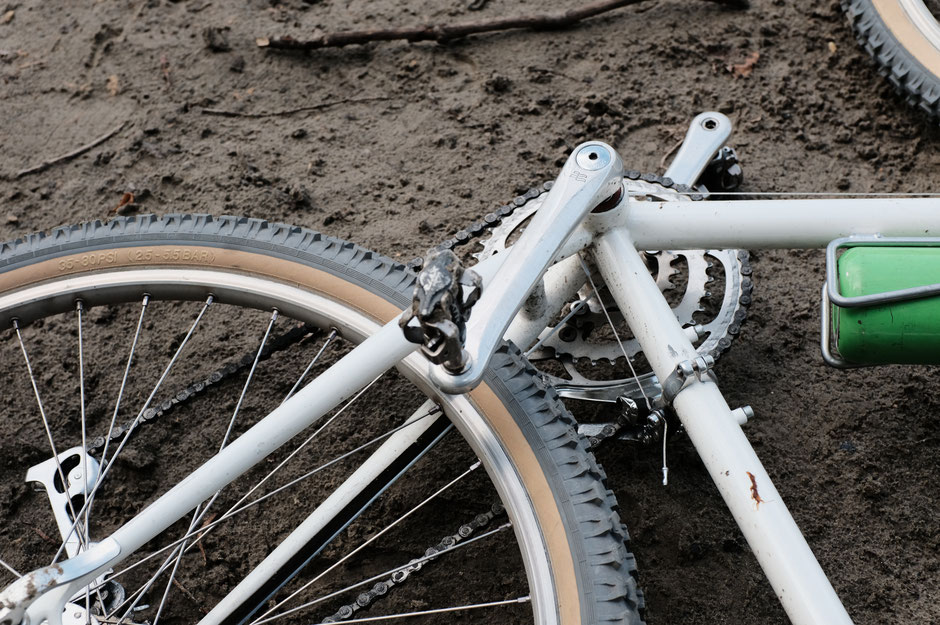 Yes, you spotted it already, I was lucky to find a real grey gem for it: Specialized Ground Control UmmaGumma. The tryes developed 1986 in cooperation with WTB (link, source also from pick) do perfectly match the white and with its red also to the WTB o-ring-ish color highlights.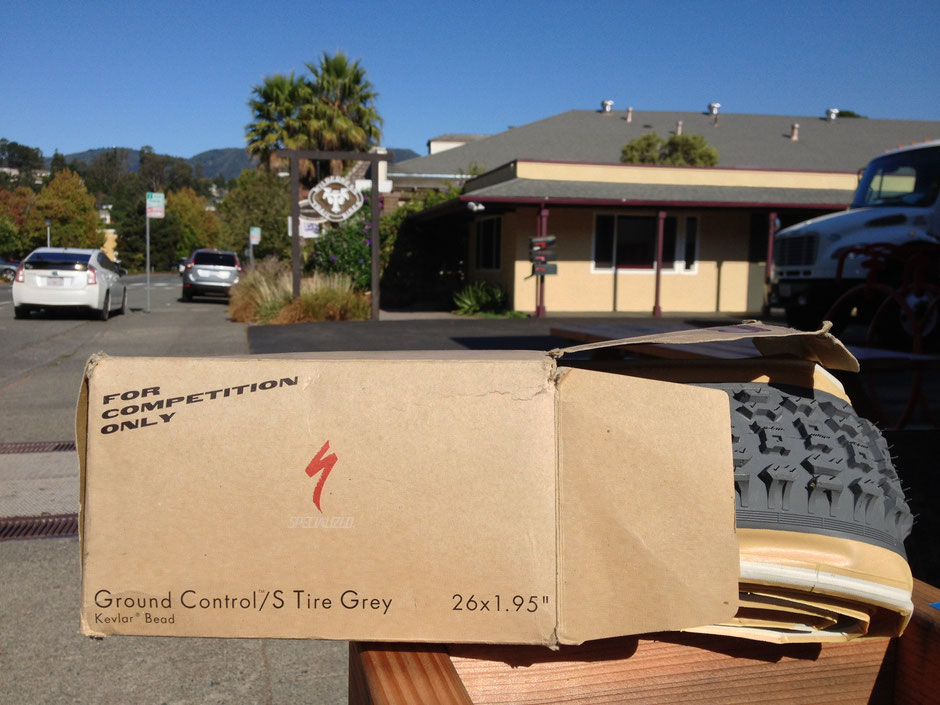 The previous owner drove the o-ring highlight to the max, see the stem and ventil one :)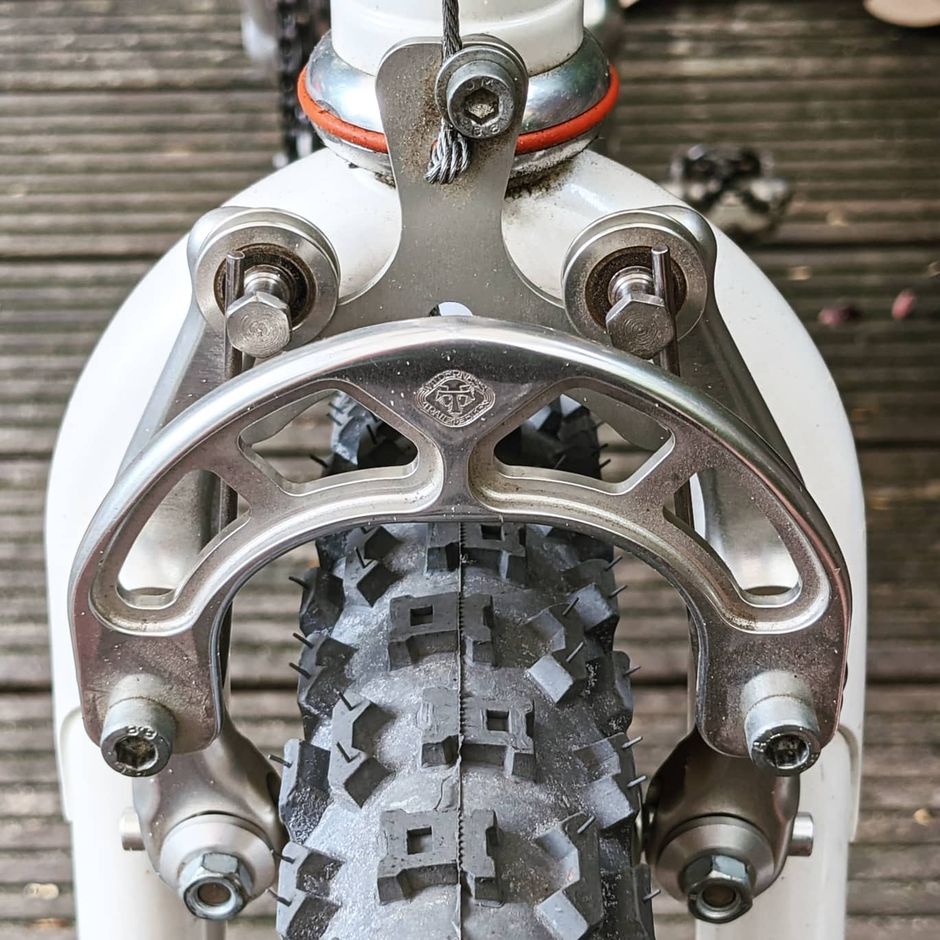 The bike came with a pretty back sweep`d Ti bar with a WTB decal (see above). Though this actually fits to the goal of a more classic build, the sweep was too big. I choose a close to straight, but wide original WTB titanium bar. What I def changed was the levers. The Paul Love Levers are great, but did not match to my plan. It has an XT, but I needed silver levers, so I choose the DX. Nice shiny and SLR, the do a real good job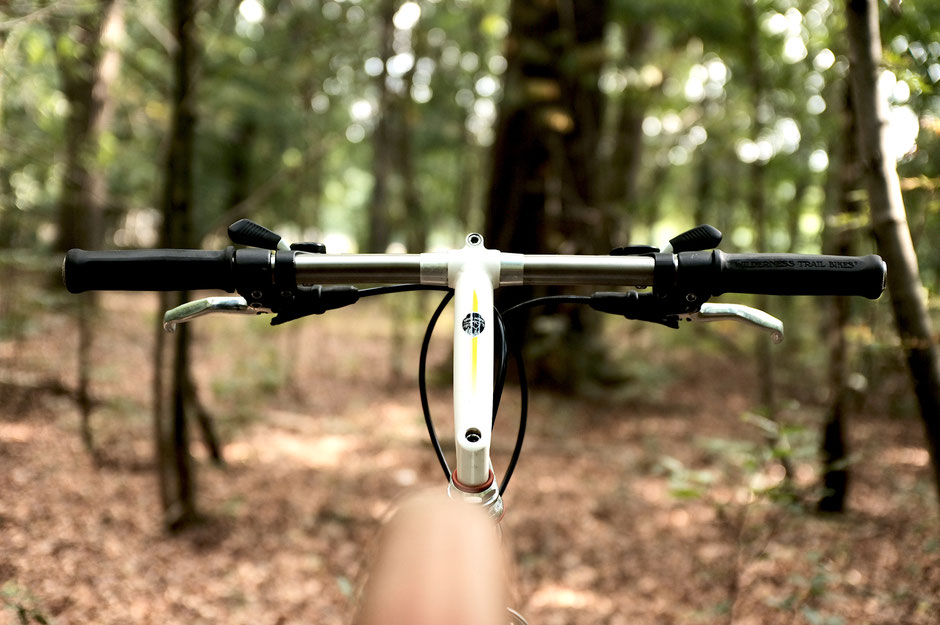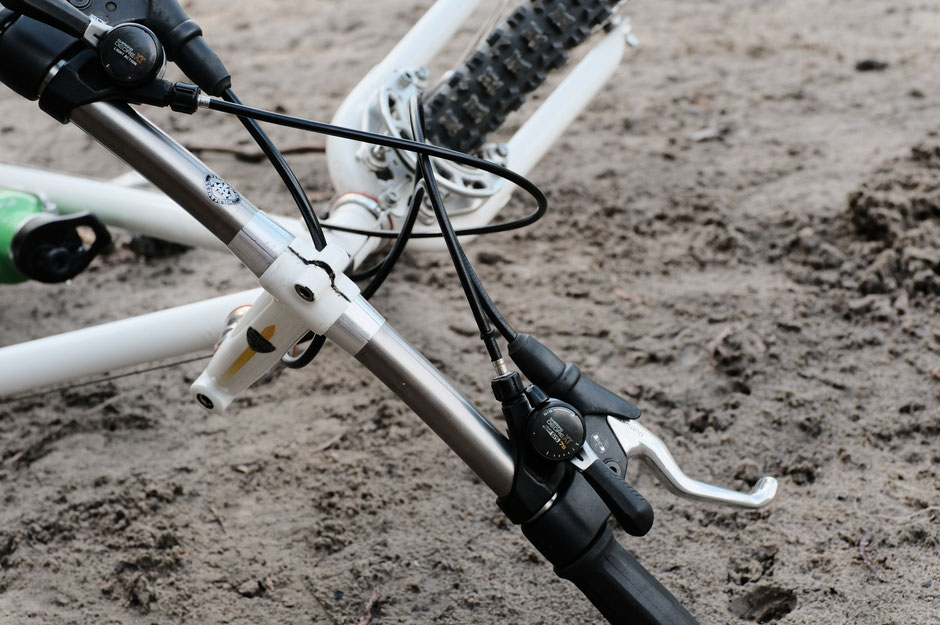 Though the dent still worries (my frame builder will repair it one day), I tried it now a few times and it made it to the best. It´s light, its direct and fast. It´s one which you can kick and kick and kick, get little jumps from the tail and back on its straight line. It turns stable, likes sandy ground (the soft Umma Gumma contribute here for sure) and the stem makes it comfortable for back and neck :)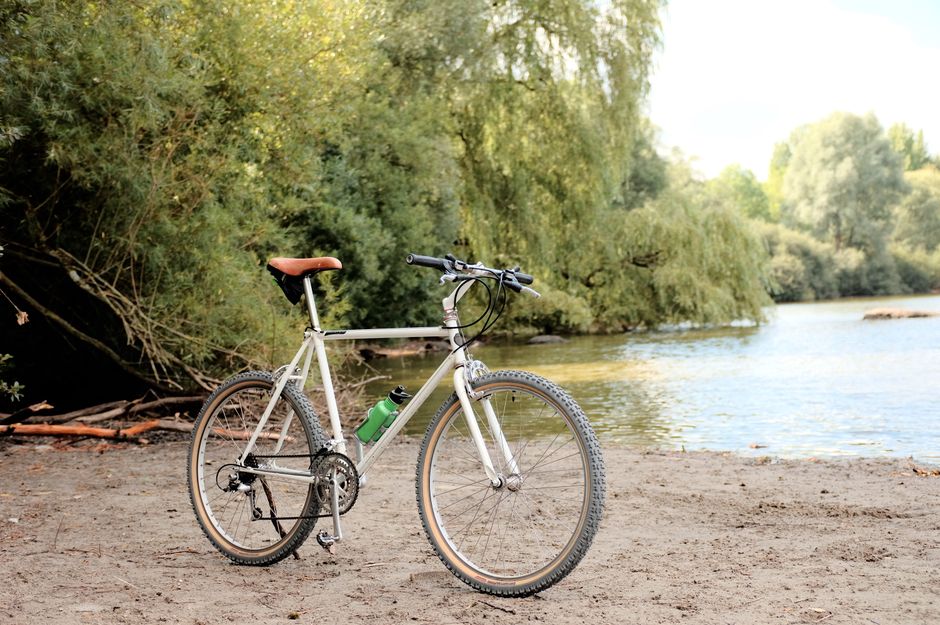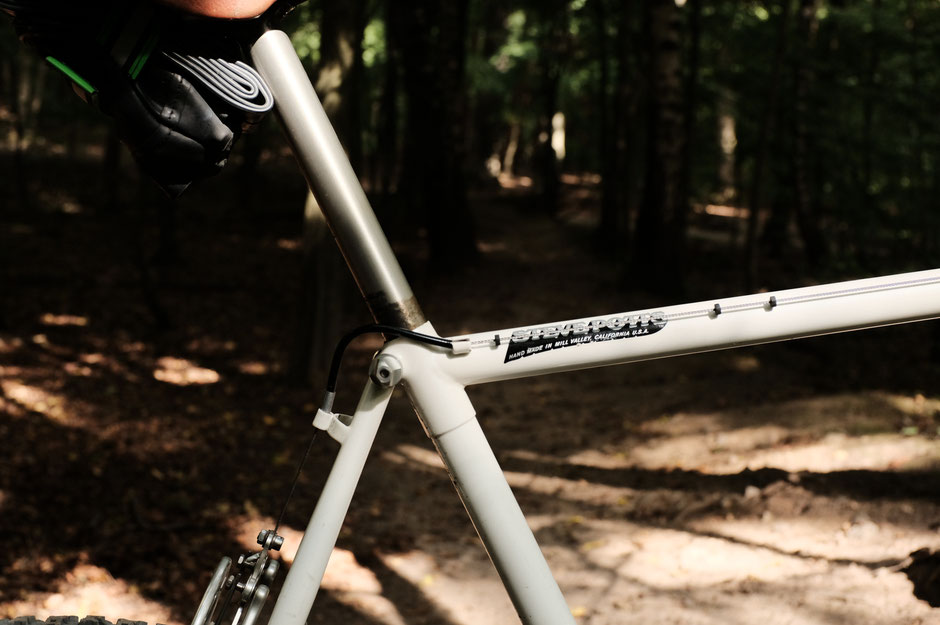 Phase one brought new wheels for a very nice tour to the German mid mountains - Harz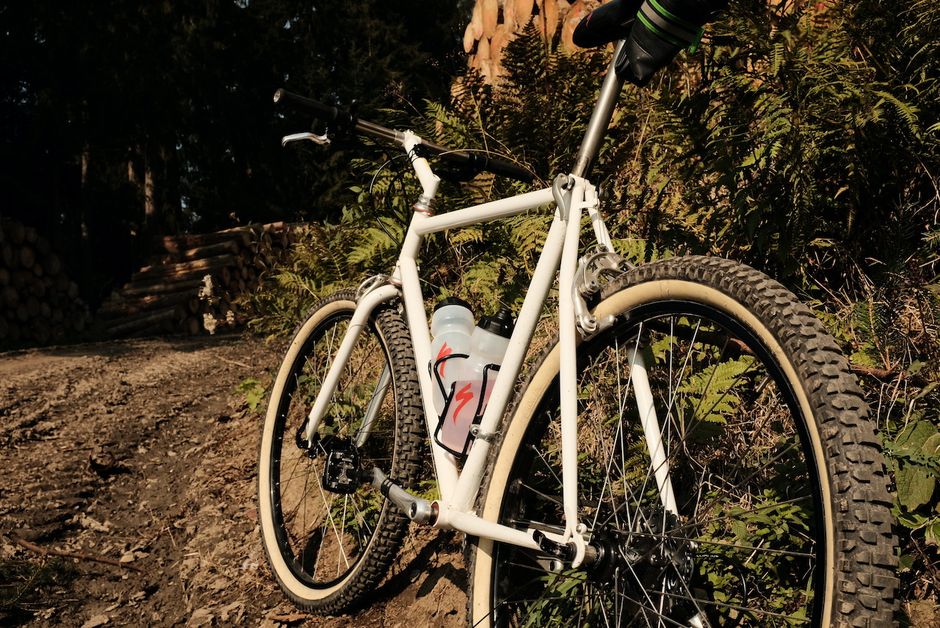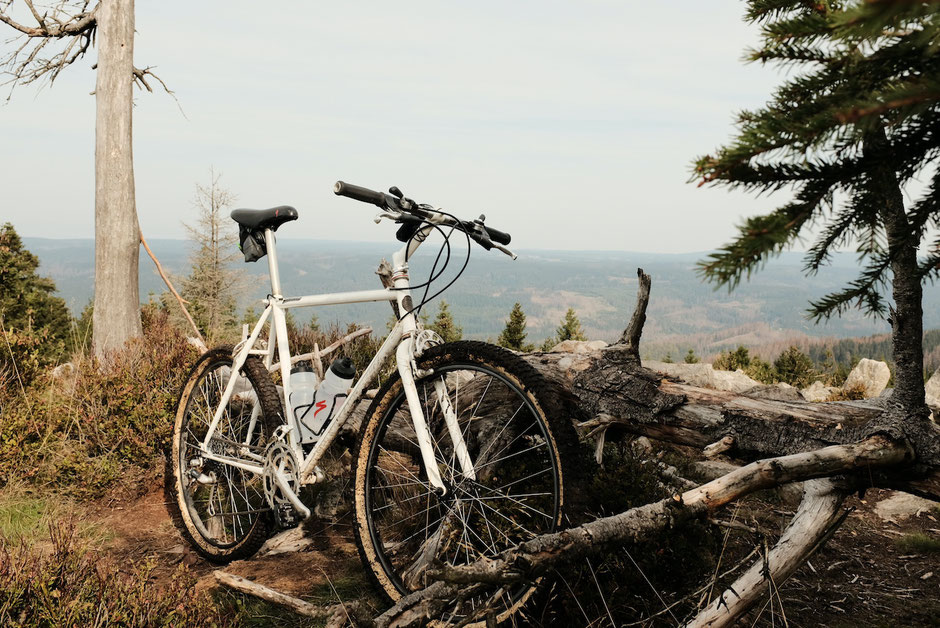 Phase two brought the b/w WTB build, to me so good, even though one could say all parts in black appears a bit too new. Who cares, I like it, very much! Have a look, first some parts, then the ride - its got even faster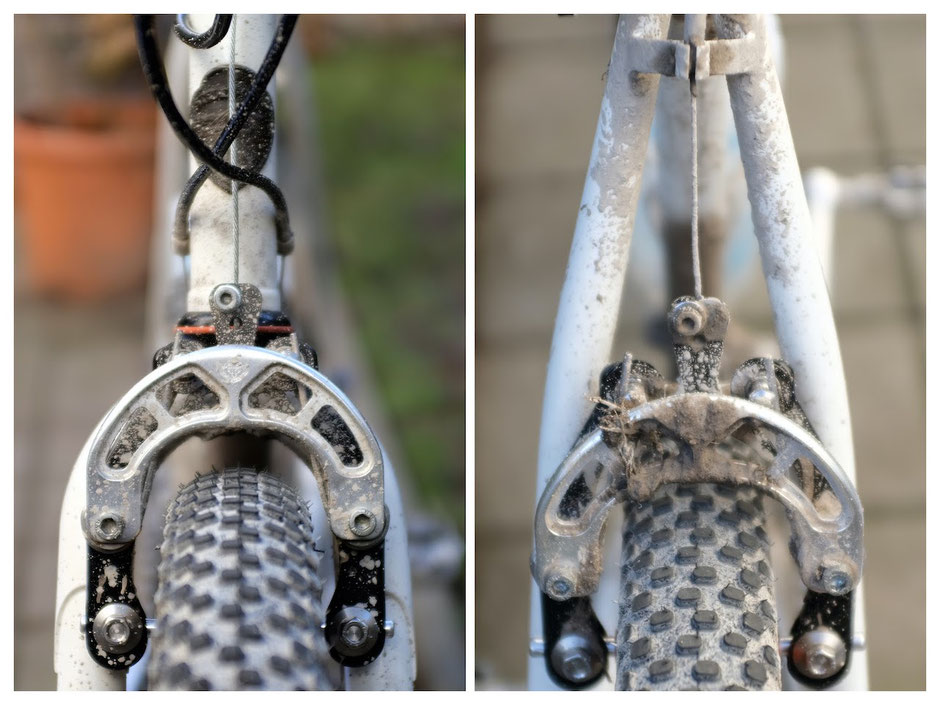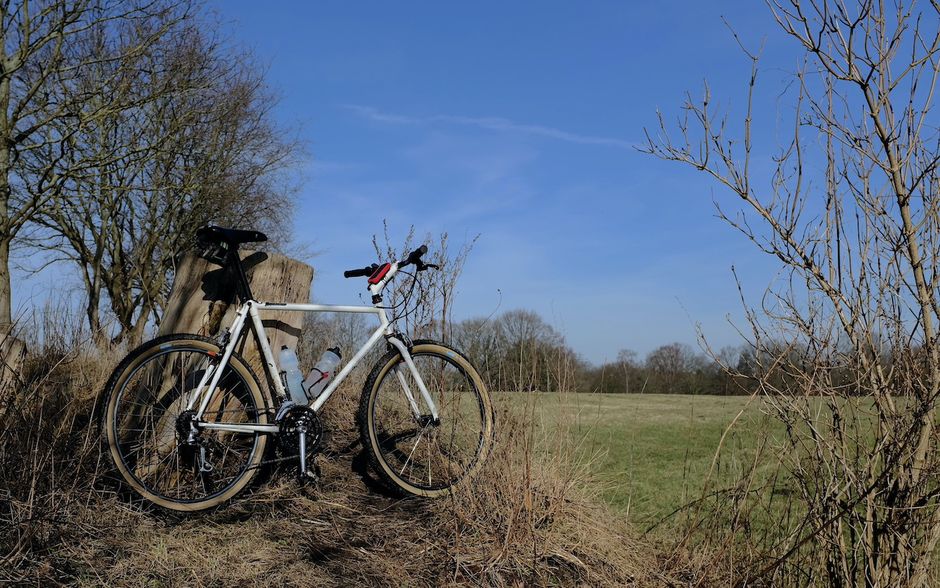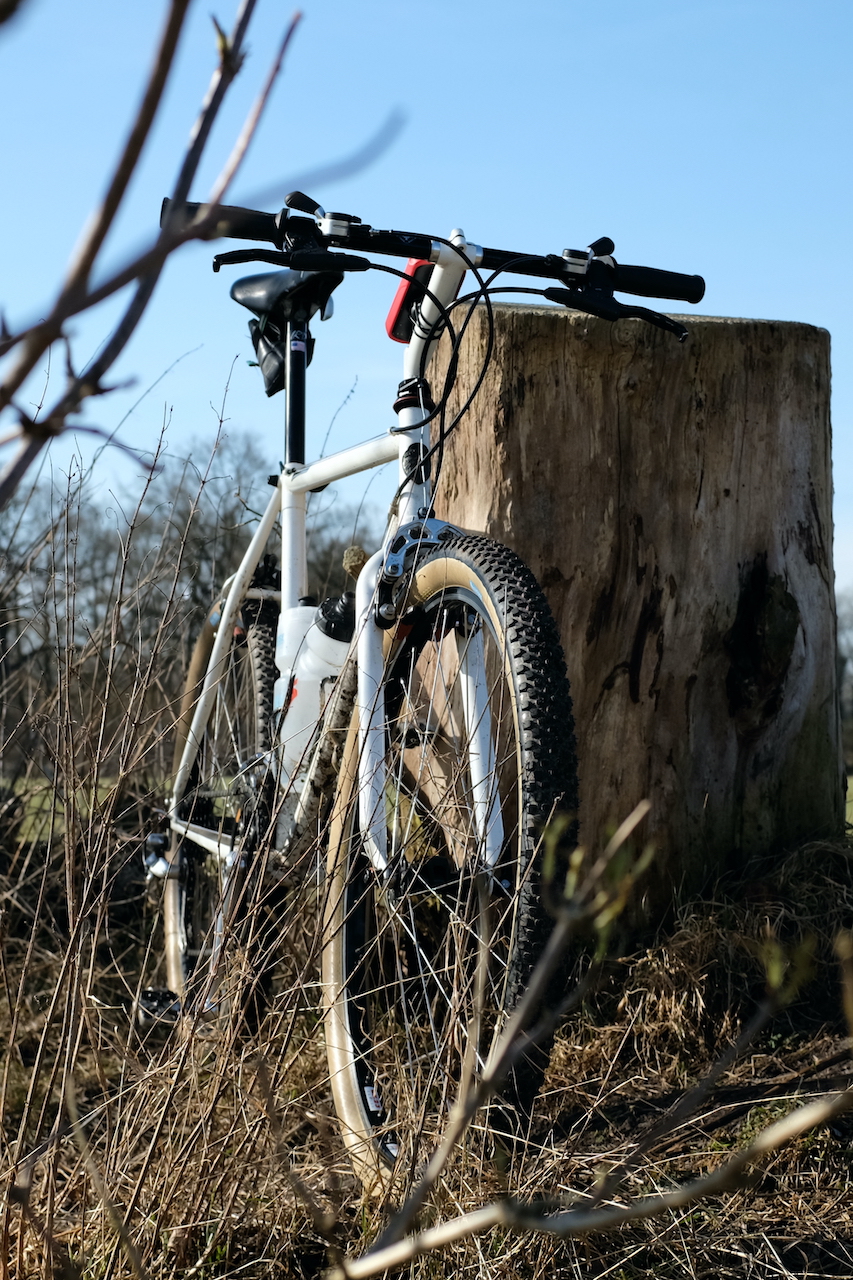 | | |
| --- | --- |
| Parts | Brand |
| Frame | 1991 Steve Potts - Serial 91100 |
| Size | 20" |
| Fork | Steve Potts Type II - roller cam mounts |
| Stem | Steve Potts - Ritchey steel |
| Bar | WTB DKG black |
| Headset | WTB Chris King 1" |
| Brakes | Speedmaster Rollercam  |
| Shifter | Shimano XT 732 |
| Brake Levers | Shimano XT 732 |
| Crank | Cooks Bros CBR |
| Pedals | XT SPD |
| Bottum Bracket | Titan pressed |
| Derailleur | Shimano XT 735 |
| Wheels | Specialized BX 23 + WTB Classic hubs |
| Tyres | Rene Herse Humtulips Extra Light |
| Seat Post | IRD |
| Saddle | Specialized Pro Long / WTB Titan rails |
| Grips | Magura |