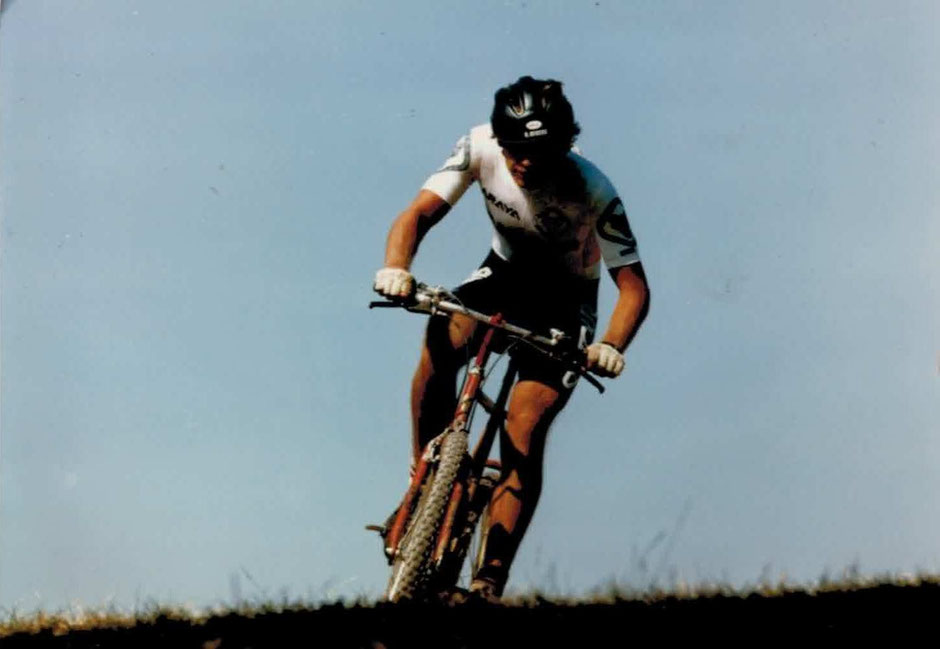 Source: https://www.wtb.com/blogs/wtb/10794269-throwback-thursdays-1985-norba-championships-team-wtb-suntour-santa-barbara-ca
There is so much patina, soul and history in this 1992 Steve Potts, equipped with WTB parts, so I leave you with the words from one of the last sellers - to me worth to repeat with no addition for the beginning.
Pics take before and after my first ride. More to come, maybe also work with/for the bike.
"Owners name is Barry Carney. He lived in Marin and was friends with Steve. He owned and operated an auto shop there in Marin and was a accomplished welder. He was sponsored by Potts WTB and raced for years. He went through 4 race bikes and this was his last one. It's a 92 and built with components of that era excelt for the brakes. He didn't want the latest version of WTB RC so he used the Cunningham RC off his last bike. 
When the seat tube developed play he just heated up the tubes and floated brass into the joint. He had every intention of filing and paint matching that area but never did.
Personally it tells a story, I love the patina. He couldn't recall if he had any pictures of himself racing it but said if he finds any he'll tell me. He's a super nice man. He's retired and lives up in the mountains and rides an Electric Mountain bike. He looks to be in his mid 70's. 
Anyway you'll love the bike and it rides amazing.
Oh, Mike Varley of Black Mountain Bikes he's an expert in vintage bikes, he went through the hand fitted Grease Guard BB and installed new bearings. 
The WTB hub bearing are nice with no play. The BB and hubs have Grease fittings so yearly just push out the old grease with new grease."
Note: I´m not in contact with him, so dear Barry, I would delete them when you don`t agree, just let me know 
If course this brings questions up.... Will it last? Shall I work on it, from polish to repair. Maybe even send to Steve?!?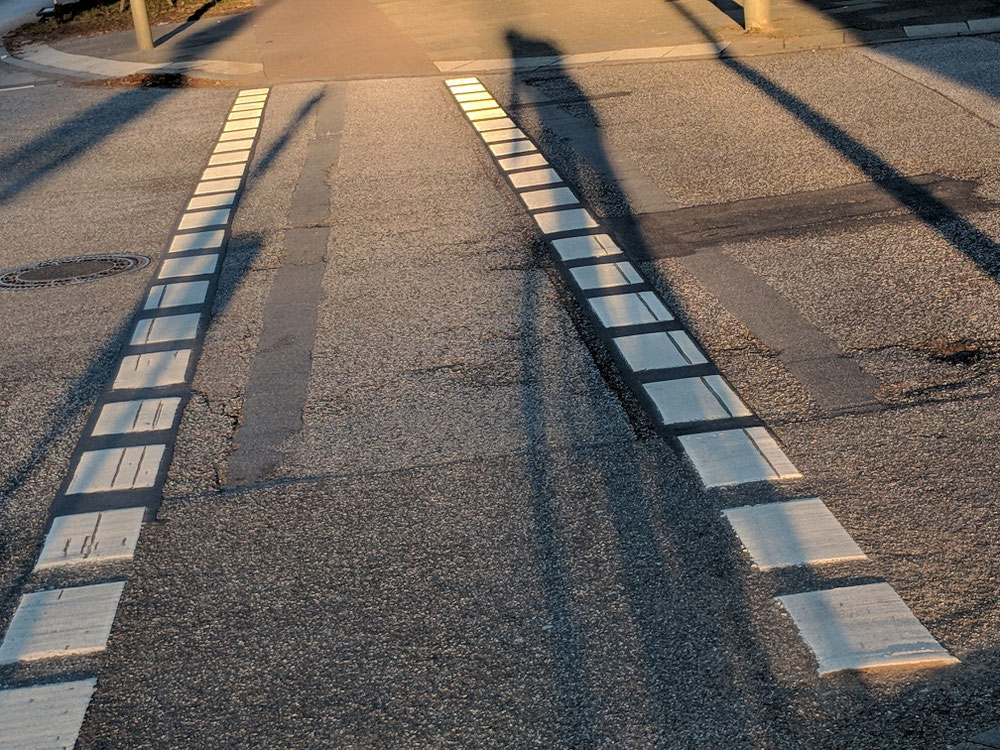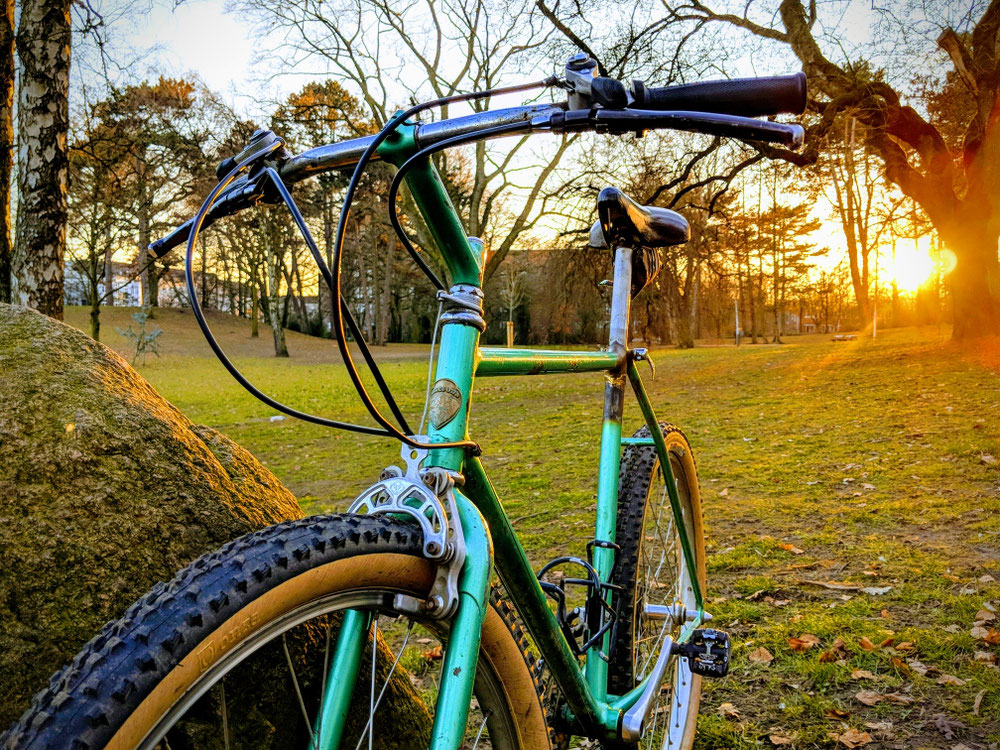 Since I ride all of my bikes, I wanted to ensure I can ride the bike. So I decided to send the bike to my frame builder. and here is what I got back. Good news - no need for the big weld, post holds, substance is clean. Yeahh.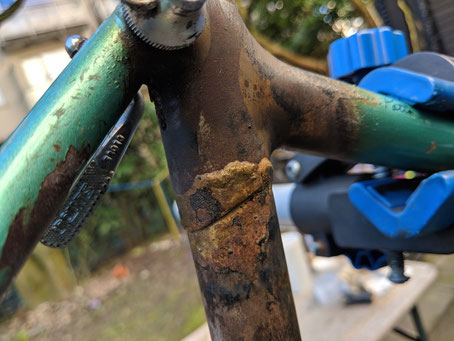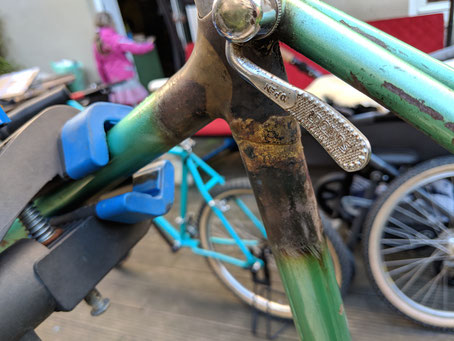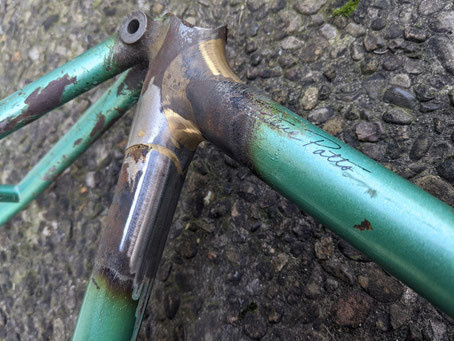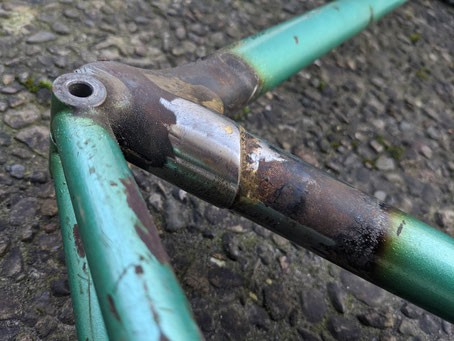 The most bothering questions are, if it is really a 92, which model it should be (e.g. too old for the Signature) and why Barry did not want a much lighter frame to are, e.g. a CCR?
Yes, I was thinking heavily if I paint it or keep the patina and spirit. I was researching many Potts paint jobs last year, here a selection with the hope of the allowance of all owners including Steve. I must admit, I just stored them from a Google & co image search and of course I would delete them, if someone has a problem with it. Some I know: Thanks to VintageMTB/Eric, VintageMTBWorkshop, SecondSpin Cycle/Martin, Shawn, Nate/Victor, Noah and some magazines which are named in the pictures.
During my research and many discussions with Potts owners, I found this one. The cant be nicer, also the story around this 87 Potts. The owner bought it from some commuter on his was to San Francisco for $300, what a treasury and great he preserved it. Glad it was documented in the book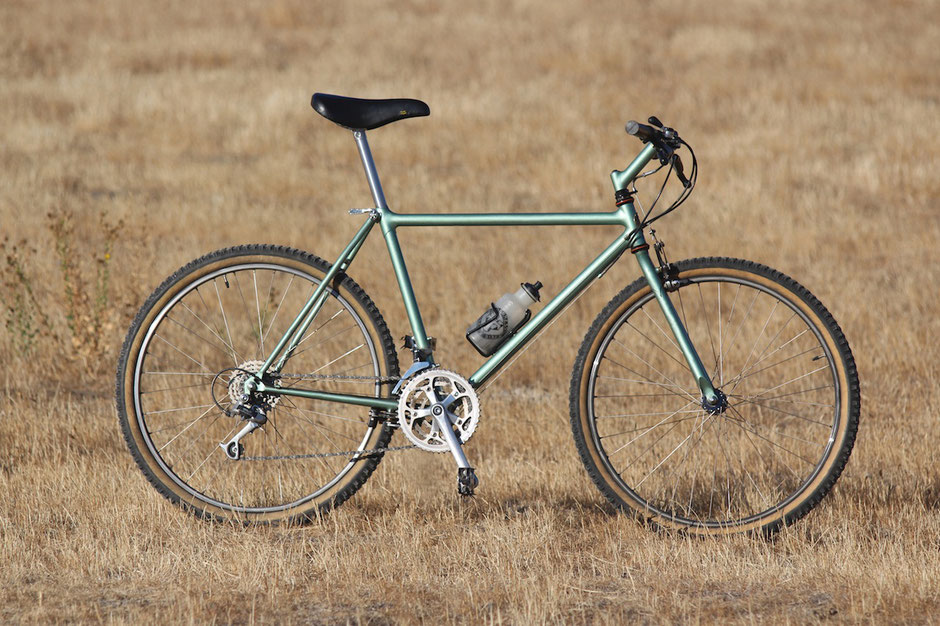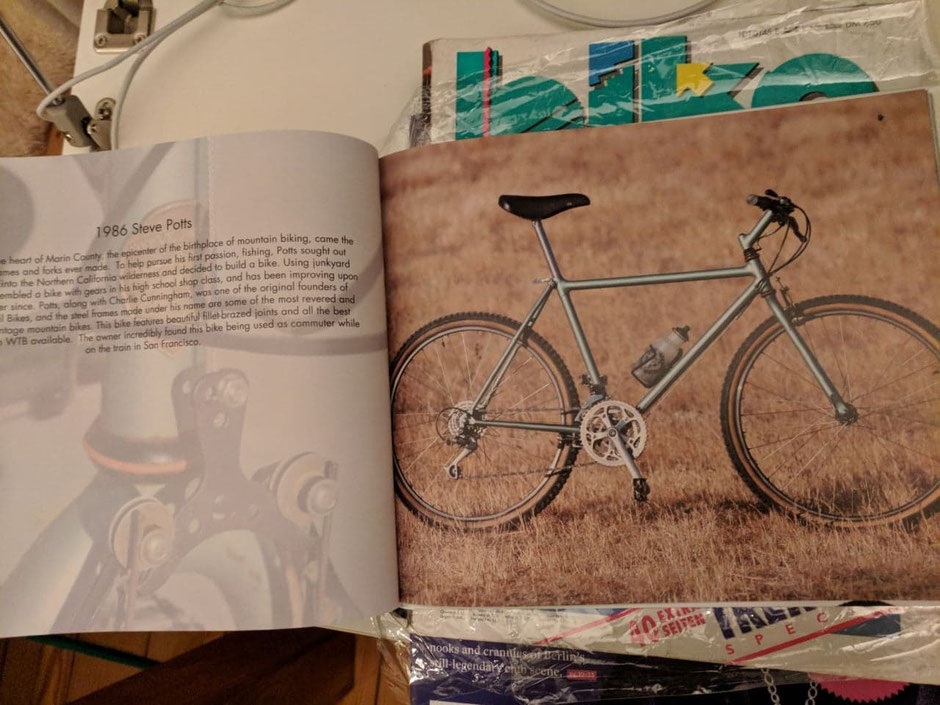 I really wanted to preserve the patina and history, but also see what´s in it paint wise. so lets go with my three-some cleaner in the garden workshop (still covid-19 quuarantaine)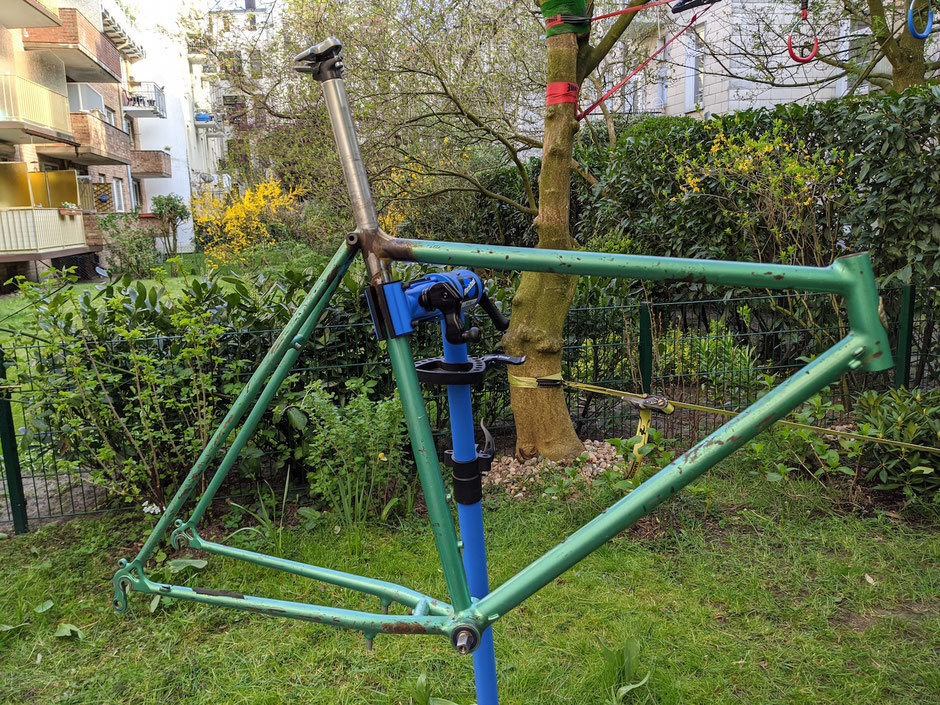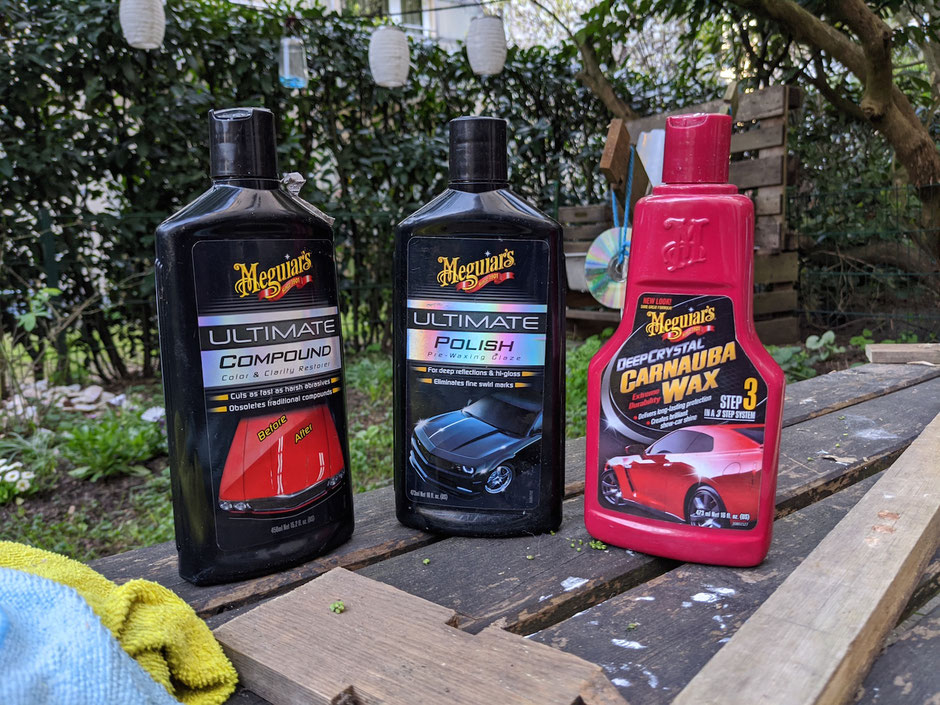 and besides some heavy wear from Barry´s races, we could free up some nice paint below quite old dirt and give back some shine to what it heavily deserves, you beautiful piece of fillet brazed Steve Potts frame.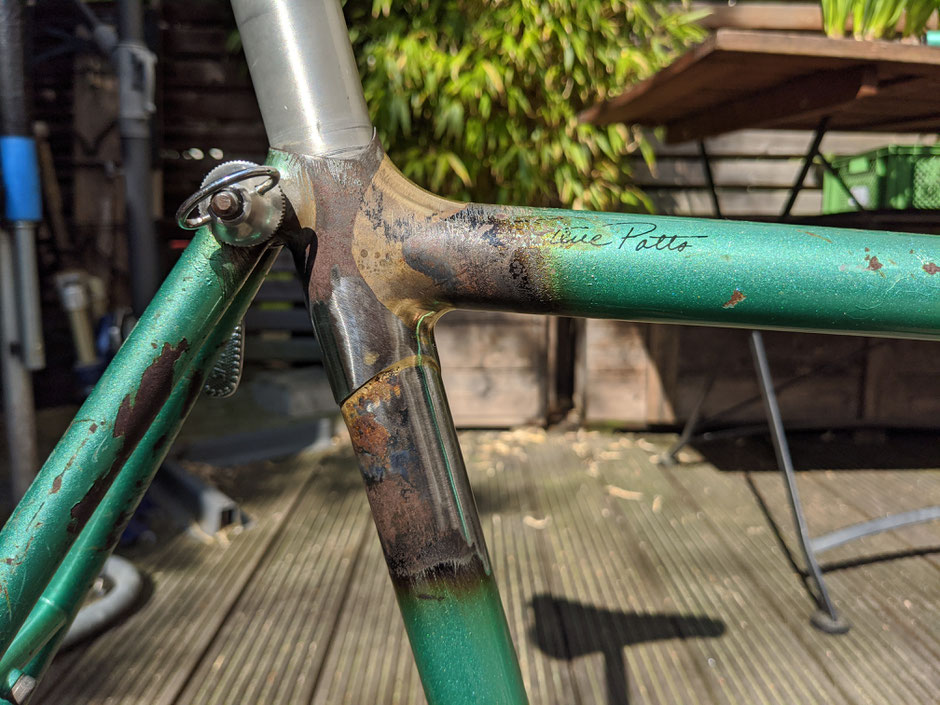 Steve Potts and it´s WTB with all it´s innovations (link to what I mean) are famous and rare, personally I think the following three parts contribute most to this hype among vintage MTB collectors - Steve Potts Type II fork, Wilderness Trail Bikes / Chris King headset and WTB Speedmaster rollercams.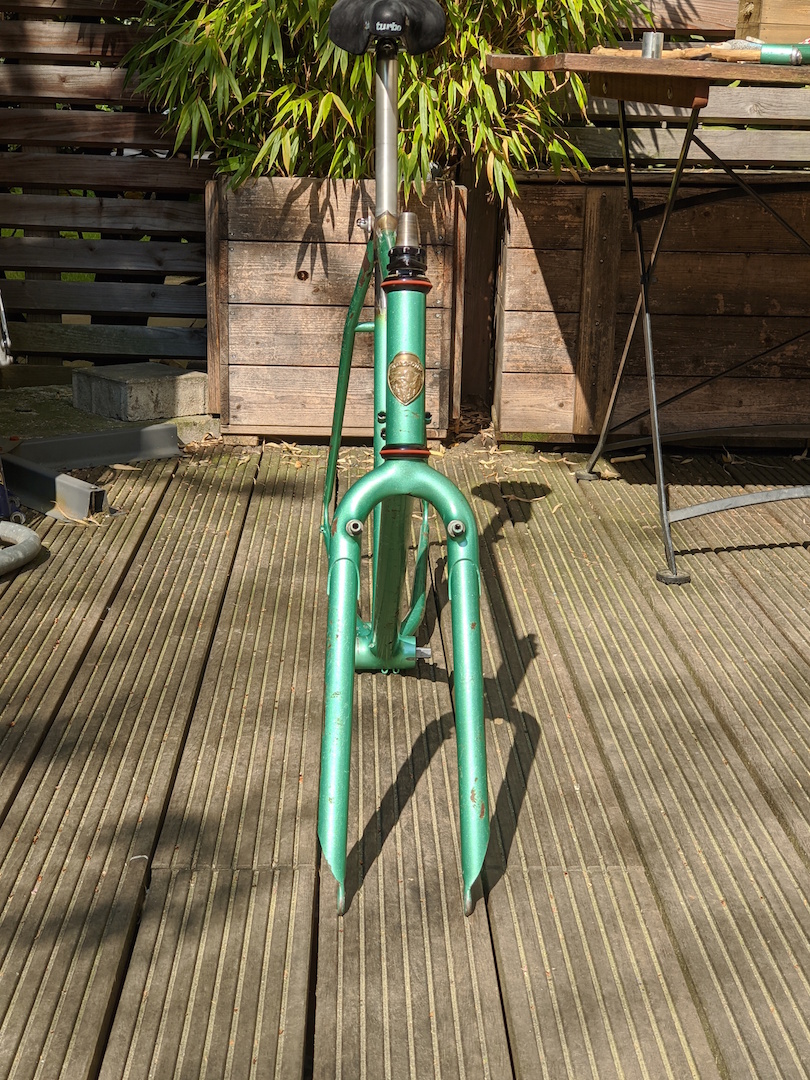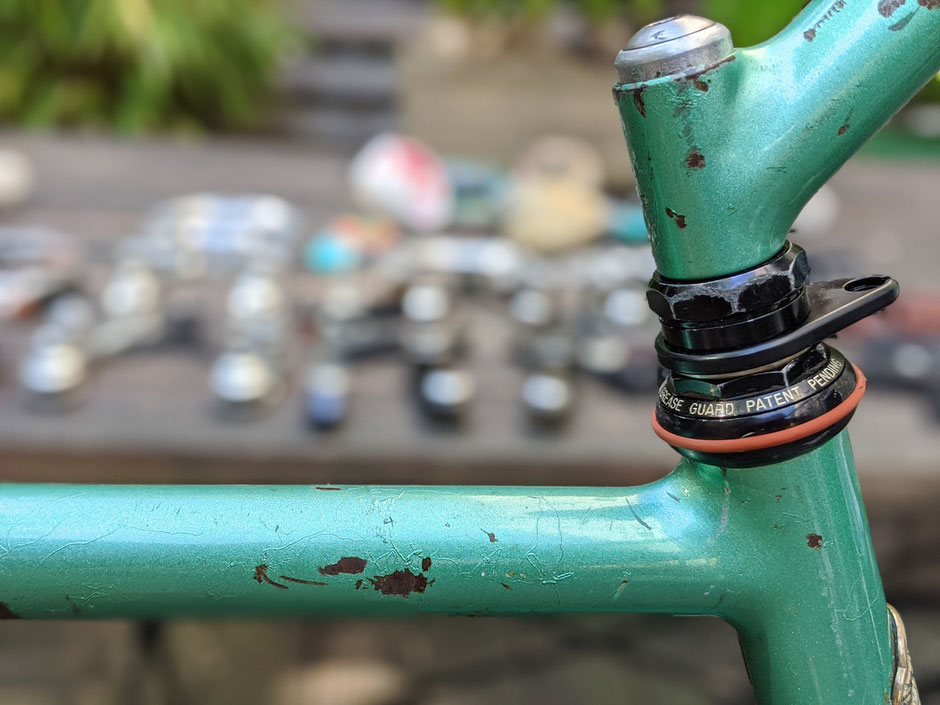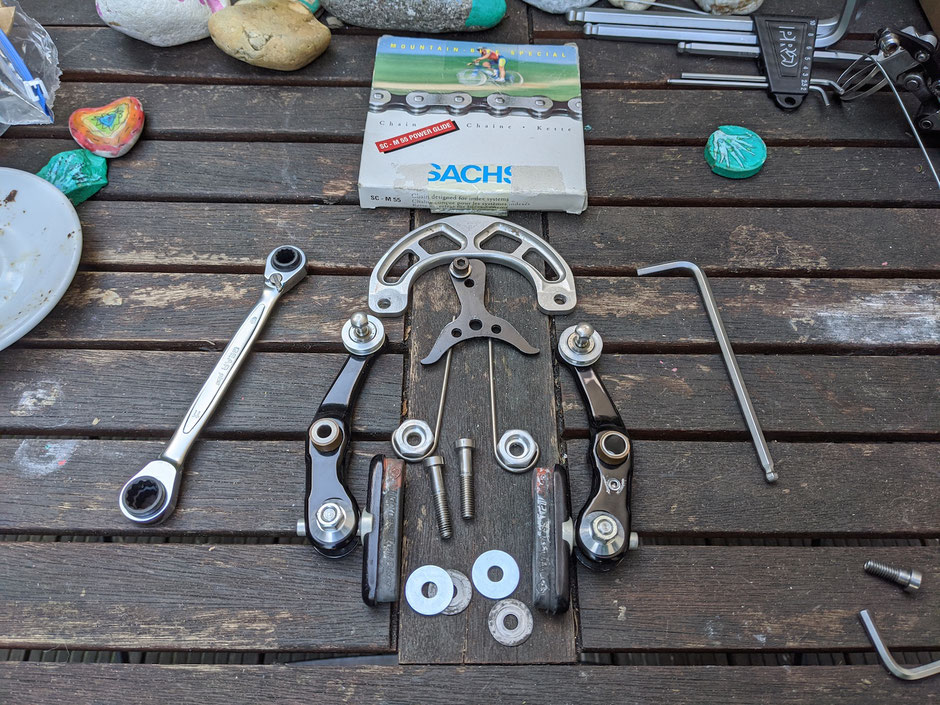 There are a few parts set, some other favorite had to follow - 86/87 Turbo Suede saddle or the WTB Classic Hubs with the Mavic MA MB rims. Yes, its turning in a hybrid model in reg to time correctness, but due to the history and mixed up patterns - Barrey using Cheesy Cams or the fillet brazed geo in 92, while more typical for earlier production. Same for the levers and shifters. I wanted to use the pretty "raw" 730 brake levers with my favorite XT SL-732 thumbies.
A highlight was clearly the black WTB bar with the end 80ies back sweep. One would assume, this is one of the first DKG parts.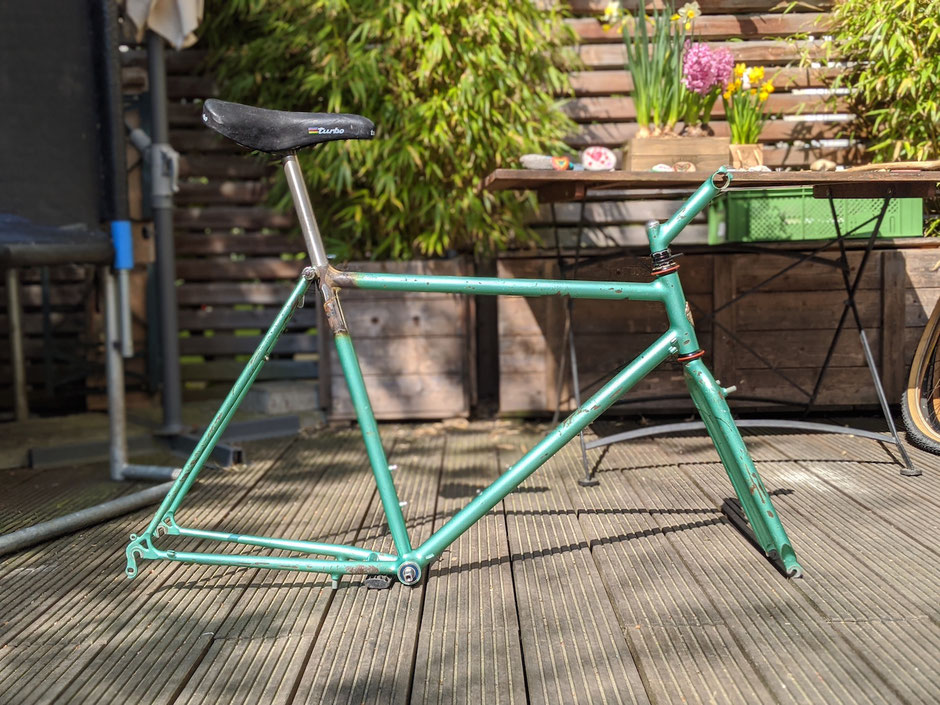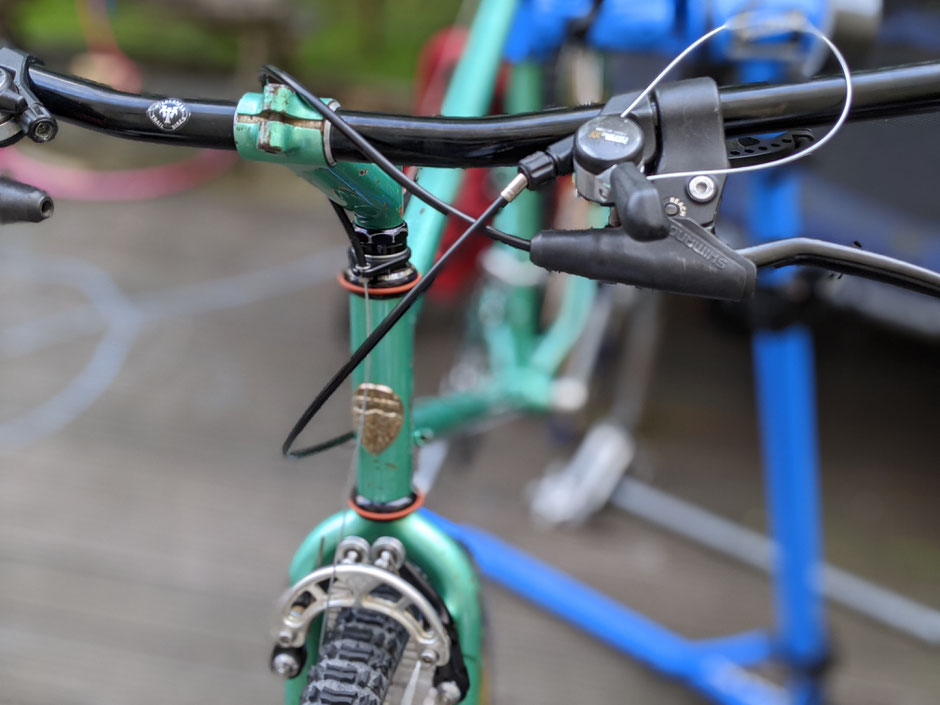 Yes, it became a WTB group set, so I decided to add only one decals...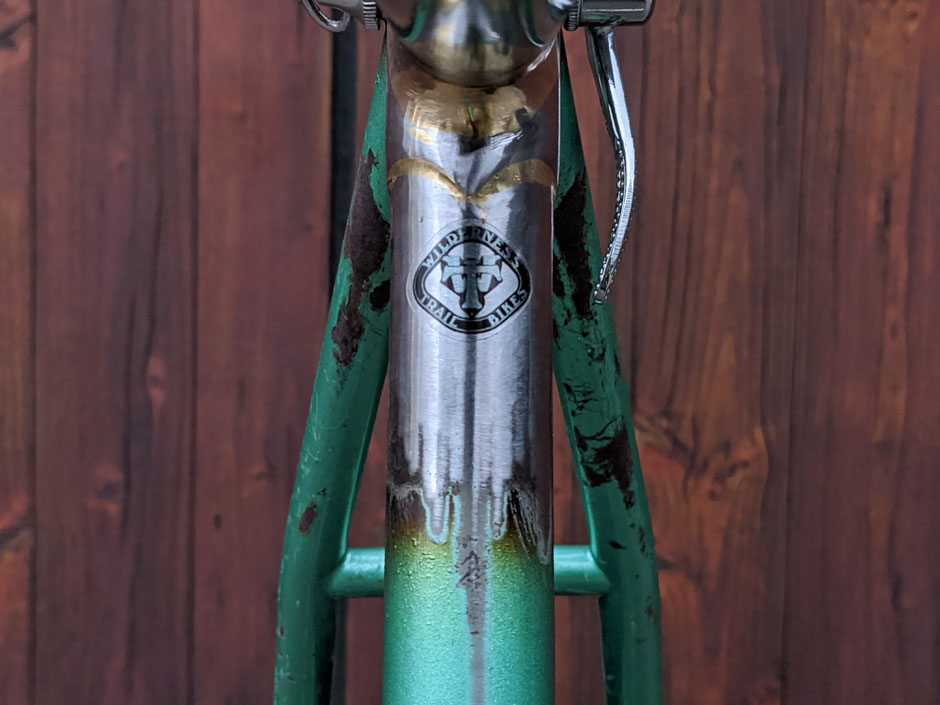 and one of my favorite and most characterizing picture for this build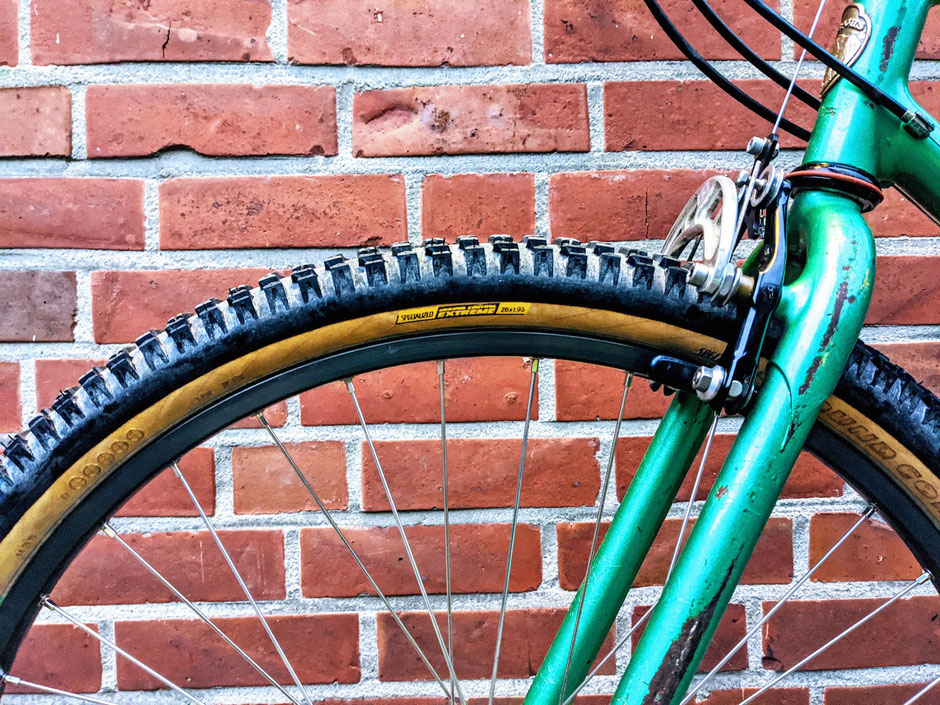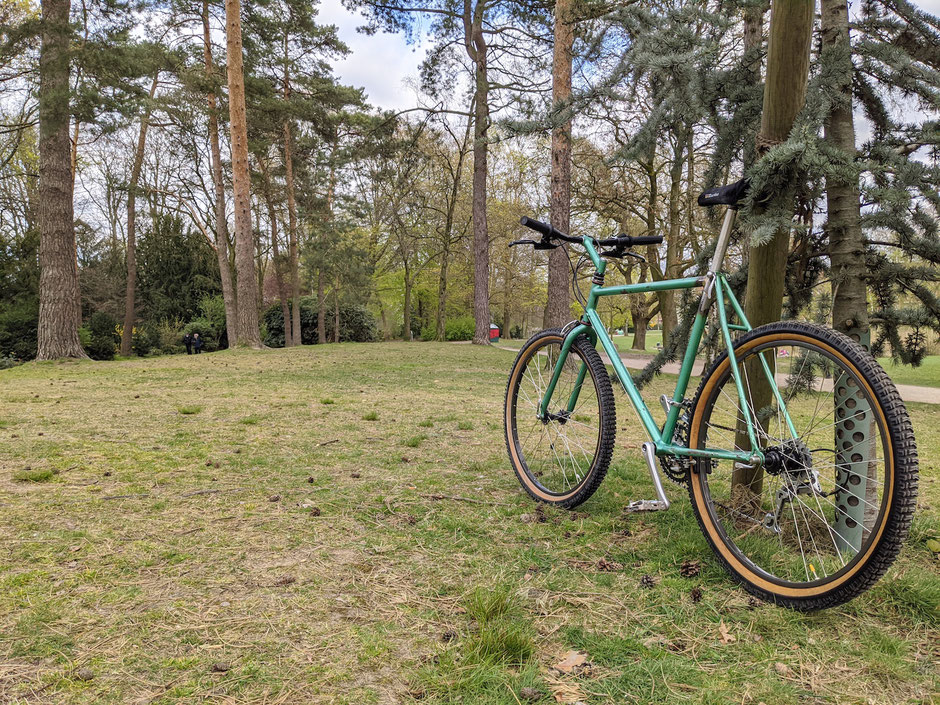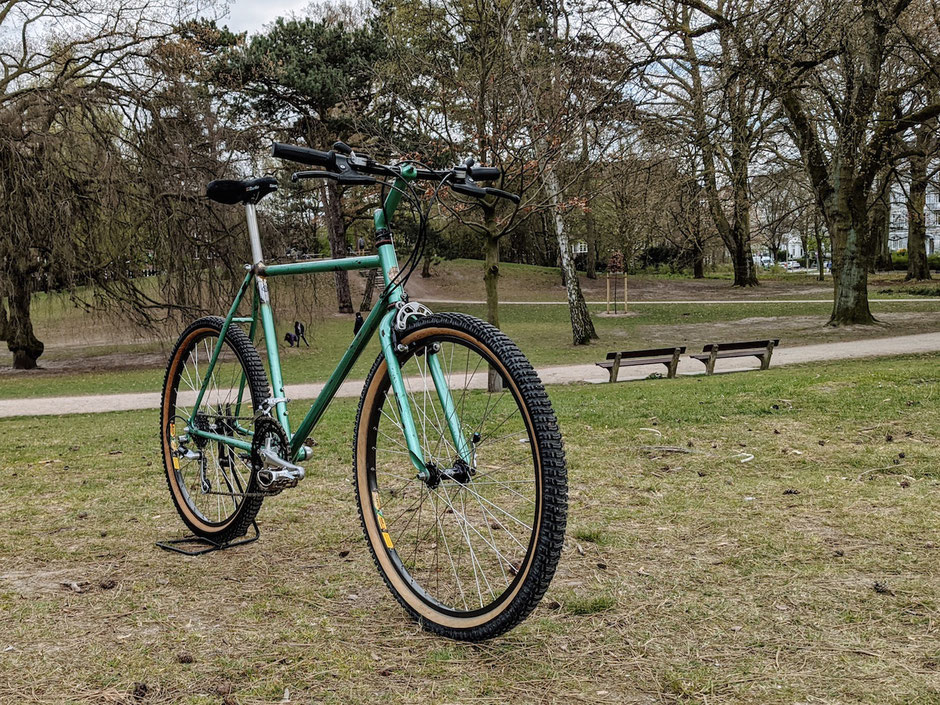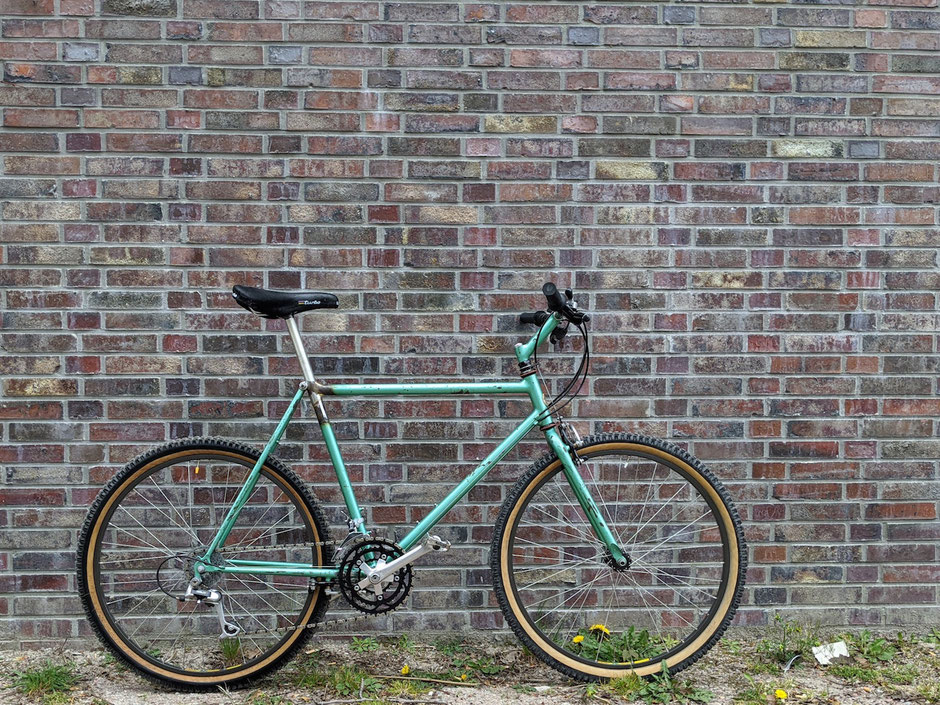 | | |
| --- | --- |
| Parts | Brand |
| Frame | 1992 Steve Potts - Serial 92144 (fillet brazed) |
| Size | 20" |
| Fork | Steve Potts Type II - roller cam mounts (fillet brazed) |
| Stem | Steve Potts |
| Bar | WTB alloy (DKS) |
| Headset | WTB Chris King 1" |
| Brakes | WTB Speedmaster Rollercam  |
| Shifter | Shimano XT 732 |
| Brake Levers | Shimano XT 730 |
| Crank | Specialized Flag |
| Pedals | Suntour XC Pro |
| Bottum Bracket | Titan pressed |
| Derailleur | Shimano XT 732 |
| Wheels | WTB Classic + Mavic MA 40 MB |
| Tyres | Specialized Ground Control Extrem 1.95 |
| Seat Post | Suntour XC |
| Saddle | Selle Turbo |
| Grips | Magura |