One day, I saw this post - The author was focusing to present his Ritchey P21, while for me the absolute highlight was the background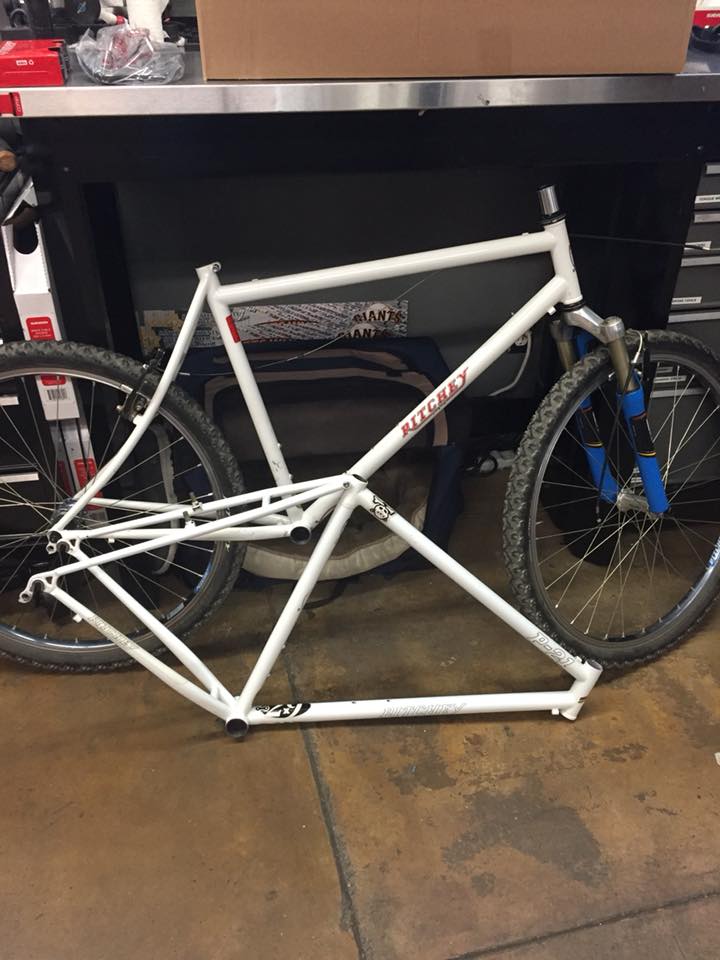 A Plexus, repainted ok, BUT it was a 20" Plexus. To me this was perfect, since I was searching for a long time a Ritchey Plexus in 20". because the 21" Plexus was simply to big and I knew the magic from this bike in the right size from a friend. This picture was 2016, when I had my first Plexus ride in Munich with a Ritchey collector, thanks Manni, I was immediately infected.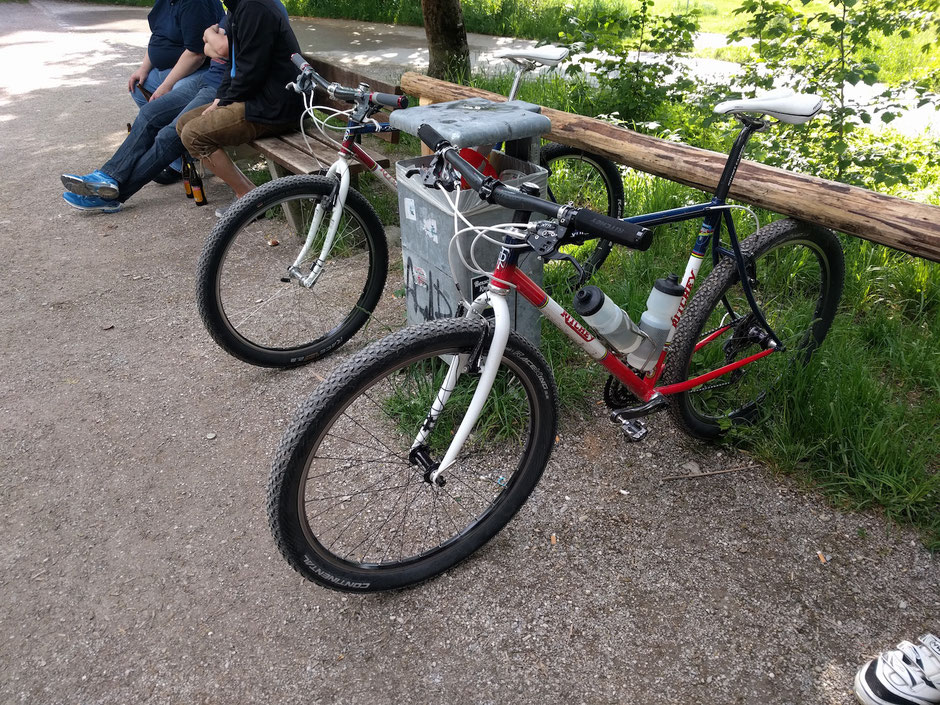 See the following pics on the story when I contacted Hollister. Best thing and later confirmed was the comment on the former Ritchey employee.
After the arrival I contacted some Ritchey specialist on the frame since neither the measures and proportions nor the missing serial and weight made sense to me. Same for the others.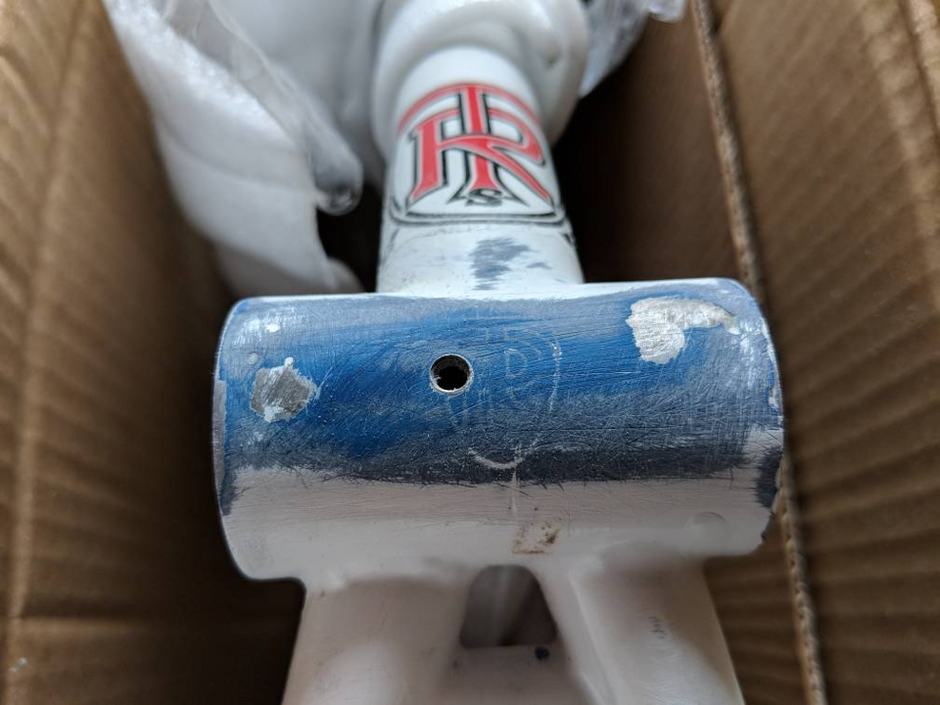 The first theses started
1. This a FRM reproduction because of the missing serial number
2. No Dedaccia tube sets, because the frame seemed proportionally a bit too heavy compared to a 1996 19"
3. The head tube is (too) long
According a real Ritchey Collector, the first Plexus were produced 1996/97.
This 1997/98 catalogue was the only one which listed pictures and included some details on the Ritchey Plexus - the most innovative non-rear-suspension design. Still, that catalogue did not solve the question fully, but at least:
- Dedaccia Tube set at least in 1997 and not the advertised Nitaniom
- Seat binder to the front (my later one has it to the back)
- the proportional longer head tube on the right picture
Hence I fell initially in love with a hard tail Plexus and I do not have (and like) bikes with suspension, even though Hollister had a Rock Shox, I just wanted the frame and use an original Ritchey Logic fork.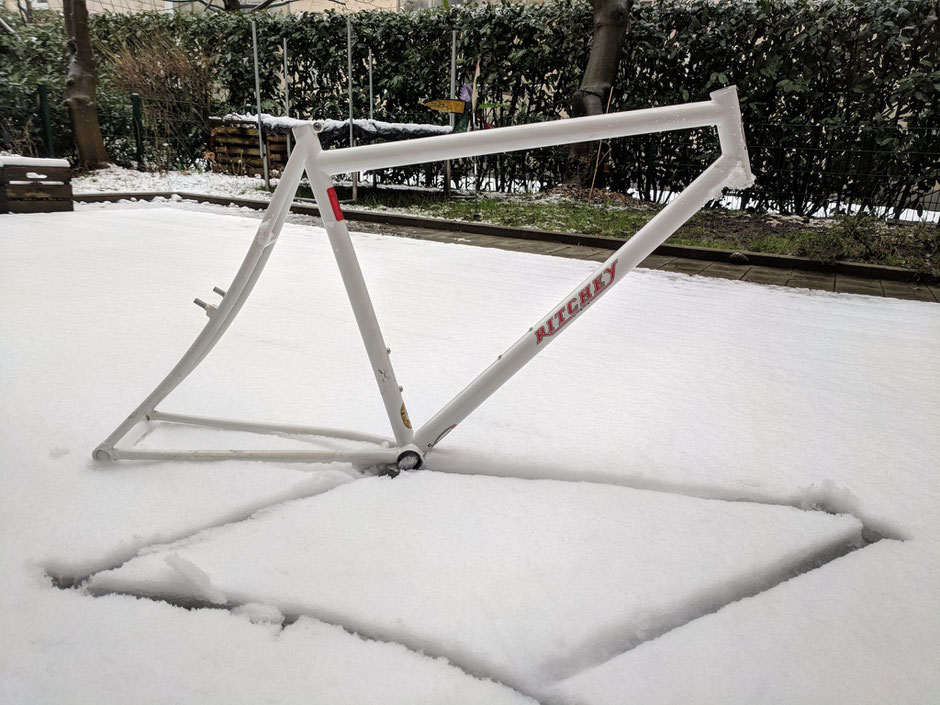 This picture was in March, 2018, when the Plexus arrived - still winter in Hamburg. Strange these old Ritchey decals on the super think white paint.
When I got the Ritchey, I was clear I have to paint it, but I was not sure which style. Of course I was eager to see whats below the white paint. So I started and found the old paint. I really asked myself, why did the former owner paint this white?!? but you never know.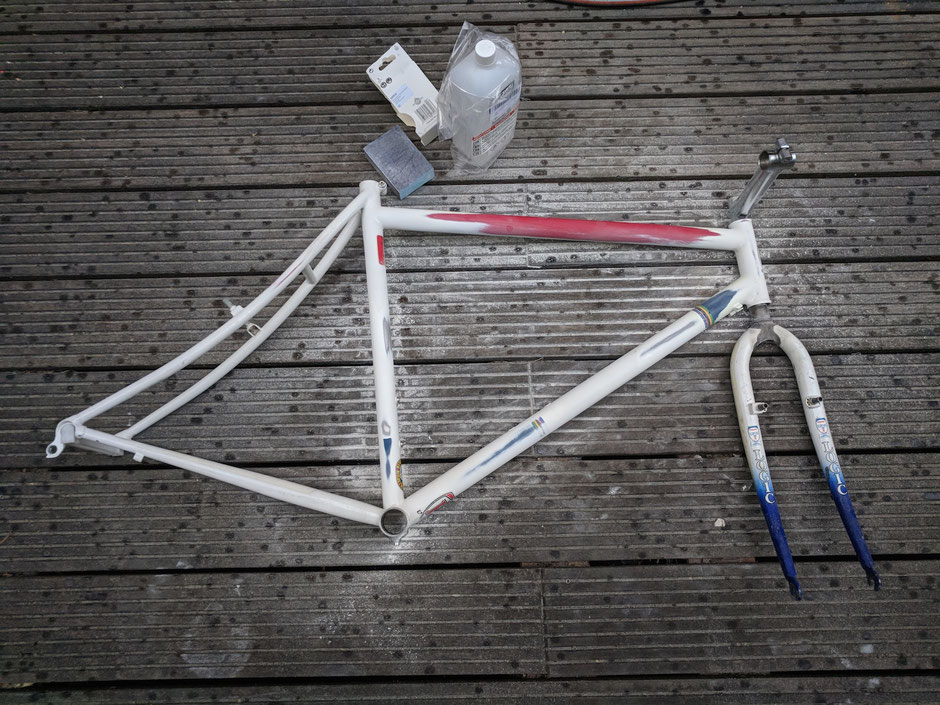 It was a hard job to emery the paint without damaging the frame.
In the meantime the fork arrived, a real Logic, it came also from US. But, unfortunately with a too short steerer. I send it to my frame builder in Munich, very nice guy - Martin from Maferro.
I knew the red-blue-white team color from the P-Models I loved so much were no more produced these days. I saw white and camouflage Plexus until then, but this Plexus was already custom with the fork, so I decided for the best paint job I ever saw on a Ritchey. The sunset fade Ritchey P-23 Team from Rumpfy. I should have bought it when it was for sale, yes,  I deeply regret this.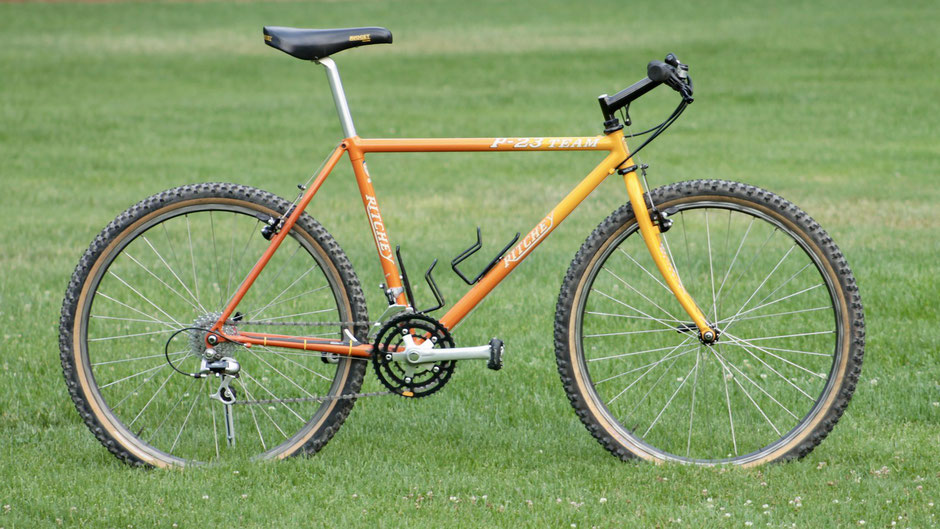 It was clear to me, that sending tis frame back to D&D cycles to get it originally painted by Rick Stefanie was no option for economic reason (the frame and fork came already from US)... So I contacted the best, right after Rick, Gerrit from Cycle-Art Berlin - http://cycleart-berlin.blogspot.com/. He did it, yes and as always, there was a nice documentation. here some impressions.
Again, Ritchey proof that he was an artist, the "brazer". The vey fine fillet brazing on the head tube,  the drop outs (Logic Comp sockets, launched in 1996) and of course the sign for an early Plexus, the seat binder to the front. To me it was clear, he did this frame.
After the details on the brazing and initial white paint, I asked Gerrit for the serial and after a short rub, the story completed and the Plexus turned out to be the earliest I have seen until that point, number 15 ever build. Now the history of a former employee of Tom Ritchey really made sense. And with all the details and the length of the head tube, this allowed the thesis of a custom build, so a unique piece of bike history back in 1997.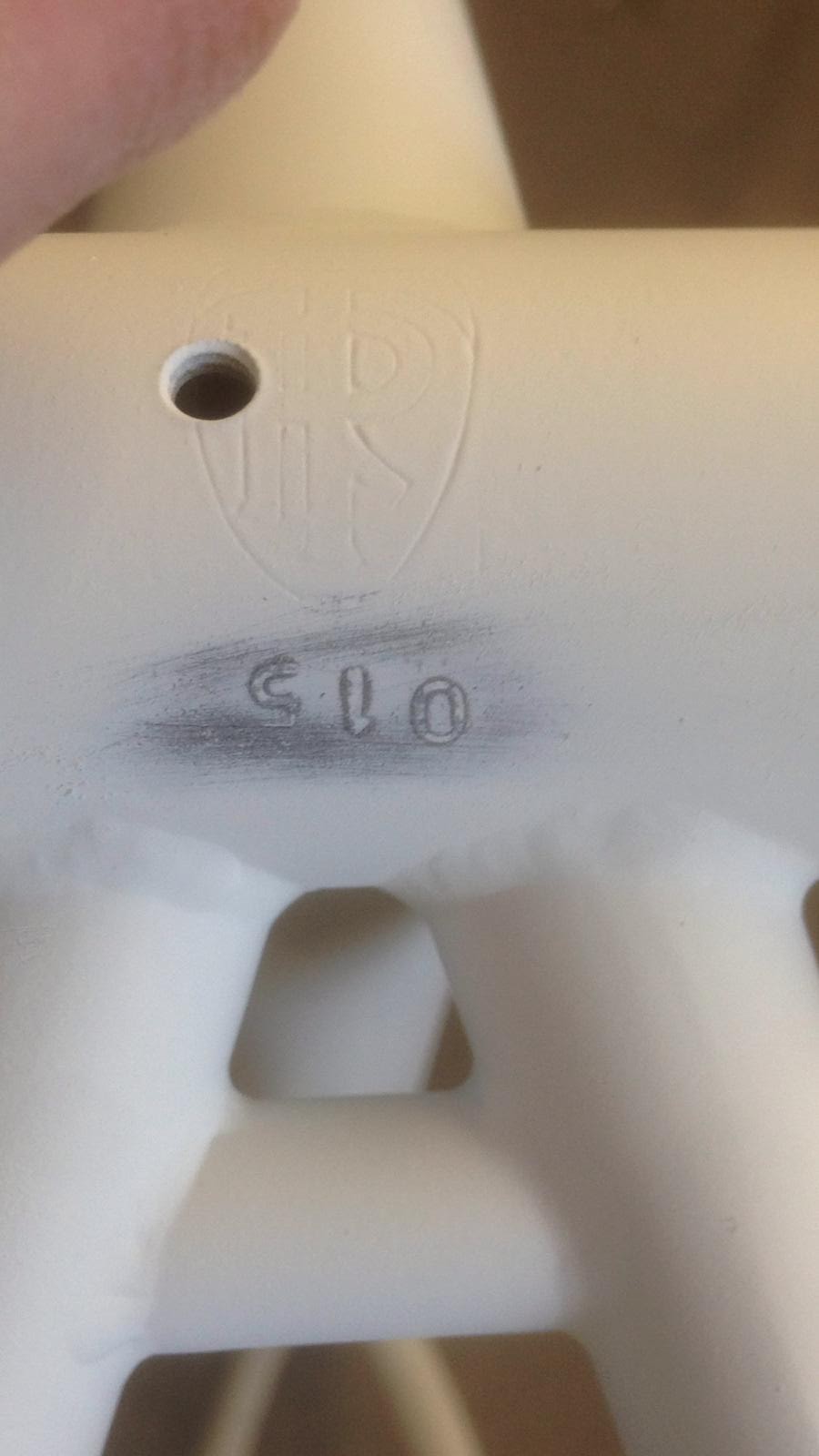 As always, when a bike arrives from repainting, there is this moment of opening the box, the smell of the color and the new look through the air folio, great!
Unpacking and the initial impression stay. so I`ll share them without much comments (it arrived with another nice project, the Worley Yeti), such a nice colorful team (see blog post for more)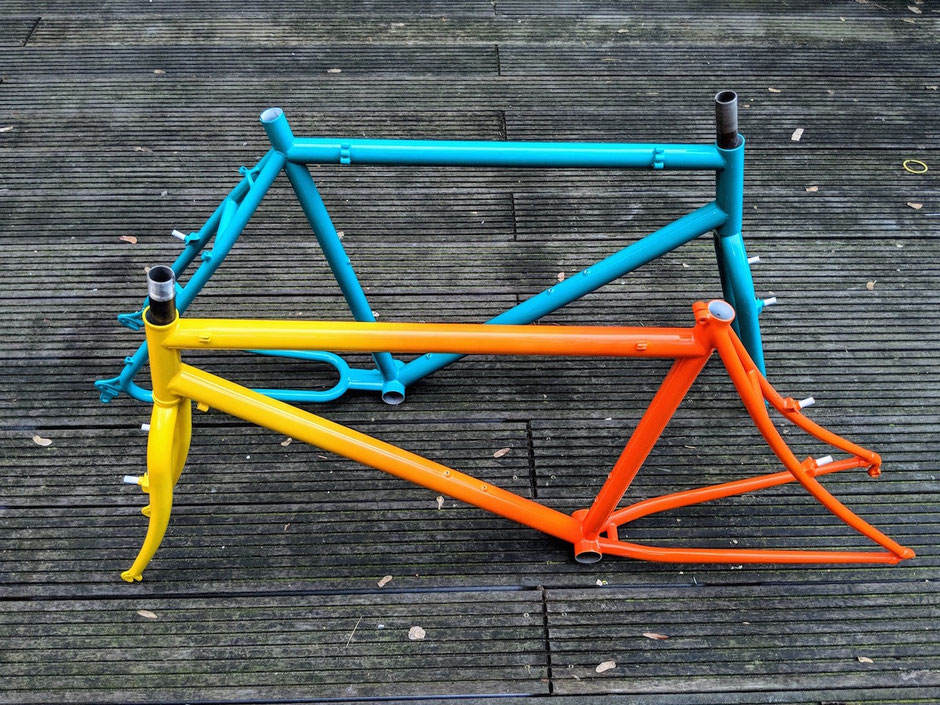 Those who are familiar with classic Ritchey bikes know, if there is one great thing on researching classic Tom Ritchey Mountain bikes, it is his constance in serial numbers (see also this great page which was helpful with all my Ritchey projects https://ritchey.vintagebicycledatabase.com/listing.php). And so for this idea from Gerrit in preserving it is so worth to share.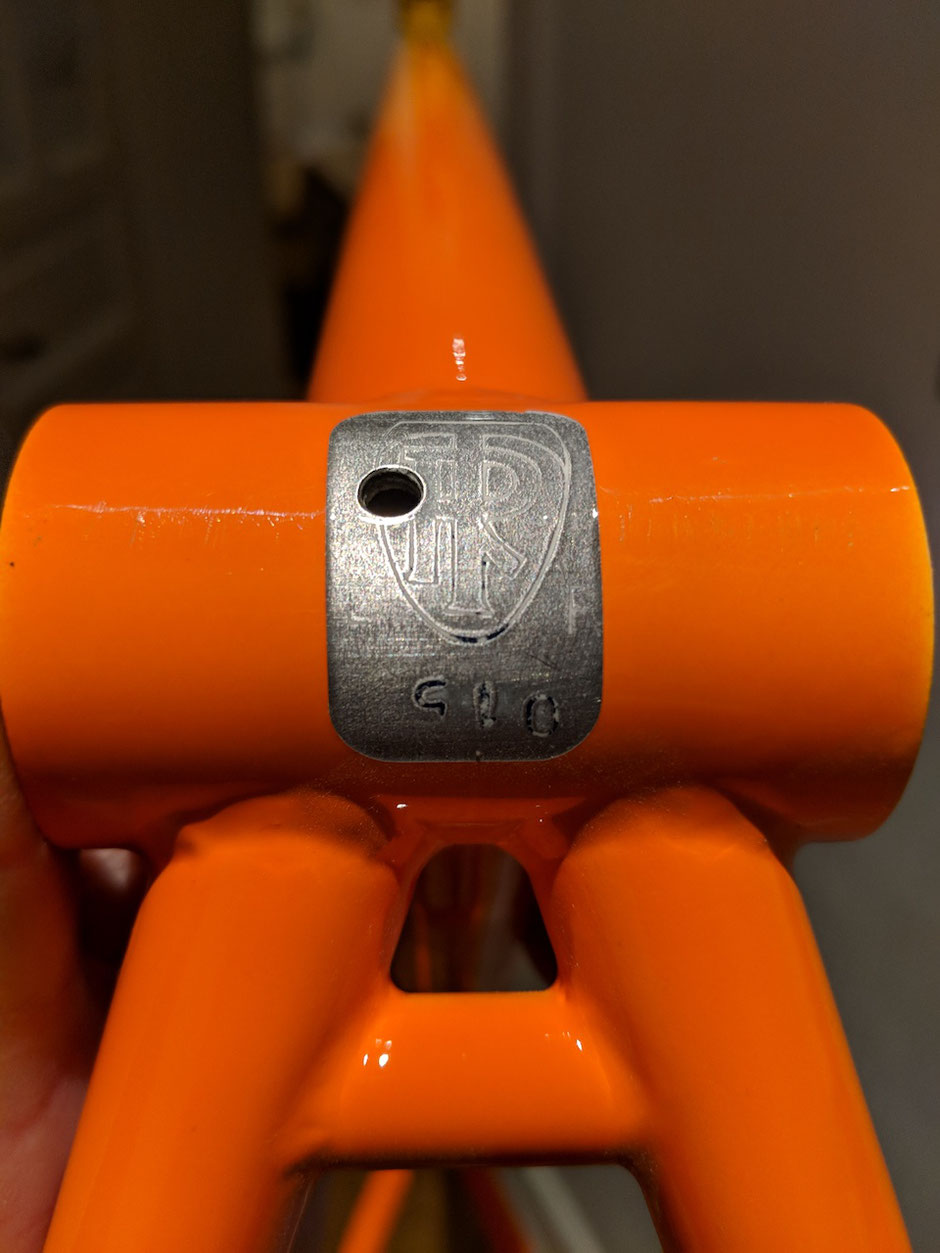 I was clear that this paint could not go with the new design, So I choose the old one, which I if I´m honest anyways do very much prefer over the new ones. Here the written transformation into an hybrid classic MTB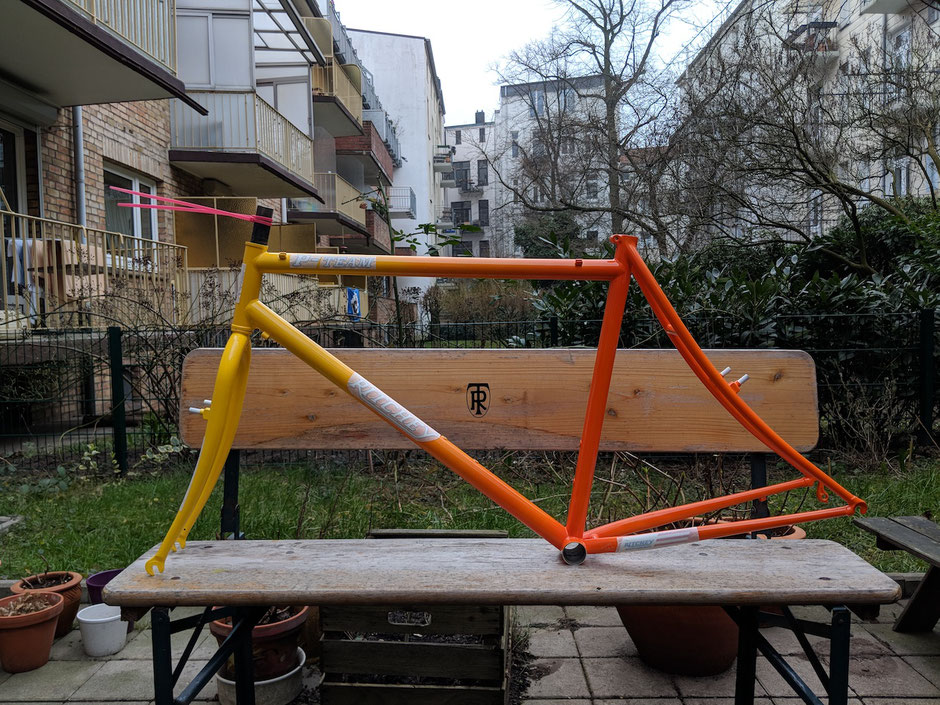 I knew, I wanted to build a mountain racer, as Manni´s Plexus. Performance should rule time correctness, but consistent and harmonic. 
At this stage, only one part was clear from the beginning, the wheel set.  As Thomas Frischknecht rode already, I wanted the sound of an early Hügi Compact Made in Germany hub. I knew that this bike will be ridden in the alps, so breaking power had to be unsured and no other rim type than Ceramic rims can do so good with my weight of >85kg + backback & Co. When I think of Ceramic rims, it was clear which one, aligned with the Plexus from the period, the first Mavic Ceramic 117 were set.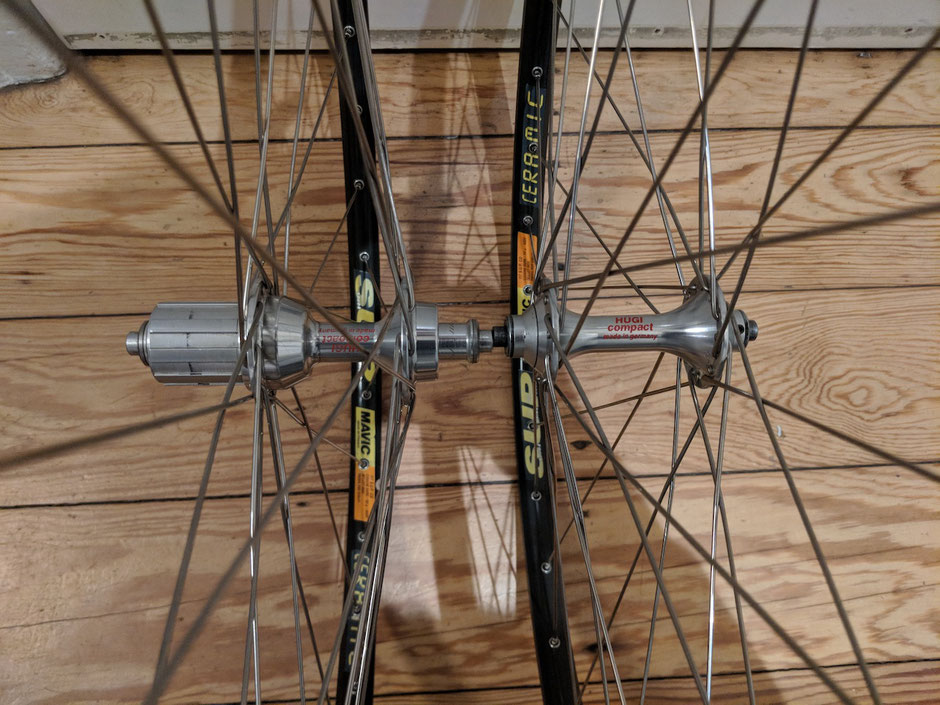 Next was clear to decide,  gearing and I must confess, this was the hardest, because I was really ultimately torn between: a classic build, more in the direction of the paint model, the Ritchey P23 Team, so Shimano XT 732/735 or a time correct build, which would have been XT739/XTR950. For the Ritchey parts that would have been between the Logic / champagne colored Ritchey W.C.S. or the later Logic Compact decade.
As performance is key and the plan for this years alpes tour in June got confirmed already in January, I decided to do my best of bread, WCS parts and Shimano XTR M900/910 as the most beautiful derailleurs these times with, yes, performance was it: V-Brakes. Going to the next newer XTR lead to 950 brakes set.
At the end I really liked the WCS / Logic combi. The bridge and color concept became silver and champagne. A rare vehicle was the silver WCS seat post. Here some impressions -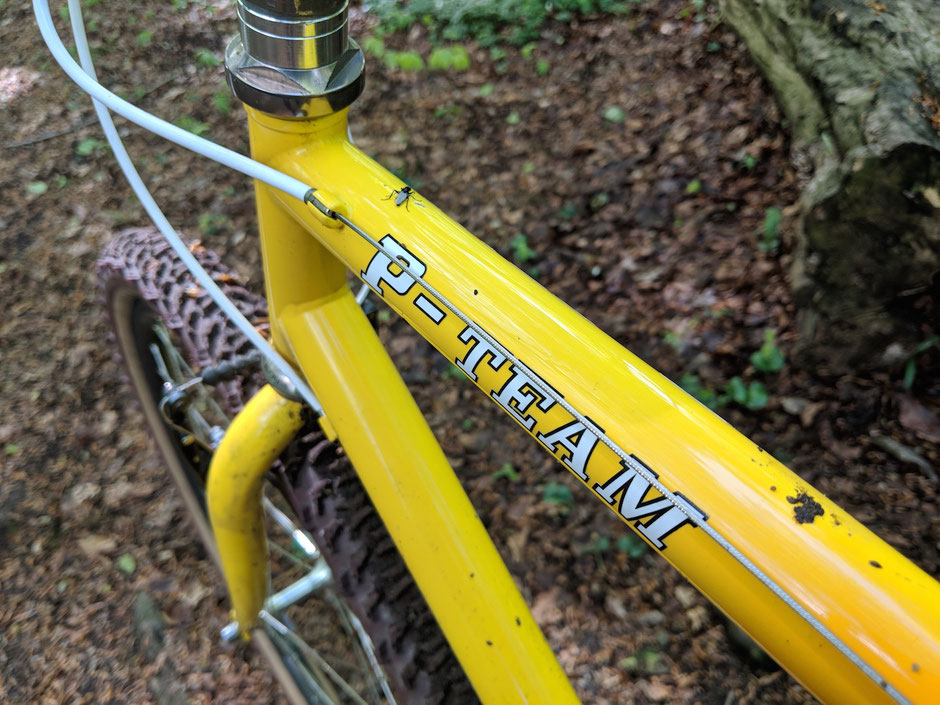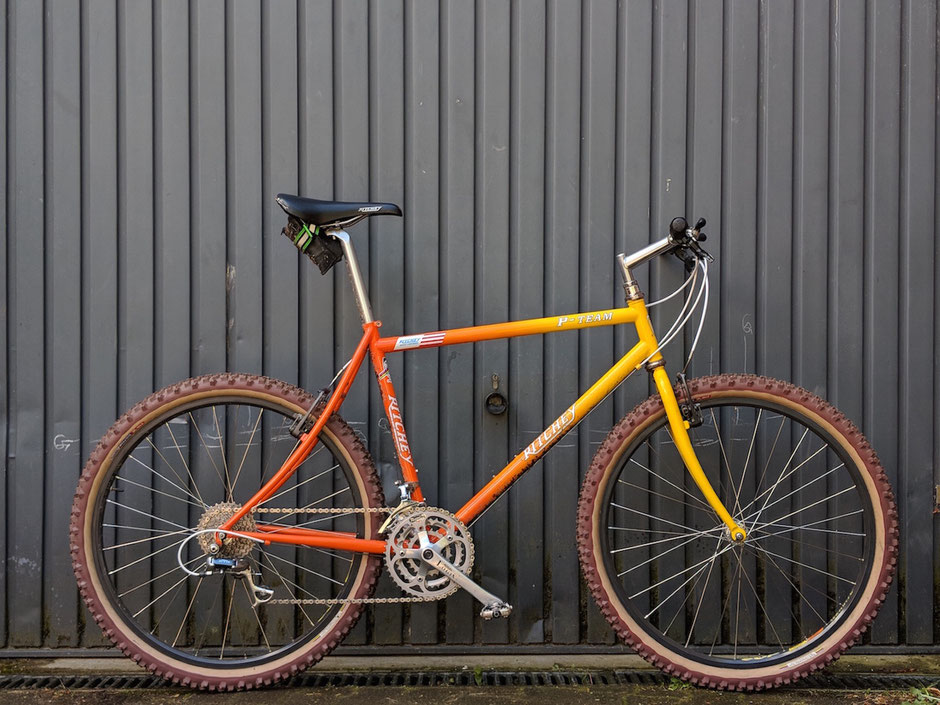 | | |
| --- | --- |
| Parts | Brand |
| Frame | Ritchey Dedaccia (Serial #15) |
| Size | 20" |
| Fork | Ritchey Quad Butted Logic Prestige |
| Stem | Ritchey Logic Nitto |
| Bar | Ritchey ProLite WCS |
| Headset | Ritchey Logic WCS |
| Shifter | Shimano XT 732 |
| Brake Levers | Shimano XTR M950 |
| Crank | Ritchey Logic Sugino + Ritchey chain wheels |
| Pedals | Ritchey WCS |
| Buttom Braked | XT 732 |
| Derailleur | Shimano XTR M910 |
| Wheels | Mavic Sup Ceramic 117 + Hügi Compact (Germany) + DT Swiss + Shimano XTR CS-M900 |
| Tyres | Ritchey ZMax W.C.S. redwall 2.1 |
| Seat Post | Ritchey Logic Force Directional WCS Nitto |
| Saddle | Ritchey Vector Plus rail Titanium |
| Grips | Ritchey Logic WCS |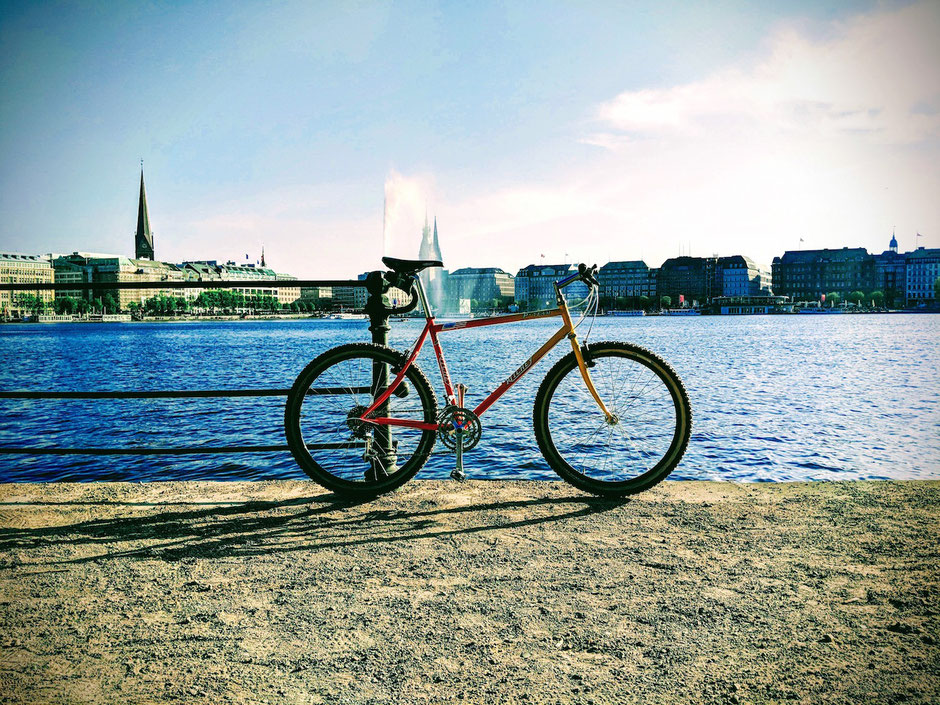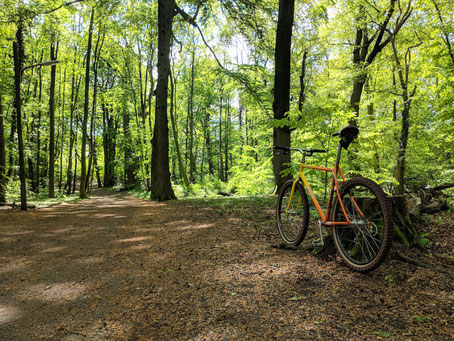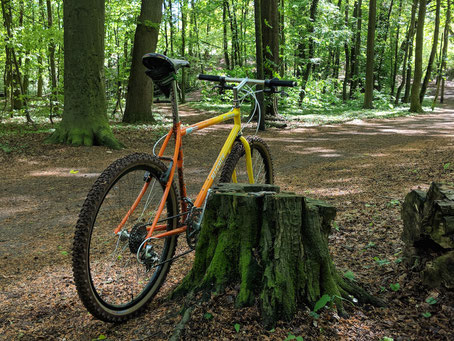 To be honest, if the Ritchey Plexus has the most innovative non-rear-suspension design and if the performance feels like, I can not judge because I do only ride hard tails. But, what I can definitively confirm is its agility and flexibility. It sometimes had a slightly jumpy tail when I kicked over rippeld surface. Others might call that suspension effect. I liked it, especially when the ground got bumby, the curved tail really absorbed some of the bigger hits.
Other than that "new", it is a real Ritchey. Comparably light, it likes climbing up and fast trails, but also when leaning in curves it stays on track, while fast and short curves can be mastered as well. Ready for the alpes crossing, we are...