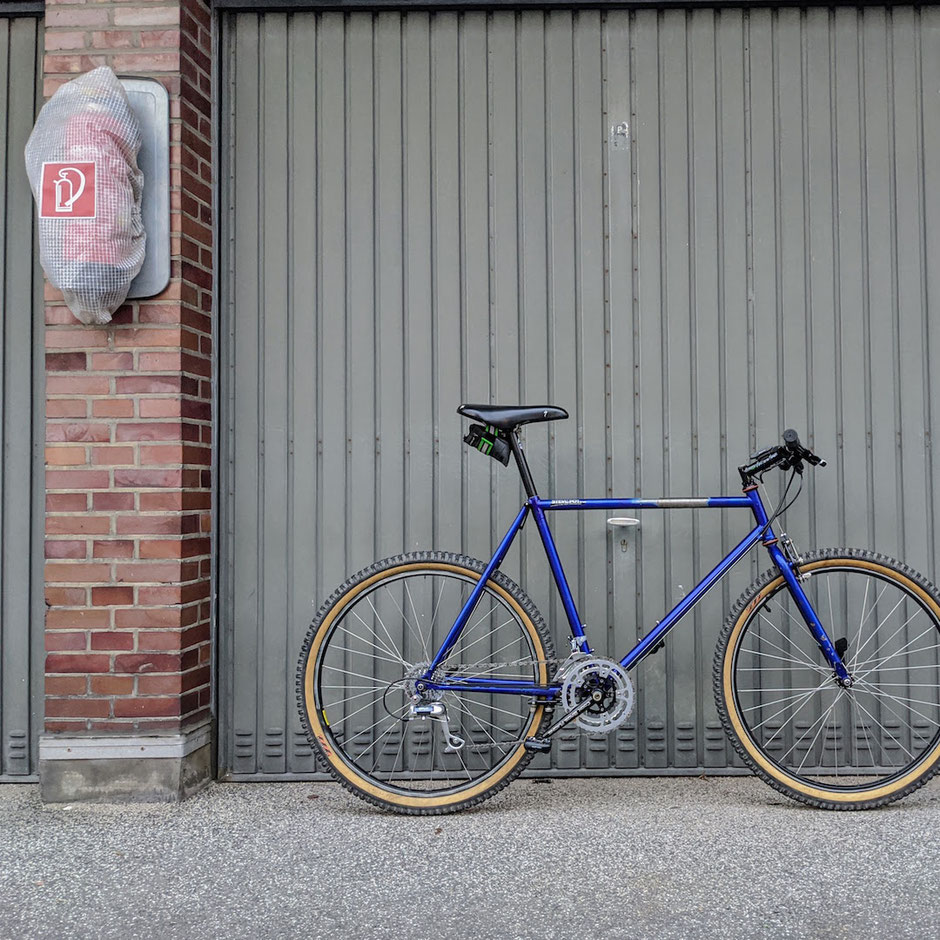 This thread is on a bike, I picked up personally when I was in California, on a trip riding the Mount Tam - on the trails of Mill Valley, where WTB was founded. Yes, one could say, it stayed at his home town. Yes, that sounds nice, but honestly, I don´t know it that is true,  if it got beaten so much on these wonderful hills full of mountain bike history. Here some impressions from that trip if your are interested
It wouldn´t be a Steelfightsback journey, without the story how it made its path to me. It is a story on Instagram - I´m frequently posting my pictures of bikes and there process here https://www.instagram.com/steelfightsback/. There was a guy, Ted, he shared a picture of it´s super beautiful white WTB Phoenix with me after he saw mine (link).  We started chatting on bikes, WTB and Mt. Tam - obviously sharing the same hobby. I can`t remember why he then showed the CCR, but I fell in love straight away. The blue, a new model of one of my favorite brands - Potts and WTB (see why here) and of course - in my size. I had to ask if he can imagine to sell. Two yes and a few chats later, we found that I´m planning a trip to the bay and he is living there. We decided to meet and ride - thanks instagram also connect people and not only offer a platform where people show off ;).
So arriving home, it was time to have a closer look - 
Usually I follow the approach to preserve as much as possible from classic MTBs I plan to build. But this frame had not only the missing paint on the top tube, it had also so many chips, heavy chain suck and rust, so I definitively consider a repaint.
Here are some impressions from arrival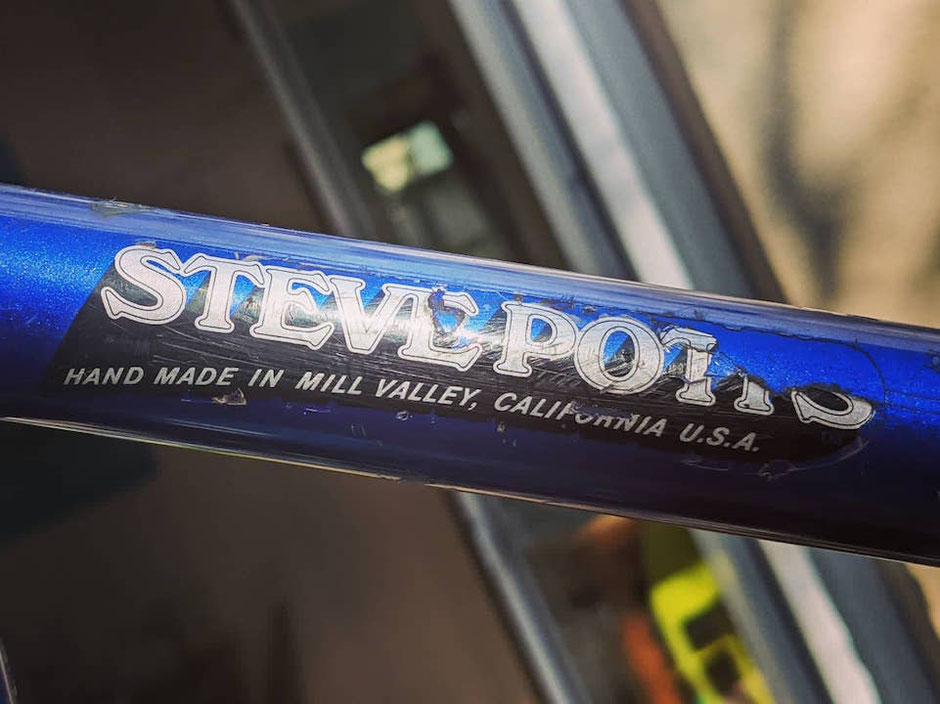 Looking at the blue, my interest increased, I wanted to see if she can still glance, I had to do this before "killing the history and originality". Lets go .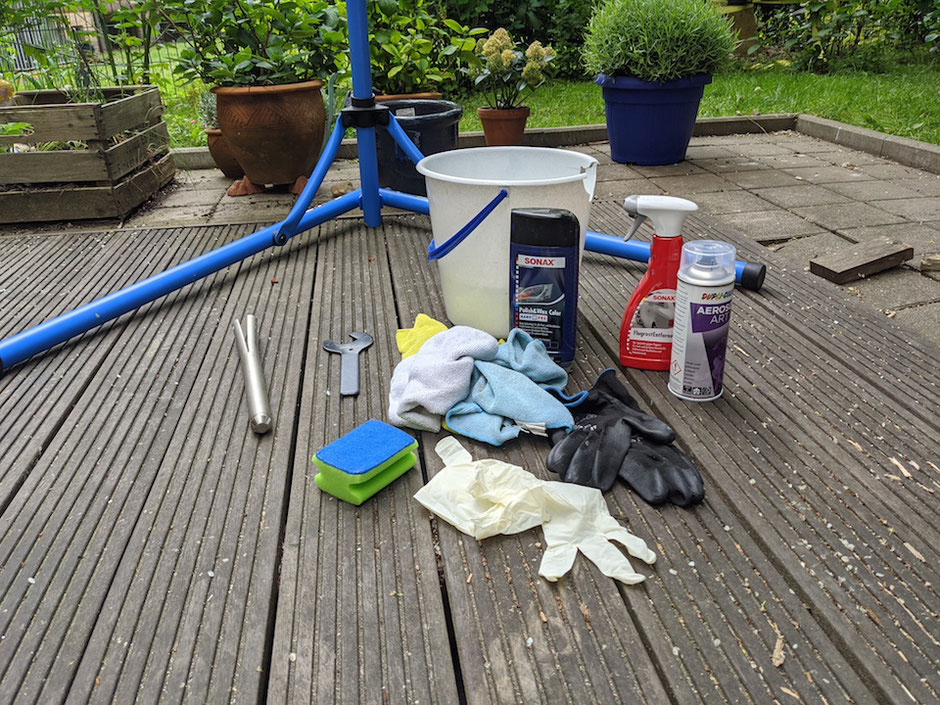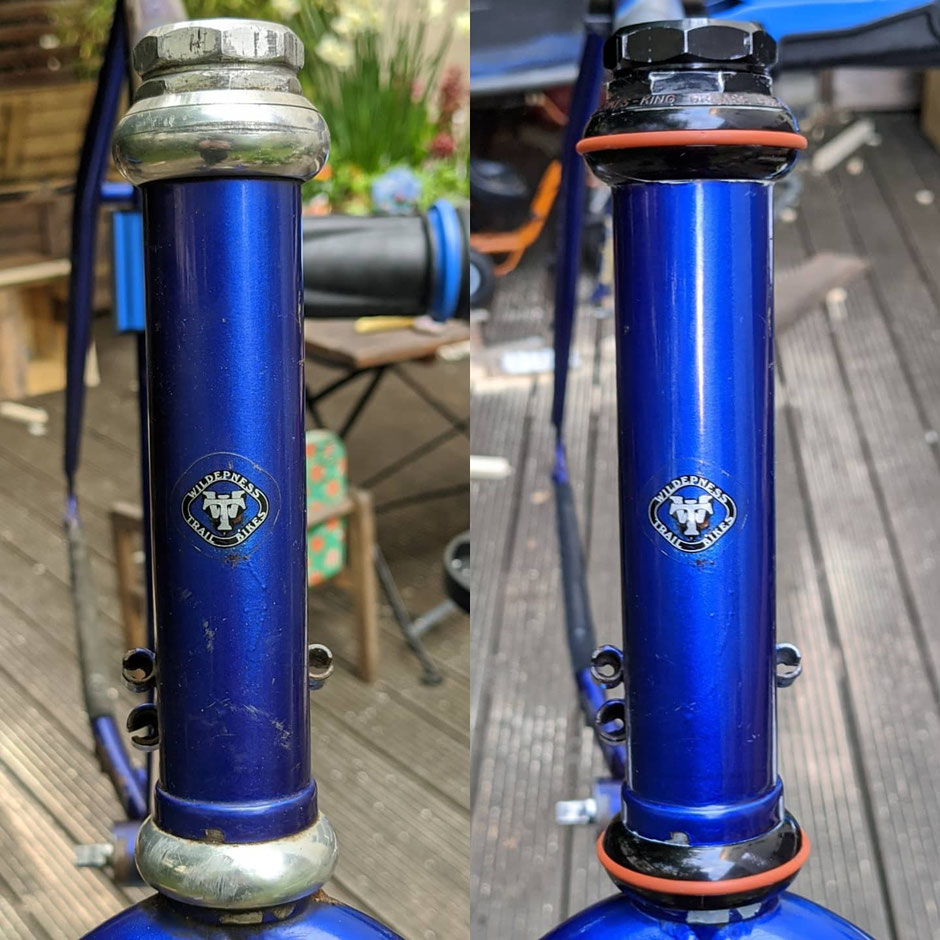 Not only the frame have been beaten up, also the brakes. The DKS version of the Wilderness Trail Bikes have been pretty much rubbed on the arms, especially the rear ones on the chain stay, that was due to the cable routing. The set I got with it, consists out of a short and long arms. But the wear was not only on the arms, also the washers are done or rather all four broken. So next to a clean up, I had to organise some replacements parts. Have a look -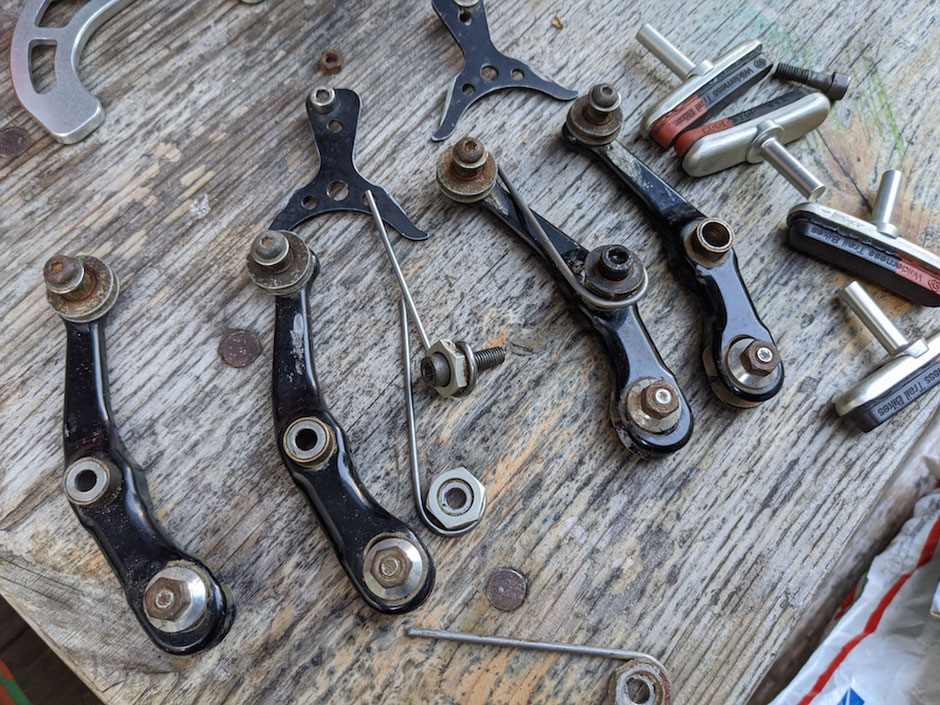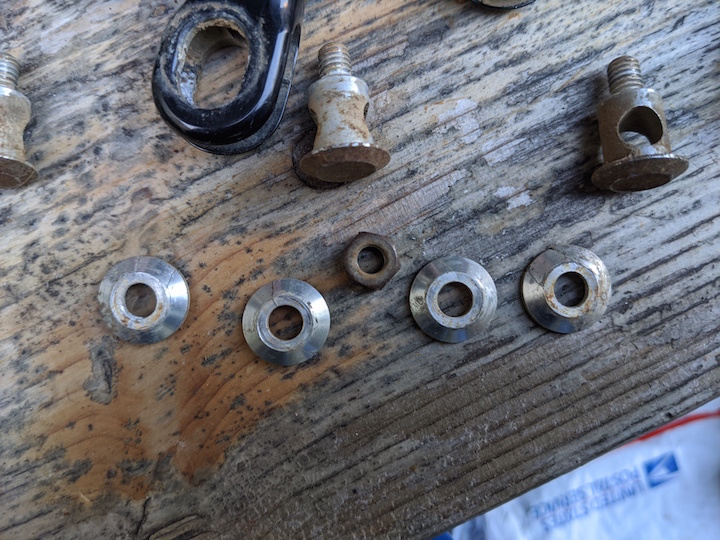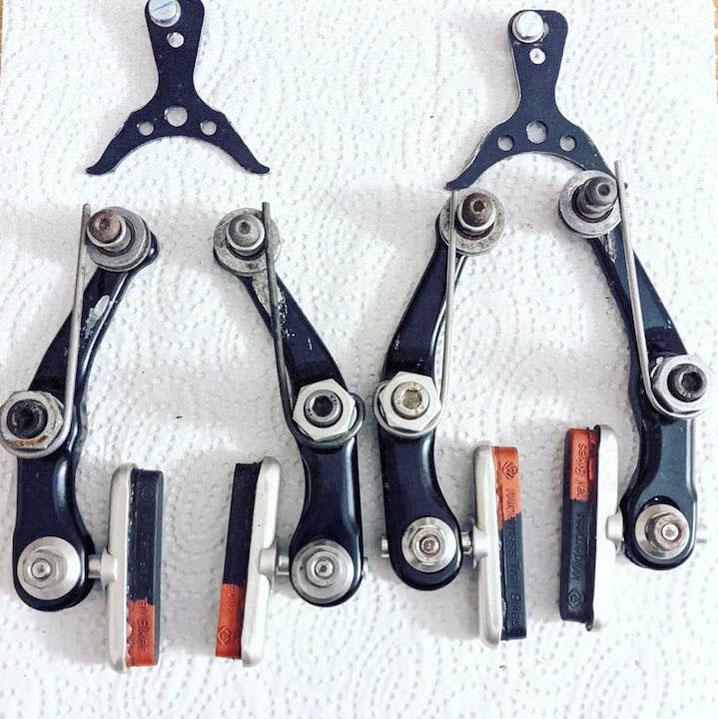 The result of the box stop was quite acceptable, but then I realized, that the bearings of the roller were completely stuck. So I tried to find the new ones with the exactag measures, which turned into a more difficult tasks, so I decided for these. Useful trick: use spacer to balance the bearings straight / horizontally so that the roller runs smooth (see picture)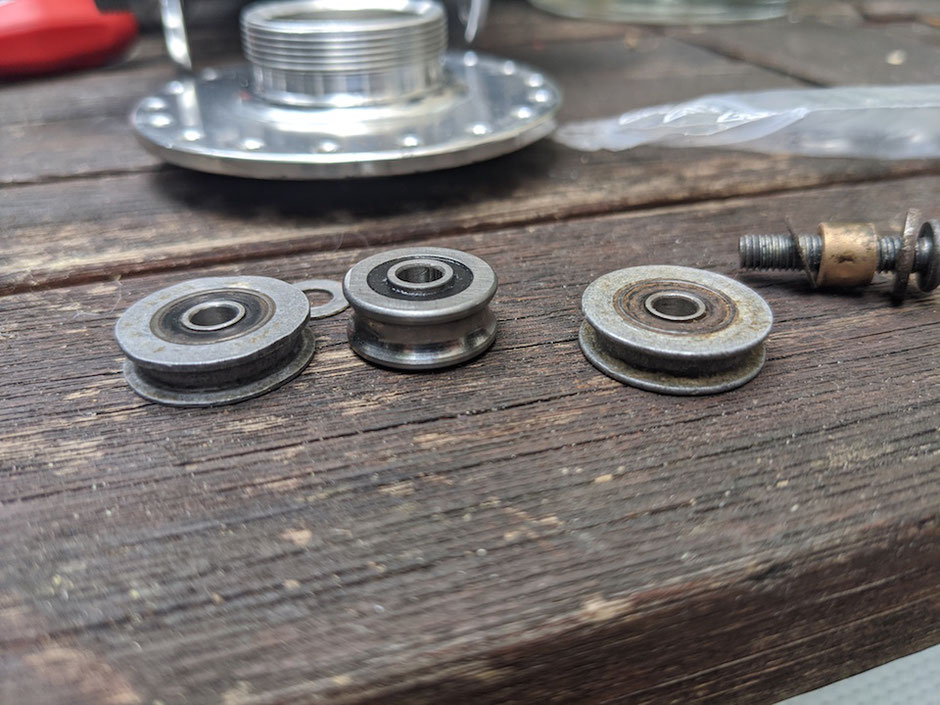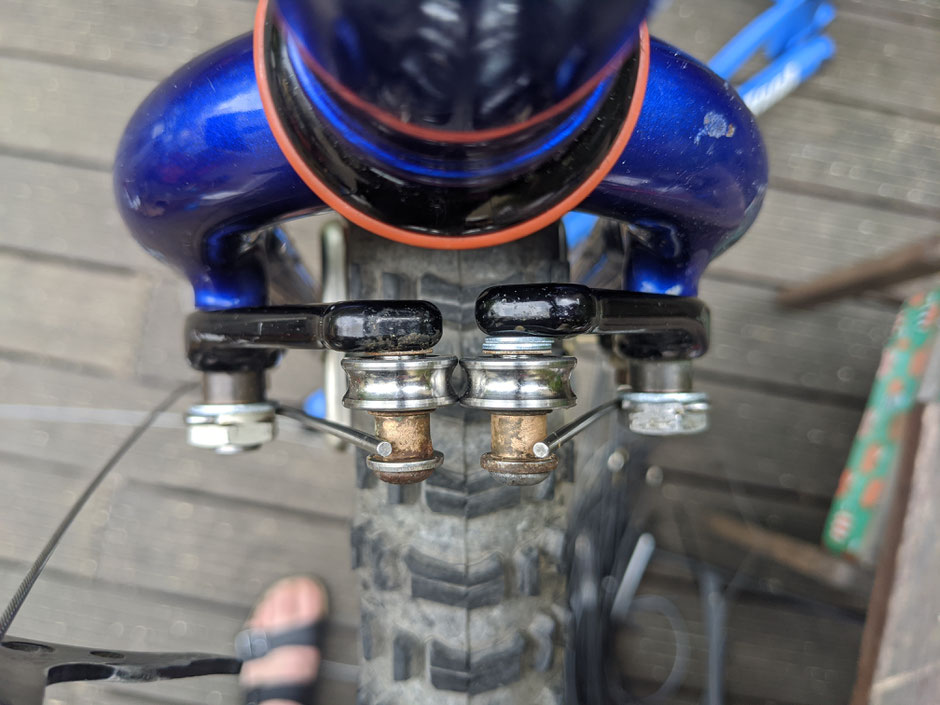 on the parts, I usually first decide on the color. Silver is probably the best matching color, but hence the brakes were black, I decided on black. Luckily I also had a spare Power Band stem. But wait, they are at least from 1994. So, I needed a 1991 stem and I decided for a not too common WTB combination - Interloc Racing Design. The actual trigger gave the seat post: Steve used a 27.0 measure with the CCR, which I only know from my Ritchey Project Team builds (link).While thinking about the stem and post, I remembered I had that black post and yes, an IRD Macaroni was also here. This pretty icon stem, matched also with its degree on being beaten, so, let the rust bleed again..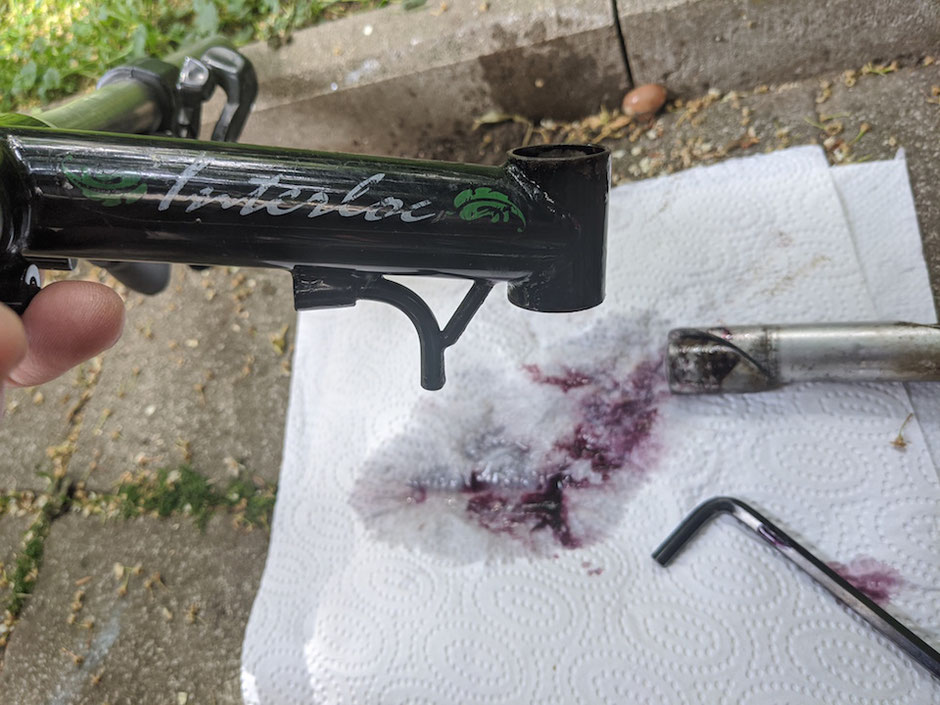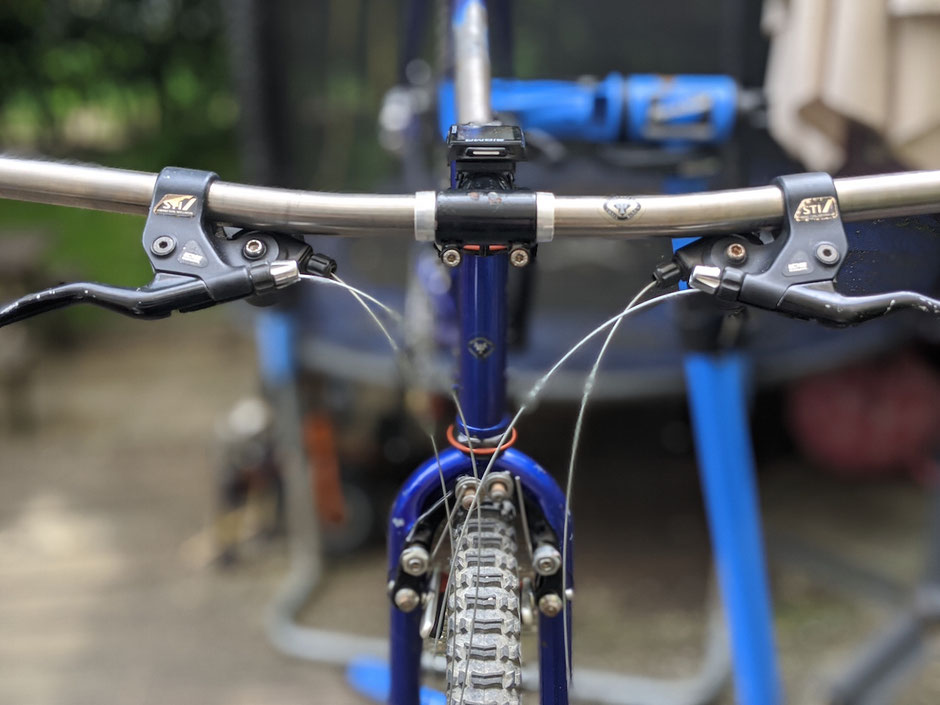 The brakes and roller cam mounting became a challenger too. No, not the brake and shifters, I decided for a time correct STI - the Shimano XT STM-091, but for those who mounted roller cams already - those super precise pieces of machined alloy - this likely sounds familiar. When tightening them, they stuck because of paint on the brake mounts. So one has to work with sand paper in the mounts. But this a) didn`t work and b) these brakes where quite special, at least the rear one arm didn´t have a known socket cap/spacer, it has only a fixed spacer to fit with no cap on the mount.
The McGyver solution became a little spacer on the screw fitting in front of the spacer to push the spacer slightly so the brake does not touch and tighten to the brake socket.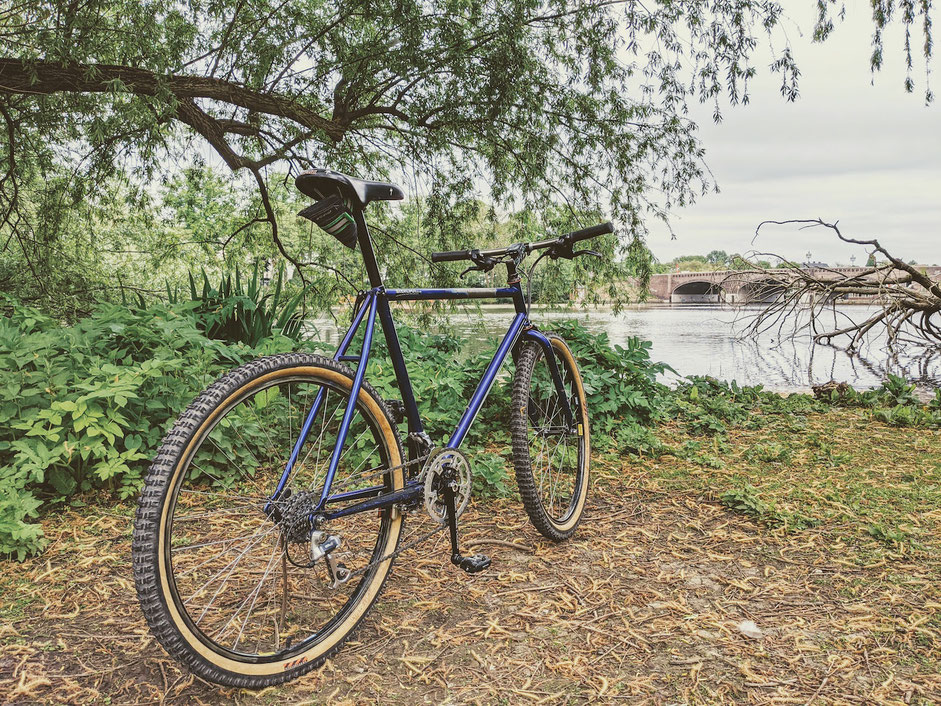 Riding the  Cross Country Racer was a new experience. Of course I had big expectations, a) comparing it with my 18" WTB Phoenix (link) and the Steve Potts team bike with the fillet frame set (link) as well as b) I still have not decided if I paint the frame set. But to be honest, I cant say what should happen to decide. Good or bad ride?
So I focused on the comparison. Clearly, this bike is a typical steel bike, its stiffer than the pretty similar looking fillet Potts, yes, much steeper than the WTB Phoenix. It is a clear advantage, that it´s lighter than the others, but that made it a bit bumpy on stoney paths. But I like its character of beeing responsive when kick in the stand up, a bit like a fillet Ritchey team. The steep seat position makes it a bit less comfortable, but I can imagine this turnes into an advantage on challenging trails with lots of turns. So I def need more miles with il to finish this.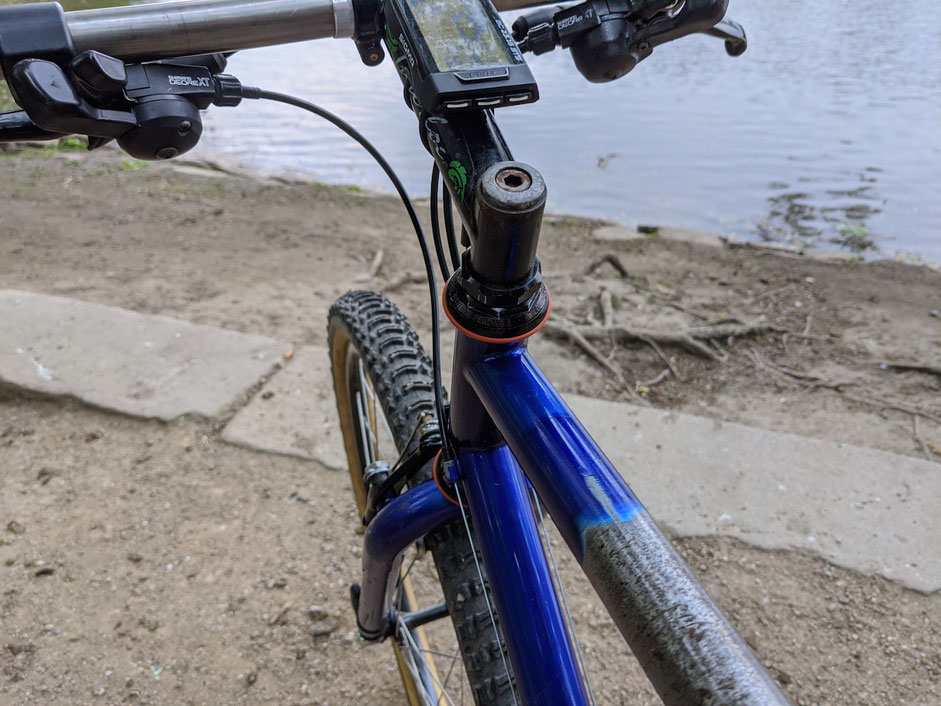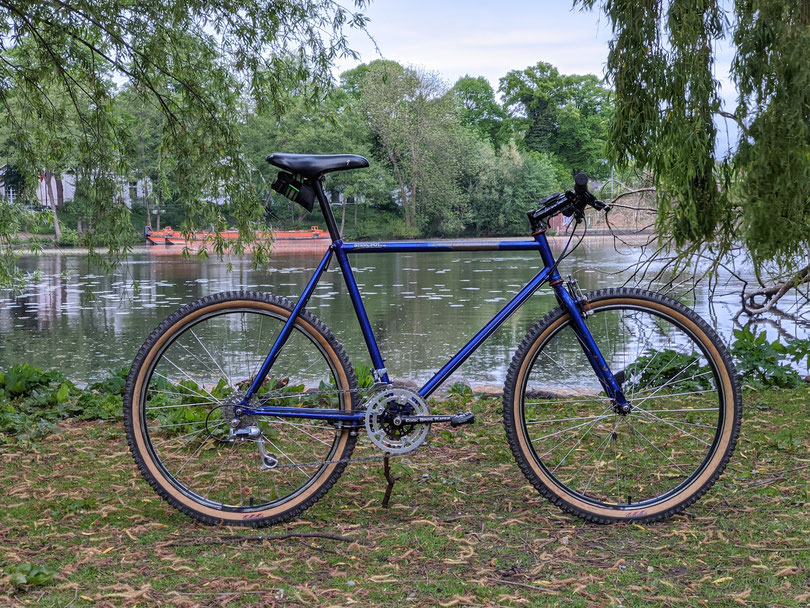 | | |
| --- | --- |
| Parts | Brand |
| Frame | 1991 Steve Potts - Serial 91102 |
| Size | 20" |
| Fork | Steve Potts Type II - roller cam mounts |
| Stem | Interloc Racing Design - Macaroni |
| Bar | WTB titanium |
| Headset | WTB Chris King 1" |
| Brakes | WTB Speedmaster Rollercam  |
| Shifter | Shimano XT 735 |
| Brake Levers | Shimano XT 735 |
| Crank | Cooks Bros Racing |
| Pedals | Shimano SPD 535 |
| Bottum Bracket | Titan pressed |
| Derailleur | Shimano XT 735 |
| Wheels | XT 730 XT 732  + Specialized GX23 |
| Tyres | Specialized Ground Control Extrem 1.95 |
| Seat Post | Interloc Racing Design 27.0 |
| Saddle | Specialized Pro Long / WTB Titan rails |
| Grips | WTB |